Resorters golf: Texas golfer Zak Jones storms back to win in 21 holes as semifinals are set
Nick Jarrett, Gavin Cronkhite and Ryan Conn join Jones at the first tee box on Saturday morning with a spot in the finals that afternoon up for grabs.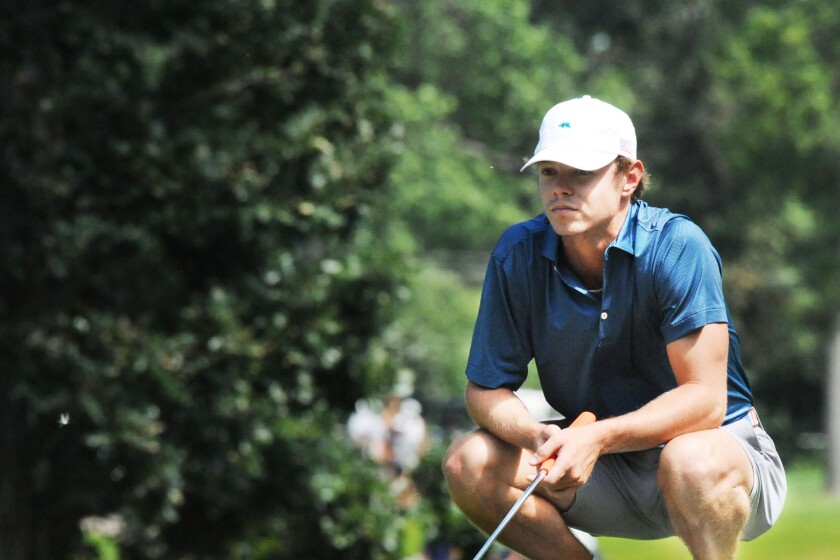 ALEXANDRIA — The final four is set in the Men's Championship at the 2022 Resorters, and the path to get there from the quarterfinals was not easy for the golfers left standing.
One match went to 21 holes. Zak Jones won that one in a thriller that required him to take 17 and 18 to force a playoff.
Two others came down to the 17th. Nick Jarrett out of Rochester was the most dominant on the day as he won a 4-3 final against North Dakota State University golfer Nate Deziel.
In the end, Gavin Cronkhite and Ryan Conn join Jones and Jarrett in the semifinals when they tee off at 6:50 a.m. on Saturday. The winners play in the championship match with the two finalists from the Executive Division starting at 1 p.m.
Here is a look at how all of the semi-finalists got to this point.
1
/
2:
Nick Jarrett hits from just off the No. 2 green during his Men's Championship match against Nate Deziel on Aug. 5, 2022 at the Resorters.
2
/
2:
Nate Deziel watches the flight of his ball as he hits it close to the cup on No. 2 to get up and down for birdie.
Nate Deziel was fresh off a win over top-seeded Nate Adams from Thursday, but he could not carry that momentum into his match with Jarrett.
Jarrett was just too good on Friday. He shot a 3-under 33 on the front and then put up three more birdies on the back to finish at 6-under through the 15 holes played.
Deziel never did take a hole. Jarrett struck first with a birdie on No. 3, and then added a par win at 4. Both players birdied the par-five sixth hole, but Jarrett's par at No. 8 helped him build a 3-up advantage at the turn.
Deziel was good himself on the back nine, but Jarrett never gave an inch.
Deziel birdied holes 11 and 12 only to see Jarrett match him on both. The two players halved holes 9-14 before Jarrett put the finishing touches on the win. It came with a birdie win at 17 to cap off a bogey-free round.
Cronkhite def. Johnson, 2-1
1
/
2:
Gavin Cronkhite lines up his putt on the No. 2 green during his Men's Championship match in the quarterfinals on Aug. 5, 2022 at the Resorters Tournament.
2
/
2:
Lincoln Johnson discusses his line with his caddie on the second green during his Men's Championship match at the Resorters Tournament on Aug. 5, 2022.
Gavin Cronkhite, a junior at NDSU, took down University of Minnesota golfer Lincoln Johnson of Chaska in a 2-1 final.
It was a fast start that propelled him to the win. Cronkhite got birdies on Nos. 1 and 2 that pushed him out to an early 2-up lead. He added par wins at 5 and 7 to take a 4-up advantage that he never relinquished. A birdie win at 11 helped him hold off a Johnson charge down the stretch to advance to the semifinals.
Ryan Conn never folded after a slow start on Friday, and his perseverance paid off with a 2-1 win over Kyle Cox.
Cox grabbed control early, taking the first hole on No. 3 with a par and then getting birdie wins at Nos. 5 and 8. Cox was 3-under par at that point, but he ran into trouble on 9 with a double bogey. That allowed Conn to escape with a bogey win and head to the turn with a little momentum.
1
/
2:
Ryan Conn tees off at the third hole during his Men's Championship quarterfinals match at the Resorters on Aug. 5, 2022.
2
/
2:
Kyle Cox watches his putt on the second green during his Men's Championship quarterfinal match on Aug. 5, 2022 at the Resorters.
Conn flipped a switch after that. He moved to within one after a birdie win at 11. Both players birdied the par-five 12th, and it was all Conn after that.
He tied things up for the first time since hole two after getting a par win at 12. Cox opened the door with bogeys on Nos. 14 and 15, and Conn took advantage, sinking pars to complete the rally and put away the match.
Conn entered match play as the 26th seed, but he has been impressive ever since. He won 5-4 in his opener, and then 4-3 in round two before his rally on Friday evening.
Jones def. Broin, 21-holes
Zak Jones has made the trip from Texas worth it as the University of Texas Arlington golfer won a thriller over third-seeded Gunner Broin on Friday to secure his spot in the semifinals.
Jones, who will be a graduate student this fall, went out and took this win from Broin down the stretch. He birdied holes 17 and 18 to force a playoff.
Jones then persevered through the three playoff holes and got a par on No. 3 to take the match despite Broin shooting an impressive 5-under 31 on the back nine. Jones was 3-under on the day through regulation, carding a 34 on the back.
Jones took his first lead with a birdie win at No. 9. Jones got into trouble on the par-five 12th with a bogey that allowed Broin to even the match back up.
Broin then got a par win at 13 and a birdie win at the par-five 14th. That moved him to 2-up and put all the pressure on Jones going into 17 after both players birdied 15 and parred 16. Jones delivered, getting the birdie at 17 to keep his hopes alive, and then doing the same at 18 to set up a dramatic finish on the third playoff hole.
MEN'S CHAMPIONSHIP SEMIFINAL PAIRINGS - SATURDAY FROM THE FIRST TEE
6:50 a.m. - Nick Jarrett vs. Gavin Cronkhite; Ryan Conn vs. Zak Jones