Resorters golf: Comebacks and clutch play in Grand Masters
Three of the four matches lasted at least 17 holes.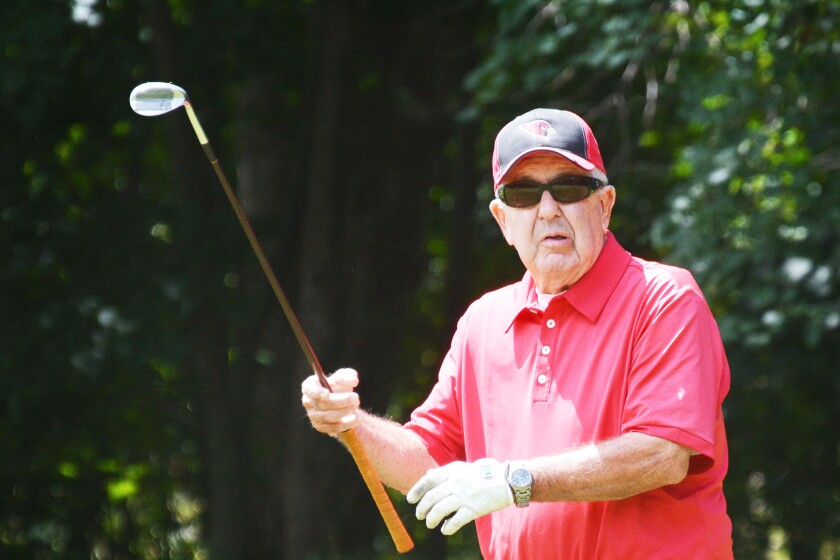 ALEXANDRIA — Those following the Men's Grand Masters quarterfinals Wednesday saw a little bit of everything – a blowout, a grueling extra-hole battle, a close white-knuckler of a match, and one amazing comeback.
After the dust settled in all that wind out there, four golfers kept their championship hopes alive – Mike Golden, Gene Sipe, Jerry Gruidl and Dave Harris. They will tee it at 8:50 a.m. from the No. 1 on Friday.
Here's a look at how they got there (golfers started from the No. 10 tee):
Golden def. Riesberg, 6-5
Golden, the number-one seed with a medalist round of 81, wasted no time against Ken Riesberg, winning three of the first four holes with pars on Nos. 10, 12 and 13. Riesberg hung tough, winning No. 11 with a bogey, but Golden added a bogey win on the 15th hole to go 3-up. Both golfers swapped two pars and a bogey on the next three holes, keeping Golden's lead intact at the turn.
After halving No. 1 with bogeys, Golden got a par win on No. 2 and a bogey win on No. 3 and coasted from there to a 6-5 win.
Sipe def. Douglas in 19 holes
What a battle!
Sipe tied the match four times, took his first lead 12 holes into the match and had to withstand a last-ditch comeback from his opponent, William Douglas.
It was a see-saw affair from the start. Starting from the 10th tee, the golfers matched the first two holes before Douglas took the first lead with a bogey on No. 12. Sipe erased it with a par on No. 13. Douglas took No. 14 with par. Sipe answered with a par win on No. 15. Douglas regained the lead with a par on No. 16 but Sipe rallied for a par win on No. 17. Douglas made par on No. 18 to take the lead only to lose it again when Sipe knocked down a birdie on No. 2.
Sipe bounced into the lead with a par win on No. 5 and was 2-up after his bogey took No. 7. Douglas wasn't done yet, however. He stormed back with par wins on Nos. 8 and 9 to send the match into overtime. Sipe won the first extra hole for a hard-earned victory.
Jerry Gruidl gutted out another tight Resorters match against another cagey Resorters veteran, Clayton Pike, nailing down a 2-1 win.
Details of the match weren't available with live scoring not being kept.
Alexandria's Dave Harris had to overcome a five-hole deficit to topple Ron Way.
Starting from the No. 10 tee, the first nine holes went Way's way. He won Nos. 10, 11 and 12, with pars, matched Harris' bogey on No. 13 and went 4-up with a par win on the long 14th hole.
Harris got his first win of the match with a bogey on No. 15 but Way struck back with back-to-back pars on Nos. 16 and 17 to go 5-up. Both golfers had to settle for bogeys on No. 18, which kept Way comfortably out front, 5-up at the turn.
After that, Harris managed to pull off a huge comeback. He won Nos. 1, 2, 3 and 4 with two pars and two bogies to suddenly cut Way's lead to one. Both golfers halved No. 5 and 6 with pars and bogeys before Harris broke through again, this time with a par on No. 7 to tie it and a birdie on No. 8 to take the lead for the first time in the match. Both golfers parred the 9th hole, giving Harris a 1-up victory.
FRIDAY MATCH-PLAY PAIRINGS - NO. 1 TEE
8:50 a.m. - Mike Golden vs. Gene Sipe; Jerry Gruidl vs. Dave Harris