Regional Special Olympics athletes return to Lake Miltona Golf Club after two-year absence
A downpoor couldn't wipe the smiles off the faces of the athletes, organizers and volunteers at Lake Miltona Golf Club during the Alexandria Special Olympics golf meet.
Alexandria's Jay LeMere carried a torch up the extended walkway at Lake Miltona Golf Club alongside officer Keith Melrose on the morning of July 22. They led dozens of athletes and volunteers who waited two years to be in that moment.
Due to the COVID-19 pandemic, Special Olympics events have been at a premium. It had been over two years since Alexandria's athletes had competed in an official golf meet. With just under a month of practice before the regional meet, excitement was at an all-time high.
"I didn't know what to do with myself last summer," Alexandria Lakes Area Special Olympics coach Karyn Sportel said. "I would have athletes and parents call asking, 'Aren't you going to do anything this year?' I had to tell them no, and that was hard. I felt a little lost. I started doing Special Olympics in 1974, and I've done it every year in one form or another. This golf has just been wonderful. The athletes just adore it."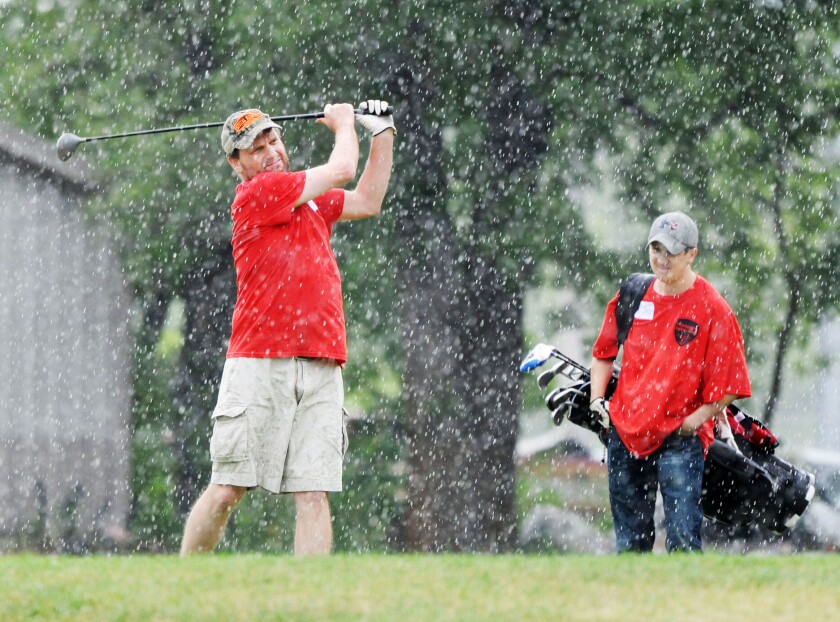 The Alexandria group was a little smaller this year because of the pandemic.
"Some people are still Covid-shy, and we understand that," Sportel said. "Instead of having around 40, we have about 25 this year. The other thing that's happened is some of our athletes couldn't come because they've been working so much at their jobs. They keep picking up hours at work, and that's just so fantastic to see."
Alexandria golfers were joined by competitors from Moorhead, Fergus Falls, Rocori and Montevideo. Because this was a regional event, more teams were represented.
Of the five programs, 70 combined athletes competed in the unified alternate nine-hole, unified alternate three-hole, traditional nine-hole, traditional three-hole and individual skills competitions.
"We've held four competitions all within the last two weeks," Devin Kaasa, Special Olympics Senior Manager of Sports and Education, said. "In the past, I've worked at these state and regional events. But this year, everything is regionally based. That's why there are a couple more teams than there typically is."
The Special Olympics follows the guidelines from its international office. When they got the green light to resume athletics, it was all hands on deck.
"It's been fun to see the number of volunteers and groups that have wanted to come out," Kaasa said. "Once we got our guidelines updated, we wanted to figure out how we could run these events with the least amount of volunteers just to limit the number of people at each event. We had an event in Hastings where we had fewer athletes than we expected. We set up people like they were in galleries, and it was a lot of fun."
Kaasa and Sportel missed seeing the familiar faces at Lake Miltona Golf Club, and so did course owners Tom and Patrice Blank. They looked forward to hosting the region's athletes at their club and pulled out all the stops to make sure they were ready to hit the links.
"I got a text from my wife at 2:25 this morning," Tom Blank said. "She was telling me what I needed to do in the morning after she got all of the scorecards printed out and taking care of all of the little instructions that take time. We want to make sure that when the help shows up, they know what to do."
"All I've done for 44 years is golf," Tom said. "It's just fun to see people playing golf. It's an experience. It's not the score you shoot, but it's the experience. Especially nowadays. It's about getting out with family and friends and playing golf. You don't create scores; you create memories."
Getting back to sports has been the top priority from the athletes to the volunteers. It goes further than the competition. Reconnecting with old friends on the tail end of the pandemic is what made days like Thursday so special.
"Seeing people get their clubs and put them on the carts knowing they're competing with somebody from Moorhead, which is a team Alexandria competes against, you get that friendly-competitive mindset going with them," Kaasa said. "Not only does that bring back friendships, but it also makes them feel good to be back. Having competitions back will hopefully rebuild those relationships that have been missing for two years."
ALEXANDRIA LAKES AREA SPECIAL OLYMPICS SCORES
INDIVIDUAL SKILLS- Kyle Debilzen 51, Andrew Payne 53, TRADITIONAL 3-HOLE- Heidi 25, Paul Spangrud 26, Becky Saltmarsh 27; TRADITIONAL 9-HOLE- Justin Hanson-Simmons 61, Tobby Klimek 61, Ralph Koopmeiners 51, UNIFIED 9-HOLE Keven Engebretson-Chad Saltmarsh 47, Michael Engler-Jay LeMere 63, Amy Amudson-Dustin Debilzen 68, Chad Mulder-Steve Sportel 46, Raymond Pipo-Chase Pederson 47, Matthew Froemming-Brian Hanson 58, Alex Eggert-Harrlet Mouw 70, Robb Erlandson-Pat Hardie 57, Cary Reiter-Dalin Reiter 64, UNIFIED 3-HOLE- Colleen Barten-Nick Grey 24, Rebecca Bruzek-Kendra Holm 18, Marcy Laabs-Lois Lee 22