Hockey: Just like in 2018, Alexandria players are confident, eager for a shot at perennial-power Hermantown
These two programs last met in the Class A state semifinals on March 9, 2018 when Alexandria won 6-1 to halt a stretch of eight straight seasons where the Hawks had made the state championship game. The Cardinals are eager for another opportunity against a 27-2 Hawks team that has been the favorite to bring home a championship all season.
ALEXANDRIA — The Alexandria boys hockey team has been here before. Heading into a state semifinals game with the Minnesota program that is often thought of as the program to beat in Class A hockey standing in its way.
The players on this current Alexandria team (20-6-2) that beat Minneapolis 4-1 on Wednesday night to secure the right to face Hermantown in Friday's semifinals surely remember the last time these two programs met on March 9, 2018. Hermantown came into that matchup 22-6-2, as back-to-back state champions and riding a stretch of eight straight seasons where they made the Class A state championship game.
That 2018 Alexandria team relished the opportunity to be the program to halt that run for the Hawks, and it showed in a 6-1 win for the Cardinals.
"There was just a quiet confidence, a quiet calm," Alexandria's head coach at the time, Ian Resch, said of his team after they scored four third-period goals to pull away. "Even going out for the third, I thought I'd see a bit more excitement, but it was just one level, business-like attitude."
This current group of Alexandria players seems equally as motivated by an opportunity to take down a powerful Hermantown program.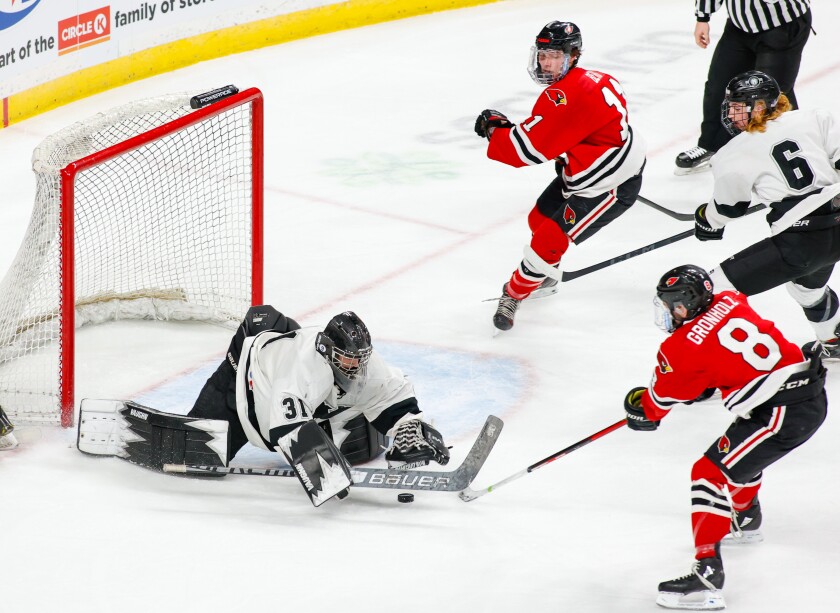 "We're excited," senior defenseman Pieter Mulder said after the win over Minneapolis on Wednesday. "We've been waiting for it all year. We knew if we won this game that we were going to have them. We're ready for them."
This year's challenge might be even tougher than that of trying to take down that 2018 version of the Hawks. Hermantown comes into Friday's 1 p.m. game at the Xcel Energy Center in St. Paul with a 27-2 record after beating New Prague 5-1 in the quarterfinals.
The Hawks' only losses came in a 4-2 game at Cretin-Derham Hall on Dec. 23, and a 6-3 game against Maple Grove on Jan. 29. Cretin-Derham Hall (24-3) and Maple Grove (21-6-1) are the second and third seed, respectively, in the Class AA state tournament that starts on Thursday.
"It's heart and passion. It's winning the one-on-one battles and taking care of the puck as best we can," Alexandria head coach Josh Meyers said of what is going to give Alexandria a chance to beat the Hawks. "There's no pressure on us. We weren't the favorite from day one like Hermantown has been all season. We're small-town Alexandria. Like Teagan (Pfeffer) said, we don't have the big-name guys on our team that are getting all the hype, that the NHL scouts are here to see. We're just going to go play."
Pfeffer, Alexandria's senior goalie who voiced a strong confidence in his team after the win over Minneapolis, was quick to make a clarification from an earlier comment he made in the post-game press conference about Hermantown getting all the statewide media attention heading into the state tournament.
"I think we do have the big-name guys, we just don't have the coverage. These guys are going to show that these next couple games," Pfeffer said with a smile as he pointed to Mulder on his right and senior forward Josiah Gronholz on his left. "We got a ton of talent on our team, and we're going to prove a lot of people wrong and a couple people right."
Getting a win on Friday will likely take a big performance from Pfeffer himself. He had 25 saves and just the one goal allowed in Alexandria's win in the quarterfinals.
That upped Pfeffer's overall record to 15-6-2 with a 2.64 goals-against average and an .892 save percentage this season.
"In all seriousness, this guy has shown up for us all playoffs," Mulder said of Pfeffer. "He's kept us in a lot of games."
Hermantown comes into Friday's semifinals averaging a Class-A high 5.9 goals per game. Sophomore forward Max Plante is their lead playmaker with 68 points on 17 goals and 51 assists.
Junior Zam Plante, a University of Minnesota-Duluth commit, has 58 points (22 goals, 36 assists), and junior Kade Kohanski has 20 goals and 35 assists.
The Hawks have five guys total who come into Friday's semifinals with 31 points or more. Ty Hanson, a junior defenseman with 42 points (14 goals, 28 assists) joins Zam Plante as a Division I commit to the University of Minnesota-Duluth.
Alexandria will counter with five guys at 28 points or more this season. Mulder has shown a knack for being in on scoring plays with 25 assists from the blue line.
Gronholz has a team-leading 60 points on 25 goals and 35 assists. Junior Tyler Kludt has a team-best 36 assists to go with 13 goals, while senior Brycen Berg (45 points) will come into Friday's game as the lead goal scorer for either team after his two-goal effort against Minneapolis gave him 29 for the year.
The Cardinals will try to generate offense against a Hermantown team that allows just 1.34 goals per game. Sophomore goaltender Dane Callaway (18-2) is the anchor of that defense with a 1.47 goals-against average and a .921 save percentage.
"It starts with getting pucks in deep," Meyers said of attacking the Hermantown defense. "You can't be having those neutral zone turnovers. They're really good on their transition game, so if they're going to beat us they're going to have to start all the way from behind their net. I think that's goal number one. They've got some guys who can play, no doubt. We've got to make sure we're taking away the middle of the ice and steer them to the outside. It's really nothing different then we've been preaching all year long. We just got to go out there and execute it."
Alexandria is 12-0-1 in its last 13 games. Pfeffer said after beating Little Falls on Jan. 31 that when the Cardinals are playing at their best in all three phases, he does not think there's a team in Class A they can't beat. Friday's matchup with Hermantown is a chance to prove that on the biggest stage.
"All season, Josh said it's about how we play. Nothing else matters," Pfeffer said on Wednesday night. "If we show up and we play, good things will happen. Work hard, win those one-on-ones, and the puck's going to bounce our direction."
WHAT: Alexandria vs. Hermantown
WHEN: Friday, March 11 at 1 p.m.
WHERE: Xcel Energy Center, St. Paul