Football: Mix of experience and talented newcomers has Osakis thinking big
The Silverstreaks have to replace much of their starters along the line from a year ago, but this team believes it has all the tools to make another deep playoff run after going 8-2 in 2021.
We are part of The Trust Project.
OSAKIS — Coaches and players from the Osakis football team kept a close eye on what the West Central Area-Ashby program did at the 2021 state tournament and had mixed emotions.
WCA-Ashby almost won a state title, falling a point short against Chatfield in the Class AA championship at U.S. Bank Stadium. Osakis beat the Knights during the regular season and then played them to a one-score game in a 19-14 loss in the Section 6AA title game.
"It's bitter and it's sweet too," Osakis head coach Bill Infanger said. "At one point, you have the 'It could have been us' thing. Then on the other hand, I know the coaches over there -- coach (Nate) Wood and coach (Dave) Stone. I'm good friends with them and you're happy for them because you know they're good guys who run a good program. Their kids play really hard. They deserved it just as much as our guys did. We were at home watching Barnesville too, so two teams we beat in our district made it to the final four. We gained some confidence from that, knowing we can play with the best teams in the state at AA."
The confidence gained from an 8-2 season for Osakis carried them into the offseason where Infanger said guys were as committed as ever to the weight room. The Silverstreaks also had 28 athletes who went to a team camp at Bemidji State and performed well this summer.
That was an opportunity to see how a new-look group played together against other programs. Infanger and his players came out of this offseason fully believing they again have what it takes to compete for a section championship with this group.
"It's amazing to me every year how the class of young guys always step up," Infanger said. "Seniors graduate and leave that locker room and a new group of leaders somehow grow over the summer. Then here we are, it's their senior year, it's their time. All of a sudden you have these guys mature into leaders right before your eyes. I really feel like it's happening right now. These guys are hungry and they want to be right where we were last year competing for a section championship and district championship."
If there is a position group that Osakis got hit hardest by graduation, it was the line.
The offensive line in particular lost four of the five starters.
Infanger said Ian Adolphsen, a senior, is ready to step in at center.
"Then our guards on either side of him will be Tyler Bailey and McCarter Kirksey," Infanger said. "Then we have Logan Karnes, who played nose tackle for us last year but not on the offensive side much last year. He'll be one of our tackles and the other tackle will be Tyler Baumgartner, a junior who is a really good athlete and a big, strong kid."
The Silverstreaks have a lot of size with that group. Adolphsen weighs about 215 pounds as the smallest of the bunch. Karnes bookends the other end of the spectrum at about 270, and that size and strength collectively has been noticeable through camp and summer workouts.
"The shoes were big to fill in the offseason, but these guys have been working hard to fill them," senior running back Tyson Hagedon said of his linemen.
Brady Mages is one of the graduated seniors along the lines who has to be replaced. He was named Osakis' team MVP in 2021 after leading the Silverstreaks in tackles with 83 to go along with three sacks, a fumble recovery and an interception.
"To replace a guy like Brady, you don't do it with one guy," Infanger said. "He was that rare height and physicality and size that you don't get too often in high school football. But we have a lot of guys who have been in the weight room, and across the line we're just as strong. If you took our strength numbers across the line from last year to this year, we're right there or higher this year, honestly. Yeah, we lost some really good seniors, but the work has been put in. I think these guys are going to step up and fill that void."
A dominant backfield returns
Osakis has no such worries of inexperience in the backfield.
Hagedon and junior Drew Imdieke return to form one of the best 1-2 punches at running back and fullback in the area. Hagedon runs with good power and speed. He tallied 1,027 yards and six touchdowns on 176 carries last year. Imdieke runs with great power, putting up 612 yards and 18 touchdowns on 141 carries. He also was third on the team in tackles with 48.
"We both feel comfortable and feel like we can get it done this year," Hagedon said.
Under center in front of them is junior quarterback Kyle Mages. He was this team's offensive MVP Award winner as a sophomore, throwing for 1,183 yards and 13 touchdowns on 70-of-131 passing. He ran for 325 yards and three touchdowns on 45 carries.
At 6-feet, 3-inches and 185 pounds, Mages has the typical build of a bigger quarterback that a school the size of Osakis does not always have.
"I gained confidence in my line and the backs behind me to make plays (last year), and the receivers too," Mages said. "Hopefully I can grow a lot more just because I've played in more games. I've gained a lot of experience, and hopefully that will carry on to Friday nights."
Bauer Klimek was Mages' top target a year ago, catching seven touchdowns with 24 receptions and 498 yards. Klimek needs to be replaced after graduating, and Infanger said there is a good battle going on in camp with juniors Ben Berger and Mekai Hoelscher and sophomore Seth Staloch looking to fill that role.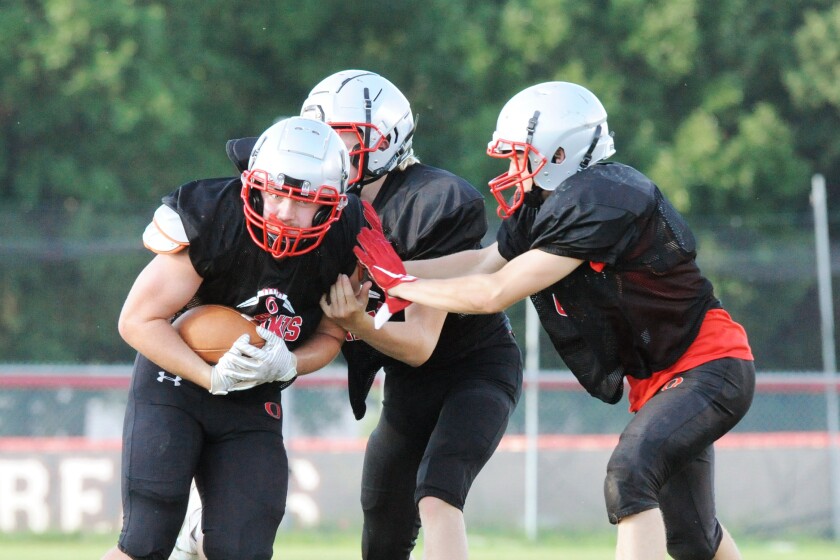 1
/
2:
Osakis junior Wyatt Sell carries the ball along the sideline as two defenders close in on him during practice on Aug. 19, 2022.
2
/
2:
Osakis senior Tyson Hagedon carries the ball during practice on Aug. 19, 2022. Hagedon is back to help lead the Silverstreaks in the backfield after running for more than 1,000 yards as a junior.
" I expect Ben and the other 'X' receivers to step up," Kyle Mages said. "I expect Grant (Mages) and the other tight ends to do the same thing."
Grant, Kyle's twin brother, is back this season after missing time in recent years due to injury. He offers Osakis another big target at the tight end position.
"We're filling those positions with size and strength and physicality," Infanger said. "We have skill position guys who are a year older. We think we're going to get some big plays out of them."
Back in the mix by season's end
Infanger expects nothing to come easy with talented programs in both the Midwest White District and Section 6AA fields.
Barnesville and WCA-Ashby should have competitive teams again this fall after finishing just behind the Silverstreaks in the district-title chase in 2021.
Infanger said Section 6AA, which features Osakis, WCA-Ashby, Pillager, Sauk Centre, Staples-Motley and Wadena-Deer Creek, could be anybody's game. The Knights did lose many good players from their runner-up finish at state in 2021, but they also return talented athletes and are equally as eager to have another big season.
Osakis players and coaches know they need to take things week-by-week, but they fully expect to be in contention during the season's biggest moments this fall.
"We expect to be there at the end competing for that section title," Infanger said. "We just have to continue to get better week in and week out. Whether it's a win or a loss in the regular season, we have to grow from it. The team we bring into the season is going to be inexperienced, and hopefully we have a whole lot of growth throughout the season, and at the end we're that polished team that's ready to go make a run."
Osakis opens the season on Thursday, Sept. 1 with a 6 p.m. kickoff at home against Crookston.
Crookston was 3-6 during the 2021 season and plays out of Section 8AA. The Silverstreaks beat the Pirates in a 27-0 game during last year's season opener.