Boys hockey: Alexandria looking to build on state tournament run
The Alexandria boys hockey team made a deep run in the state tournament this year and is ready to make another run this season.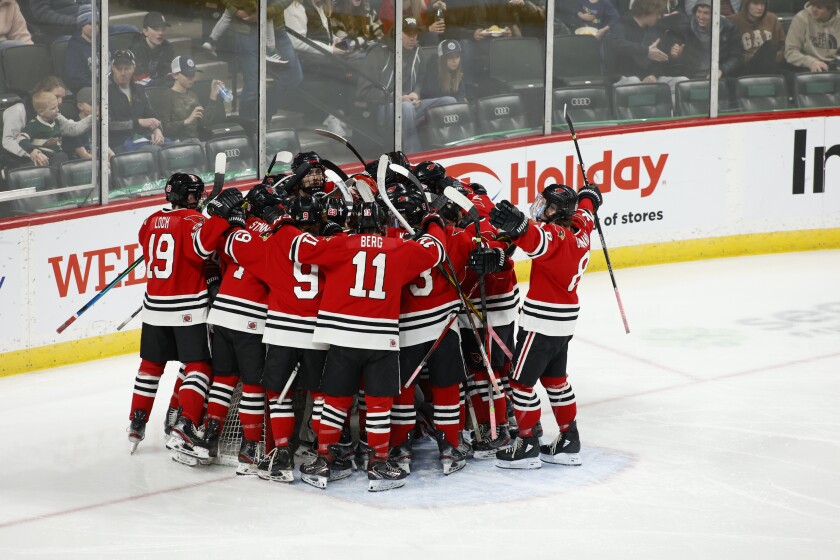 We are part of The Trust Project.
The Alexandria boys hockey team finished as one the best in Class A last season as it went down as the fourth place team at the Class A State Tournament. The Cardinals had a record of 20-8-2 last season.
This season, Alexandria head coach Josh Meyers says the goal is to repeat as Section 6A champions and to make another run in the state tournament.
The Cardinals have lost key pieces such as Joe Gronholz, Pieter Mulder, Teagan Pfeffer, Brycen Berg and more. But the Cardinals still have a bevy of experience back as 12 players with significant experience return from last year's varsity team.
Included among the returners are senior Joe Lamski and Tyler Kludt, both of whom had 14 goals last season. Junior Gavin Olson and senior Nick Peterson scored 12 and goals last season respectively. Kludt led the Cardinals in assists last season with 37.
With junior Leo Kompelien also back (9 goals, 17 assists last season), Alexandria returns five of its eight top scorers from last season.
Seniors Zaven Noetzelman, Keegan Lucy, Jack Breitzman, Henry Ramstorf, Mason Loch and juniors Jack Lamski and Gage Castle are some key returning pieces with significant varsity playing time under their belt.
Meyers said the team has eight returning forwards and four returning defensemen and that having that experience back is a major plus.
The Cardinals topped the Fergus Falls Otters in the section championship game last year, and Meyers expects Fergus Falls along with Northern Lakes to be the other top teams in the section this coming year.
Alexandria finishes second in the Central Lakes Conference last year behind Sartell. Along with Sartell, Meyers expects St. Cloud and Brainerd to be among the other top competitors in the conference.
As the season goes on, Meyers said they will continue to work on finding their identity.
2022-23 Alexandria Boys Hockey
HEAD COACH - Josh Meyers, 3rd season, 29-18-3
ASSISTANT COACHES - Adam Olsen, Landon Olson, Dusty Clarquist, Erich Murphy
ROSTER - SENIORS - Joe Lamski, Tyler Kludt, Nick Peterson, Zaven Noetzelman, Keegan Lucy, Jack Breitzman, Henry Ramstorf, Mason Loch, Matthew Hornstein, Riley Wagner,
Elijah Rasmusen; JUNIORS - Leo Kompelien, Kasen Muscha, Evan Anderson, Caleb Lind, Cole Haabala, Gavin Olson, Jack Lamski, Gage Castle, Bennett Olsen, Jackson Cavers, Owen Draper, John Gesell, Rylan Hovde, Ryland Block, Isak Rhen; SOPHOMORES - Jaxson Bakeberg, Trey Pfeffer, Hudsen Carlson, Sam Joslyn, Brett Thornburg, Grady Loch, Jacob Nicholson, Cameron O'Shea; FRESHMAN - Jackson Drum
SCHEDULE -
Dec. 1 vs Sartell-St. Stephen, 7:15 p.m.
Dec. 3 vs Orono, 1 p.m.
Dec. 6 vs Little Falls, 7:15 p.m.
Dec. 15 at Rocori-River Lakes, 7:15 p.m.
Dec. 17 vs East Grand Forks, 2 p.m.
Dec. 20 at Pequot Lakes, 7 p.m.
Dec. 22 vs St. Cloud Crush, 7:15 p.m.
Dec. 27 at Roseau Tournament
Jan. 3 vs Chisago Lakes, 7:15 p.m.
Jan. 6 vs Bemidji, 7:15 p.m.
Jan. 10 vs Brainerd, 7:15 p.m.
Jan 12 at Sartell-St. Stephen, 7:15 p.m.
Jan. 17 at St. Cloud Cathedral, 7 p.m.
Jan. 20 vs Fergus Falls, 7:15 p.m.
Jan. 24 vs Willmar, 5:30 p.m.
Jan. 26 vs Sauk Rapids-Rice, 7:15 p.m.
Jan 28 at Monticello, 3 p.m.
Jan. 31 at Little Falls, 7:15 p.m.
Feb. 4 vs Duluth Denfeld, 1:30 p.m.
Feb. 7 at St. Cloud Crush, 7:15 p.m.
Feb. 9 at Fergus Falls, 7:15 p.m.
Feb. 14 vs Detroit Lakes, 7:15 p.m.
Feb. 16 at Brainerd, 7:15 p.m
Feb. 18 Section 8AA Playoffs
Feb. 21 Section 8AA Playoffs
Feb. 25 Section 8AA Playoffs
March 1 Section 8AA Playoffs