Baseball: Lakers get the bats going in wins over WCA
Minnewaska had a big night at the plate on Tuesday.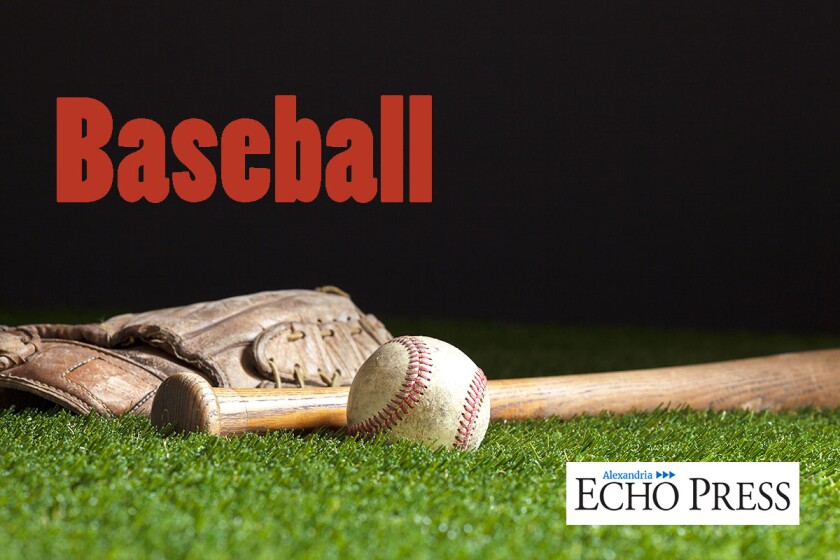 The Minnewaska baseball team got the bats going in a pair of games on Wednesday against West Central Area, as the team registered 19 hits combined in two wins.
Minnewaska won game one 11-2 and game two 12-2 (in five innings).
Minnewaska led 5-0 heading into the final innings and scored six runs to take a 11-0 lead. WCA scored two runs in the final frame.
Dylan Alexander led the Minnewaska offense with three hits and two RBIs. Levi Johnson earned the win on the mound for Minnewaska, allowing no hits and just three runs.
Ben Bye had two hits in game one for WCA.
In game two, Minnewaska jumped out to a 7-2 lead after two innings and never looked back.
Alexander went 3-for-4 at the plate with three RBIs, while PJ Johnson went 3-for-3 at the plate.
Connor Erickson earned the win on the mound in game two, allowing just two runs, one hit and striking out four batters.
Cash Nelson had WCA's hit in game two.
Minnewaska plays on the road on the road at 5 p.m. on Friday against Atwater-Cosmos-Grove City, while WCA plays at Morris Area on Tuesday, May 16, 2023, at 5 p.m.
Game one -
Minnewaska - 0 0 1 0 1 3 6 - 11 9 1
West Central Area - 0 0 0 0 0 0 2 - 2 5 3
MINNEWASKA OFFENSE - Jack Majerus - 1-4, 2 R, 2 RBI, BB; Levi Johnson - 0-3, 2 BB, R; Dylan Alexander - 3-5, R, 2 RBI; PJ Johnson - 0-5, RBI; Noah Jensen - 1-3, 2 RBI; Austin Weber - 0-3, R BB; Alex Panitzke - 2-4, R BB; Connor Erickson - 0-0, R; Ryland Martin - 0-4, R, RBI; Austin Ballhagen - 2-2, 3 R, 2 BB
MINNEWASKA PITCHING - Levi Johnson - W - 6 IP, 3 H, 0 R, 0 ER, 2 BB; Austin Ballhagen - 1 IP, 2 H, 2 R, 2 ER, 1 BB, 2 SO
WCA OFFENSE - Brady Lindquist - 1-1; Ty Fuhs - 0-2, BB; Ben Bye - 2-3, R; Jack Courrier - 0-1, R, 2 BB; Cash Nelson - 1-3
WCA PITCHING - Cole Bruss - 5 IP, 3 H, 2 R, 1 ER, 3 BB, 3 SO; Cash Nelson - 1.1 IP, 5 H, 9 R, 5 ER, 3 BB, 2 SO; Jack Courrier - 0.2 IP, 1 H, 0 R, 0 ER, 1 BB, 1 SO
Game two -
West Central Area - 0 2 0 0 0 - 2 1 2
Minnewaska - 3 4 0 3 2 - 12 10 0
WCA OFFENSE - Ty Fuhs - 0-1, BB; Ben Bye - 0-1, BB; Bryce Kjesbo - 0-1, BB, R; Cole Bruss - 0-0, BB; Cash Nelson - 1-1, RBI, BB; Adam Lohse - 0-1, RBI
WCA PITCHING - Dane Anderson - 4.0 IP, 9 H, 12 R, 10 ER, 6 BB, 1 SO; Brayden Stark - 0.0 IP, 1 H, 0 R, 0 ER, 1 BB
MINNEWASKA OFFENSE - Jack Majerus - 2-4, 3 R; Levi Johnson - 0-2, R, 2 BB; Dylan Alexander - 3-4, 2 R, 3 RBI; PJ Johnson - 3-3, R, 2 RBI, BB; Thomas Poegel - 0-1, 2 R; Noah Jensen - 1-1, 2 R, RBI, BB; Austin Weber - 1-1, 2 RBI, 1 BB; Alex Panitzke - 0-1, RBI, BB; Austin Ballhagen - 0-2, R, BB
MINNEWASKA PITCHING - Connor Erickson - 5.0 IP, 1 H, 2 R, 2 ER, 6 BB, 4 SO