One last goodbye: Aces put on final show ever where their first big break began
Each stop for the Alexandria Aces this season was part of a farewell tour that brought with it a lot of memories for Aces founder and coach, Larry Novotny.
Each stop for the Alexandria Aces this season was part of a farewell tour that brought with it a lot of memories for Aces founder and coach, Larry Novotny.
March 1 was a chance to say goodbye to the Alexandria community in front of a packed crowd at Alexandria Area High School.
The Aces, a performance basketball team comprised of boys and girls ages 5-12, got their official start in gyms around their hometown. Their first big break onto a statewide and national scene? That came during a Timberwolves game in 1991. It was only fitting then that the Aces performed their last show ever on Sunday afternoon back at the Target Center during the Timberwolves game against the Oklahoma City Thunder.
"We got that Timberwolves game in 1991, and the kids got a standing ovation that day," Novotny said. "After that, the doors kind of opened all over the country for us. It was nice to end at the same place where it started."
The Aces performed at Timberwolves games through 29 seasons. On Sunday, the organization presented them with a jersey with the Alexandria Aces name on it and the number 91, representing that first year they performed there at a game.
"The crowd was great," Novotny said. "So many of the workers, the ushers, staff, etc. had seen us through the years. They all had known this was our last year, and everyone was coming up and saying they were sorry to see us go but wishing us well."
It made for a fun day for this team in what could have been a day filled with mixed emotions.
"I didn't have to worry about impressing anybody so we get invited back," Novotny said with a laugh. "It was pretty well a stress-free day, even though we wanted to go out there and put on the best show we could. The kids did a really good job. It turned out to be a really nice day."
This final season as a whole played out along those same lines. The 2018-19 stops included plenty of the big venues that this team had gotten used to performing at over the years.
There was the season opener back at Williams Arena for the University of Minnesota on Dec. 11. Then stops in Gainesville, Fla. for big men's and women's games Jan. 12-13 ahead of a Columbia, Mo. performance on Feb. 19 for a Missouri versus Kentucky men's game.
"It was exciting and sad at the same time," Novotny said. "Exciting that we were able to provide entertainment for so many people for so many years, and they were so appreciative. That really meant a lot to us, but at the same time a little bit sad it's coming to an end. It really was a good last year. The Alex event was fantastic and just really made for such a great event in our hometown."
Over the years, Novotny had to limit the number of kids on each team to about 15. That usually meant having to make difficult cuts after tryouts, but this year's team was down to less than 10 kids after nobody new tried out for the team this last season.
After 30 years, it was time for a good run to come to an end. The Aces performed in front of more than 5 million fans during their tenure. They put on their halftime show more than 1,000 times with about 250 kids coming through the program.
What started out as something small turned into something bigger than Novotny ever could have imagined.
"The first goal was to hope that their basketball skills improved, but what we found out is their self confidence improved and their ability to set goals and go after them," he said. "It was just the mountain-top experiences that we wanted to provide for these kids, that was the main thing. To give them some experiences that they're never going to forget in their lifetime."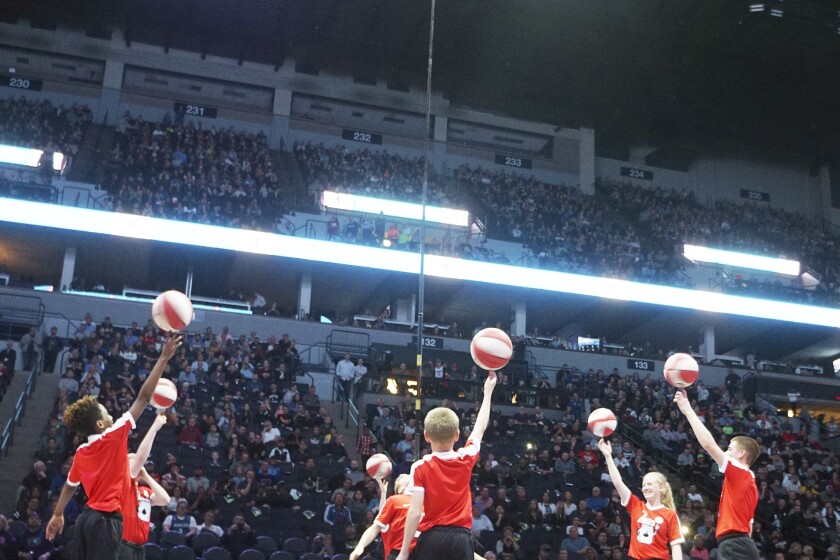 1
/
3:
The Alexandria Aces put on a show in front of Minnesota Timberwolves fans on April 7. It was the final show ever for the Aces as their 30-year run as a program came to an end on Sunday. (Submitted photo)
2
/
3:
The Minnesota Timberwolves present the Alexandria Aces with a jersery to show their appreciation for the Aces performing at Timberwolves games for 29 seasons. (Submitted photo)
3
/
3:
Alexandria Aces team member Chase Thompson goes to the ground while spinning a ball at the Timberwolves game on April 7. (Submitted photo)