Survey says: Minnesota lakes filled with fish, even if anglers don't think so
DNR's annual surveys help determine fish populations, lake management, stocking strategies
OTTERTAIL, Minn. — Steve Kubeny has words of wisdom for anybody who says, "There aren't any fish in my lake."
"If you drained all the water out of their lakes," Kubeny said, smiling and sweeping his arm toward the water of Portage Lake in Otter Tail County, "people would be amazed at how many fish were in them."
He and his Minnesota Department of Natural Resources mates would know. They are responsible for netting, trapping and sometimes stunning fish in the state's lakes and rivers to evaluate populations, collect data and help make management decisions.
Are walleye stockings in your favorite lake effective in maintaining a fishable population? DNR surveys tell the story.
"Any time we put a regulation on a lake, or make a decision related to stocking, it all comes from the data we collect with surveys," said Luke Schalekamp, like Kubeny, a fisheries specialist out of the DNR office in Fergus Falls.
On a recent day, Kubeny and Schalekamp were joined by intern Leah Muer (a student at the University of Minnesota-Duluth who is from Perham) as they checked two gill nets and three trap nets they set the prior day on Portage Lake.
Portage is a quiet 270-acre lake just east of famed Otter Tail Lake. It is known as a solid walleye fishery, the population sustained by the DNR's stocking of 148,000 fry — mosquito-sized walleyes raised at a hatchery — every other year.
"There is little to no natural reproduction in this lake because it lacks the proper substrate walleyes need," Kubeny said. "But it's a lake we've developed into a good walleye fishery because it has a low northern pike population. Predation is very low and so the little walleyes survive."
The purpose of this day's survey is to evaluate Portage Lake's walleye population, in turn evaluating the DNR's stocking efforts. The lake is stocked in odd-numbered years, so Kubeny predicted their gill nets should have good numbers of 12- to 13-inch walleyes — fish stocked in 2019.
He wasn't wrong.
Kubeny and Schalekamp motored their olive-green DNR jonboat a couple of hundred yards off the public access on the lake's east side and pulled up the first gill net, a 250-foot by 6-foot net weighted to sink to the lake bottom but marked at the surface by red flags. Gill nets have different size meshes, so fish of varying sizes can swim into them and get caught. When they do, the fish suffocate and die.
"We get asked all the time: How many fish do you kill when you do these surveys?" Kubeny said. "It's a legitimate question because people will see us hauling up the nets with fish in them. The answer is, compared to all the fish in the lake it is a very small fraction."
Adds Schalekamp: "It's the only way we can get a representative sample to evaluate our walleye stockings."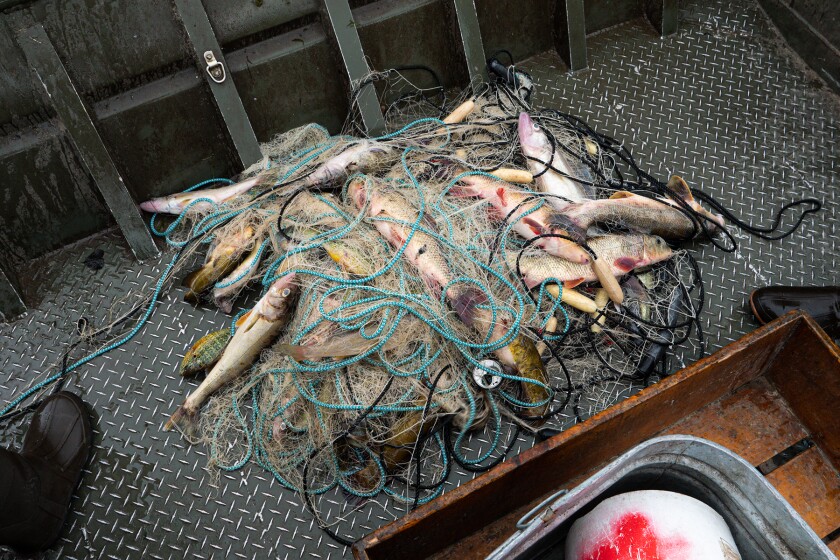 The net was set in deep water, 18 to 20 feet, in a likely walleye hangout along a breakline. It's roughly the same spot the DNR has put a net for 50 years or more. The biologists want to be consistent in where they survey fish.
Kubeny and Schalekamp haul up the net and captured fish, pile them in the bottom of the boat, and head back to shore to count fish and collect samples from some of them.
The net clearly captured walleyes, but there are several other species stuck in the mesh. Bluegills, pumpkinseeds, crappies, white suckers, largemouth bass, yellow bullheads, brown bullheads and perch.
"It's getting to be later in the summer so fish will move out deeper. That's why you see bass and panfish," Schalekamp said.
The fish are sorted into pails based on the mesh size in which they were caught. Schalekamp sets up a table on the side of the boat, puts two scales and a measuring board on it, and gets to work. He recites the species, length and weight of each fish to Kubeny, who records the information on a computer tablet. They use metric system measurements to be more precise for their data, but will convert everything to inches and pounds later for the public reports.
Most of the walleyes — 15 in all were caught in this net — are 12- or 13-inches long, just as Kubeny predicted. But there is one much bigger, fatter walleye that stands out. Kubeny chuckles when someone remarks that the fish is huge.
"I'm going to say it's 25 inches long and weighs five pounds," Kubeny said, indicating his belief it's a nice walleye but not "huge."
Schalekamp takes the measurements and declares the walleye to be 26 inches long and a bit over five pounds. Not a bad observation by Kubeny.
"I've handled tens of thousands of fish," he said.
Schalekamp scrapes a few scales from the smaller fish and Kubeny puts them in a small manila envelope. They'll later be used to determine the fishes' ages. On larger fish, like the 26-inch walleye, Schalekamp uses a hacksaw to open the fish's head to remove their otoliths, small bones used as an accurate way to measure age in older fish.
The dead fish are later disposed of.
After completing work on their gill net, the crew motors its boat up the shoreline to a trap net set in a few feet of water. A trap net allows fish to swim in, but not out. It also allows them to live, so when Schalekamp hoists the net over the side of the boat there a couple of dozen sunfish, crappies and largemouth bass flopping on the aluminum floor.
Again, Schalekamp measures and weighs the fish and tells the numbers to Kubeny. This time, the fish are returned to the lake alive.
The pair will analyze and record the data during the long Minnesota winter. They'll survey about 30 lakes this summer, chosen on a rotating basis. With more than 1,000 lakes in Otter Tail County, there is no shortage of work.
Other DNR fisheries personnel survey lakes in their areas. Some lakes are electrofished if the DNR wants to target specific species, like crappies. Schalekamp, Kubeny and Muer recently surveyed channel catfish in the Red River near Wahpeton, North Dakota, using electrofishing.
The data is available at the DNR's website under the Lake Finder feature. Anglers can type in a lake's name and county to find data and the DNR's analysis of the fishery.
"These lakes are not like managing a fish bowl, where you dump fish in and everything lives," Kubeny said. "There are variables in each lake like habitat or predators. Environmental conditions, like untimely cold weather, might affect fry survival. There's a lot of things that go into it, and gathering data from surveys helps us figure out the best way to manage these lakes."
1
/
5:
A fish is weighed during a fish population assessment of Portage Lake in Ottertail County on July 26, 2022. The data collected helps determine the most successful stocking years. The Minnesota DNR fisheries department then tries to replicate the strongest age classes in the future.
2
/
5:
Minnesota DNR fisheries specialists Steve Kubeny, left, and Luke Schalekamp collect data for a fish population assessment of Portage Lake in Ottertail County on July 26, 2022.
3
/
5:
Minnesota DNR fisheries specialists Steve Kubeny, left, Luke Schalekamp and intern Leah Muer untangle fish caught in a gillnet to conduct a fish population assessment of Portage Lake in Ottertail County on July 26, 2022.
4
/
5:
Minnesota DNR fisheries specialists, Steve Kubeny, left, and Luke Schalekamp, on their way to check a gillnet on Portage Lake which helps them evaluate walleye fry stocking of the lake.
5
/
5:
Minnesota DNR fisheries specialists, Steve Kubeny, left, and Luke Schalekamp on July 26 check a gillnet that targets walleye, pike and perch species to evaluate the walleye fry stocking of the lake.