Recent research provides a deeper look at Lake Miltona's muskies
The addition of PIT tags has potential to provide endless amounts of data for fisheries staff as a recent adult-population estimate of muskies in the popular lake near Alexandria is just part of what DNR fisheries staff may be able to learn.
We are part of The Trust Project.
MILTONA, MINN. — Anglers and game and fish departments are always eager to learn more about one of the more talked about predator fish species in freshwater lakes, and a recent two-year study on Lake Miltona continues to shed light on how muskies are living in this popular fishery.
Staff members of the Glenwood DNR fisheries department sampled a total of 257 muskies on Lake Miltona. Through the two-year study, the staff was able to more accurately estimate that there are roughly 757 adult muskies (30-inches or longer) within the lake.
That number and the data collected helps the department better explain the health of muskies in Miltona to anglers, and also has the potential to guide management decisions in the future.
More accurate sampling methods
Prior sampling methods on muskies made it difficult to get an accurate population estimate. The DNR typically used large-frame trap nets to catch the fish.
A total of 15 of the nets were placed in muskie waters that extended 100 feet from shore over the course of 10 days. Those nets were checked every day. Based on how many fish were caught, the DNR used a metric called catch-per-effort (CPE) that often fluctuated dramatically.
The problem with using the nets along the shoreline stems from how muskies react to unpredictable spring weather shifts in Minnesota. The timing of the sampling was done when muskies typically spawn with water temperatures in the low-to-mid 50 degrees.
"What ends up happening is they might come up in the shallows and a cold front or storm front comes in and pushes those fish back out," Glenwood DNR fisheries specialist Nick Rydell said. "They're not vulnerable to a net that's only 100 feet from the shoreline. That CPE method for muskies was really variable, and a lot of the variability was probably not because the muskie population was changing. It was weather patterns in the spring. Our CPE metric would be anywhere from .08 muskies per trap net up to .68. Some years it would be half or double what it was four years before. That's not a very good metric. It wasn't working very well."
The use of electrofishing in this recent sampling effort proved to be more labor intensive, but it also led to a more accurate picture of the fish in the lake.
Electrofishing is a common practice used by departments to sample multiple species of fish where an electric current in the water temporarily immobilizes the fish.
"It doesn't hurt them," Rydell said. "As soon as we pull them out of the current, they're swimming again. However, because muskies have a really long lateral line, they can actually feel that electric current a long ways off before it would actually affect them. They'll end up taking off before you even get close to them if you have the electricity on. We came up with a method at our office that has been really effective where it's closer to like a spot and stalk method."
With the electrofishing done at night, a netter at the front of the boat spots the muskie with the use of a spot light. They then direct the driver of the boat close to the fish before the electric current is turned on to immobilize the muskie and get it in the boat.
The Glenwood DNR started these recent sampling efforts in 2019. Data was collected on all of the muskies caught — length of the fish, maturity, weight. The staff also implanted each muskie with a passive integrated transponder (PIT) tag that has a 16-digit identification number. The tag, about the size of a grain of rice, will last indefinitely.
"They're basically a piece of glass and inside of that it has copper wire," Rydell said. "There's no internal battery. We implant them under the skin using a syringe. Similar technology to microchips placed in pets. The PIT tag reader activates the tag."
In 2021, DNR staff returned to recapture as many fish as possible.
"We captured 169 unique fish and examined all of those fish to see, do they have a tag from 2019 or not?" Rydell said. "Then based on how many we tagged the first year to a proportion of fish tagged the next year, it's more complicated than that, but we can determine roughly how many muskies are in the lake. That's where we came up with that 757 number, but there's some error to that. It's give or take a couple hundred fish on each side of that."
High percentage of trophy fish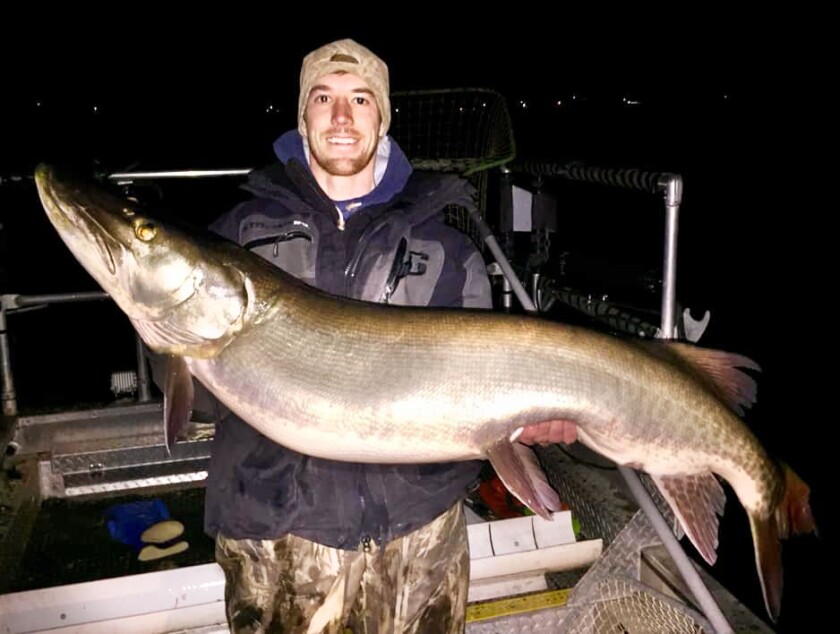 Of the 257 muskies tagged over the two years, 19 of those fish measured over 50 inches.
That may not seem like a lot at first glance, but a 50-inch fish — generally what is considered a trophy muskie these days — is rare on any body of water.
"It actually is higher than we had thought," Rydell said. "In the past, that trophy number of 50 inches or greater has varied on Miltona anywhere from 1% to about 5%. A 50-inch muskie is still a rare muskie no matter where you go. So right now, we're sitting at about 8% of the adult population is 50 inches or greater. That's a pretty high percentage."
Muskies are notoriously difficult to age. Growth rates vary from lake to lake, but Rydell said some of the limited aging data the department has from Miltona indicates that some female muskies are able to reach that 50-inch mark as young as 11 or 12 years old.
"That's fast. More likely, most of them are reaching that 50-inch mark when they're in their mid-teens," Rydell said. "On top of that, a lot of fish may never reach 50 inches. Even in a lake like Miltona, they'll stop growing at some point. Some it's before 50 inches, some it's after."
Rydell pointed to a specific example of a muskie with distinct markings that made it easy to identify being caught by three different anglers over three years. Each time, it measured 51 inches, only growing in girth and not length.
Females are almost always going to be the fish that reach the 50-inch length.
"Although, in Miltona we do have male muskies that we've sampled just in this study that were up to 48 inches, which is ridiculous," Rydell said. "That is not typical. A 48-inch muskie that's a male is probably more of a trophy than a 50-inch female. That like doesn't happen."
Many memorable-length fish
Lake Miltona is managed by the DNR as a trophy fishery, meaning it is stocked at lower densities with the goal of producing those trophy-sized fish.
The Glenwood DNR stocks two other lakes with muskies in its work area. Lake Oscar is stocked at low densities, and Lobster Lake is stocked at higher densities to produce a more active fishery that may not have the overall number of trophy fish, though Lobster certainly produces 50-inch muskies.
Lake Miltona tends to have more overall trophy-category fish that measure 50 inches or more, and the lake also produces many fish in what is classified as "memorable" between 42-49 inches. Of the 257 muskies sampled in this study, 131 of those fit that memorable category.
"So if you go out fishing on Miltona, chances are more likely than not if you catch a fish it will be 42 inches or greater," Rydell said. "Oscar is pretty low density. It was surveyed last in 2018 and 21 fish were sampled. That was a record high. If you do encounter a fish on Oscar, chances are it's going to be 42 inches or greater. On Lobster, it's a little bit lower for that memorable size class. I think it's ranged anywhere from 40% to 50% of the population is 42 inches or greater."
Healthy baitfish populations are an important factor in how quickly muskies reach that memorable-class category.
Perch, suckers and ciscos are standard prey items for muskies. Rydell said there was an initial decline in the number of suckers in Miltona about a decade after muskies were first stocked in the lake. Those sucker numbers have remained relatively stable over the last 20 years.
"There are ciscos everywhere out there," Rydell said of Miltona. "There's a lot of them. Perch populations have statewide been declining. We haven't really seen that in Miltona. They've actually remained relatively stable. On top of that, muskies can be pretty opportunistic. They'll take advantage of what they have available to an extent."
During the 2019 sampling efforts by the DNR, Lake Miltona was also part of a broader statewide study done on muskie diets and how muskies compete with other popular predatory fish in northern pike, walleye and largemouth bass.
Those diet samples on Miltona showed that muskies feed on yellow perch in high numbers — about 65% of the total diet items in the samples studied. But the percentage that perch made up their diet by mass was 8%, meaning they often target larger prey species that fill them in smaller quantities.
By comparison, yellow perch made up 70% of the northern pike diets sampled from Miltona and 40% by mass. Bass ate perch at 40% by mass and walleyes relied on perch as a primary prey base at 40% by number and 60% by mass.
"There's another metric that we can use to compare between species," Rydell said. "It combines all three of those other metrics, so by mass, by number, by frequency into one. We call that index of relative importance. How important is that prey item to that species? Then we can compare it across species. When we compare muskies to northern pike, to largemouth bass and to walleyes in Lake Miltona, there is very little overlap. (Muskies) are not consuming the same prey at the same sizes that other species are."
Northern pike and largemouth bass are two species that often thrive in clear waters with a lot of vegetation. Those are the habitat conditions in many lakes of west-central Minnesota.
Northern pike numbers have been on an increasing trend for a while now in many parts of Minnesota, but Rydell said a recent statewide study indicates that muskies in a system may actually help curb those high numbers of pike.
"We kind of see the same thing in Miltona," Rydell said. "Clear water and vegetation benefits pike, not walleyes. Walleyes like more turbid water. We've seen an increasing trend throughout the entire state for northern pike other than in our muskie waters. So our muskie waters, northern pike numbers actually have remained stable, and it's likely because they are consuming pike and keeping them in check."
Having the adult muskie population estimate has not changed the Glenwood DNR's management strategy on Lake Miltona just yet, but Rydell said the department is evaluating its stocking strategy.
The department currently stocks the lake with 1,400 muskie fingerlings every other year in the fall.
"That adult population is pretty well established," Rydell said. "Those big fish are going to take the best habitat. There might be some limitations on these stocked fish coming into the system because we're kind of near carrying capacity for these large fish. You can only have so much biomass of muskies within a lake."
The fisheries staff in Glenwood has talked of potentially stocking a later-life stage fingerling after a study showed that muskie fingerlings measuring under 11.5 inches when stocked were having low survival rates.
Then there is the matter of how much natural production is occurring.
Rydell said they know some natural reproduction occurs in Lobster and Miltona. Both lakes have been a part of a genetic study where muskies came back showing mixed ancestry after specific strains of muskie fingerlings had been stocked.
"All of these strains were pure when they came into the lake," Rydell said. "So if a fish was stocked, it was 100% that strain. So when we have genetics that come back with mixed ancestry, that tells us they're reproducing between the strains, but it doesn't really tell us how much natural reproduction was occurring. I think in the case of Lobster, it was somewhere around 20% was mixed ancestry. Well if a Leech Lake strain fish is reproducing with a Leech Lake strain fish, it just shows up as a Leech Lake strain fish. So we don't really know how much. I'd really like to evaluate that because that will dictate our stocking."
The Glenwood DNR will place PIT tags into all the muskie fingerlings they stock in Lobster and Oscar this fall. They hope to do the same in Miltona in the future to try to get a better idea of the level of natural reproduction in these local waters.
"If we recapture fish and it doesn't have a PIT tag, and we PIT tagged every single fingerling we put in that year, we know that's from natural reproduction," Rydell said. "Then on top of that, we'll get some really good data in the future. We know how big they were and how old when we stocked them. If we recapture that fish in the future, we're going to get how old it is, how much it's grown in that time and also be able to evaluate how much mortality is going on with these stocked fish. How many are actually surviving and contributing to the fishery? There's kind of an endless amount of data we can get from that."
(Listen to the full interview with Glenwood DNR fisheries specialist Nick Rydell by going to the Echo Press Minute Podcast and clicking on the episode title "DNR Fisheries Specialist Talks Muskie Population Study in Lake Miltona."