Eric Morken: Breaking down two overlooked spots in whitetail hunting
Where don't people go on the properties you hunt? Even on a small scale, that's likely where deer are moving during times of high hunting pressure. Eric Morken breaks down two examples from what he observed on hunts during the 2021 archery season.
ALEXANDRIA — As the Alexandria area was getting pelted by another blizzard on the morning of Feb. 21, my mind wandered to warmer days when I will be able to get into the woods and put all the plans I have into action when it comes to preparing for the 2022 deer season.
There are two spots in particular on a Minnesota property I hunt that I want to make sure I have trees ready to hunt out of this fall. They are your classic "overlooked" spots.
You have heard this before if you seek out enough whitetail media. There are certain areas right in front of our eyes that deer will use as they pattern people.
Maybe it's a tiny wood lot off of a parking lot on a public piece of land that people always walk by. Maybe it's a brushy fenceline or a tiny slough in the middle of an agricultural field that a big buck holds up in away from the riverbottom timber where all the hunters are.
I have a hard time paying attention to areas I know could be overlooked spots.
I fall much more into the category of someone trying to go places where other hunters don't want to go as a way to beat pressure, but that is slowly changing. I am starting to really believe in the power of these hidden gems that are right in front of my face.
That shift in thinking started a couple of seasons ago in North Dakota.
I hunt a lot of riverbottom property out there that is ideal deer habitat -- corn, soybeans, sugar beets and acorns for food, with a mixture of timber and ragweed that parallels the river. It is hard for me to not hunt that kind of habitat when I'm out there, but the fall flooding in 2019 forced me and a friend of mine to hunt a small grove on a grain-bin site.
We had some great encounters there. My buddy had a shot with his bow at the biggest buck of his life that season, and the grove has proven to be a reliable spot in the years since. I have photos of some great bucks using the property from 2020 and 2021, and I almost got a shot at a good 10-pointer there last year in late October.
I was on a Minnesota hunt in September of 2021 when I bumped a deer from its bed out of some thick brush along a river while coming out from a morning sit. This was less than 75 yards from my truck, which was parked right next to the small shack where everyone in our hunting party parks.
During gun season, it's the place where the guys gather to have breakfast or talk during a break in the hunt. There's just a lot of general activity that goes on there.
That deer being bedded so close got me thinking that I needed to keep tabs on the area. In mid-October, I went back with a camera in hand, found a scrape less than 100 yards in and set it up to gather some intel. Sure enough, the first week of November had multiple good bucks checking that scrape, including a couple in daylight.
1
/
2:
It's hard to see in the haze, but this mature buck was on its feet at 10:36 a.m. on Nov. 4, 2021 checking a scrape at a location that is about 100 yards away from where everyone in the hunting party on this property parks and gathers throughout the year. It's an area that had gotten no attention in terms of it being a place to actually set up for a hunt.
2
/
2:
A mature buck checks out a scrape near the hunting shack on this property on the night of Nov. 3, 2021.
One last check on the area this past January showed worn-down trail systems moving out of that bedding area with the shack within eye sight now that the foliage was all down. It is obvious that the deer are comfortable moving here, and that it's a spot worth hunting.
Fast forward to the Monday after the opening weekend of firearms season in Minnesota this past year, and I again was looking for any type of location that might be overlooked.
This property is like many in Minnesota in that it gets hunted hard during gun season. Deer in general, and especially older bucks, do not move near as freely through open areas by the end of opening weekend.
Four deer in the freezer between two states and some opportunities lost left me with a lot to look back on from the 2021 archery season.
I walked up the river in the dark on Nov. 8 to set up in my hunting saddle on an island in a tree that was right on the edge of the bank. Islands within river systems are perfect bedding locations, as they are usually thick with cover and a pain to get to for humans.
This island is about 200 yards long and 60 yards wide where I was set up. The wind was perfect out of the southeast that morning as my scent blew over the water. I saw a dozen deer that sit, including a young buck that I passed on in my shooting lane at 12 yards.
The most notable part of that hunt was how deer moved on the steep ridge across the river behind me. I thought of that area as almost a dead zone in terms of where deer would want to move. It's nearly vertical in some spots, but they were comfortable using it as a travel route.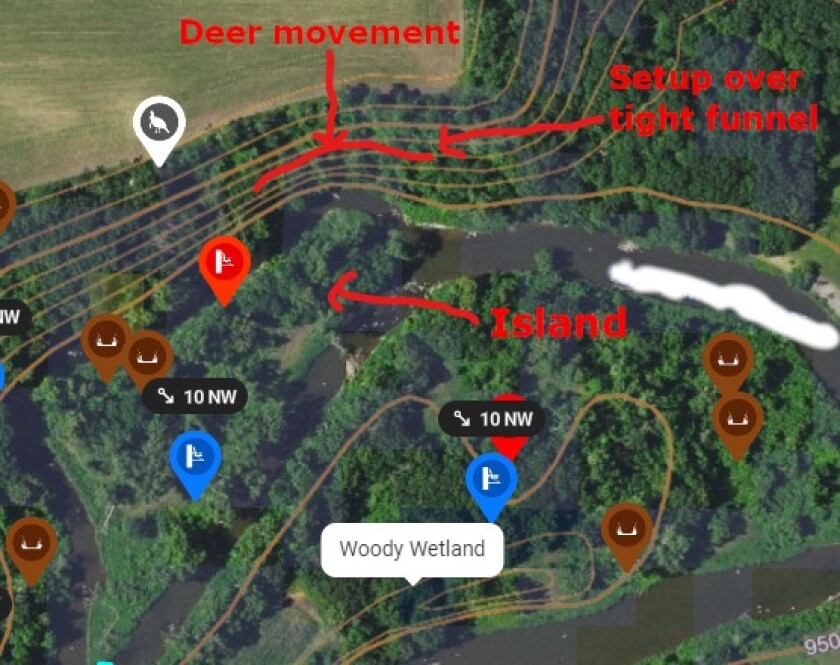 A 2.5-year-old buck chased a doe along that steepest terrain and into the river behind me. Four more does and fawns worked through an hour later.
These deer looked completely at ease being on their feet there, likely because they felt confident traveling that route due to never running into hunting pressure.
I kept that in the back of my mind as the regular firearms and muzzleloader seasons came and went. There has to be a specific trail they are taking where the cliff levels off just enough for them to move.
With a week-old snow to work with, I went back to that tree on the island for an evening sit in December. I took a different entrance route this time so I could do some scouting on the way. Coming from the north, I slid down a point on the east end of that bluff.
Sure enough, I found a worn-down pinch point where the steepest part of the cliff leveled off. This is probably the best funnel on the entire property, and I had ignored it for years. The job this spring is getting back there, finding a specific tree and seeing how my wind reacts in certain wind directions so I know how to hunt it this fall.
Think about areas on properties you hunt that may be overlooked. Where don't people go?
Even if it's on a small scale, there's a good chance that's where deer feel comfortable moving during times of heavy hunting pressure.