Area of the Boundary Waters comes alive again 11 years after fire
The Pagami Creek fire burned a big swathe of the southern BWCA. Echo Press reporter, Karen Tolkkinen, recently took a vacation there with her family and gives readers a look at how the area has bounced back a little more than a decade later.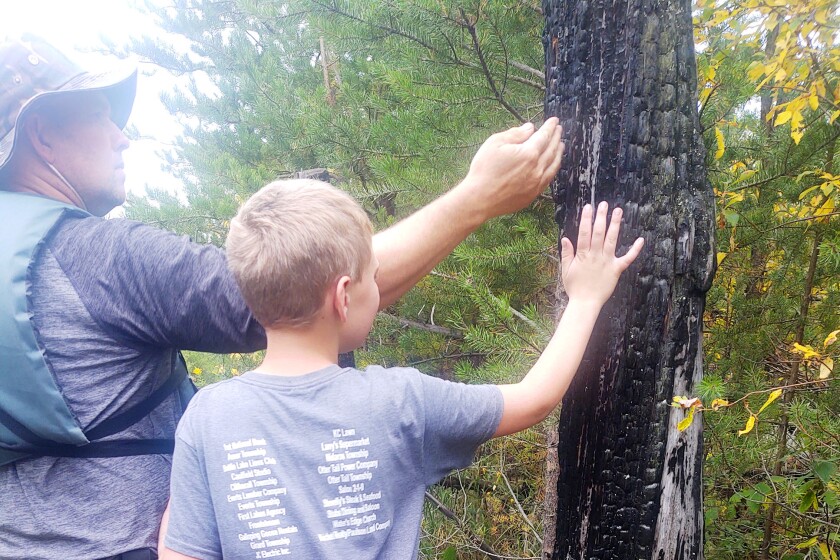 We are part of The Trust Project.
The rain ceased, and we shed our rain ponchos. Our canoe floated from a meandering creek into the wider Isabella River in the southern section of the Boundary Waters Canoe Area Wilderness in northeastern Minnesota.
To our left were rapids and old-growth forest. We turned to the right, digging our paddles into the deep water and heading for the portage that led to Lake Quadga, where we had camped 13 years earlier.
After a while I stopped paddling and looked around.
"What happened to all the trees?" I asked.
As far as we could see, gone were the towering firs and spruce that had greeted us on our last visit. Here and there the skeletal remains of bleached giants angled into the sky, but otherwise the landscape had shrunk to the size of shrubbery.
Charred stumps gave it away — this area had clearly burned sometime in the past 13 years. During our last visit, the land had been rich in majesty and mystery. Terror, too, as a windstorm on our last day threatened to capsize us and knocked over trees as we hiked along the portages. My husband almost got nailed by a tree top hurtling to earth.
Well, I thought, as we hauled our gear up the natural stone steps that led to the Quadga Lake portage, at least we don't have to worry about getting killed by falling saplings.
And saplings were abundant. The entire place had a new energy. The majesty might have disappeared, but a season of vibrant growth had set in.
The quaking aspens were already taller than us, and the young pines and spruce were catching up. Maple leaves and scarlet rose hips spangled the greenery, and we passed slender birch trees and white cedars.
It was like seeing an old friend for the first time in 13 years. They've changed, but fundamentally, they're still themselves and you love them anyway.
It's a tiring portage to Lake Quadga from the Isabella River, especially if you're carrying a heavy aluminum canoe and have already completed about six-and-a-half hours of paddling and portages.
It was our longest portage of the trip, over a ridge and down to the lake. From shore, we peered across the lake looking for signs that the campsites were occupied. We couldn't see any, but as soon as we set out, there it was — a green canoe along the western side of the lake, and campers starting a fire on the eastern side.
"Well, no biggie," I told my husband and our 9-year-old son. "There are four campsites on this lake."
Except, there weren't. Since the last time we were here, two of them had closed. Even though we had a current map, I hadn't looked closely enough at it to notice there were only two dots designating campsites, not four. I'm guessing the fire had something to do with the closure, as most of the tall trees were gone from around the lake and hence no way to hang food bags out of reach of bears.
There were still a couple of small groves of tall trees that had escaped fire damage, and one of them was where we had camped 13 years ago.
Two young guys were camping there now. Graciously, they said we could share their campsite. They saved us from having to retrace our steps over that lengthy portage to look for another campsite with night coming on. In the Boundary Waters, you're only supposed to camp in designated campsites. They come with a pit toilet and fire grate.
They left the next morning, and so did the campers at the other spot across the lake. So for two days we had the entire lake to ourselves. It was warm during the day, cold at night. Loons cast their silvery cries into the night air. The Pow-Wow Trail ran behind our camp and we hiked for miles next to waist-high ferns and young trees, stepping over fallen giants and moose droppings and what we figured was probably wolf scat.
One day, my husband and our son explored and I stayed back at camp, writing eight pages in my journal. It is amazing what a person can accomplish without the distraction of the internet.
Still, it wasn't until we got back to town — and the internet — that I could research the fire. It was dubbed the Pagami Creek fire, and it started with a lightning strike in a bog in September 2011, exactly 11 years before our trip. It ended up burning nearly 93,000 acres of BWCA and surrounding land.
I had heard about various BWCA fires but hadn't paid much attention and now I'm glad I didn't. If I had known that our destination was in a burned area, I might have chosen a different wilderness route — and would never have known the beauty and fresh energy of an emerging forest.