Endres pens commitment to Southwest Minnesota State University, excited to play in tradition-rich NSIC
Shay Endres is attending Southwest Minnesota State University to play baseball next fall after a successful 2021 season.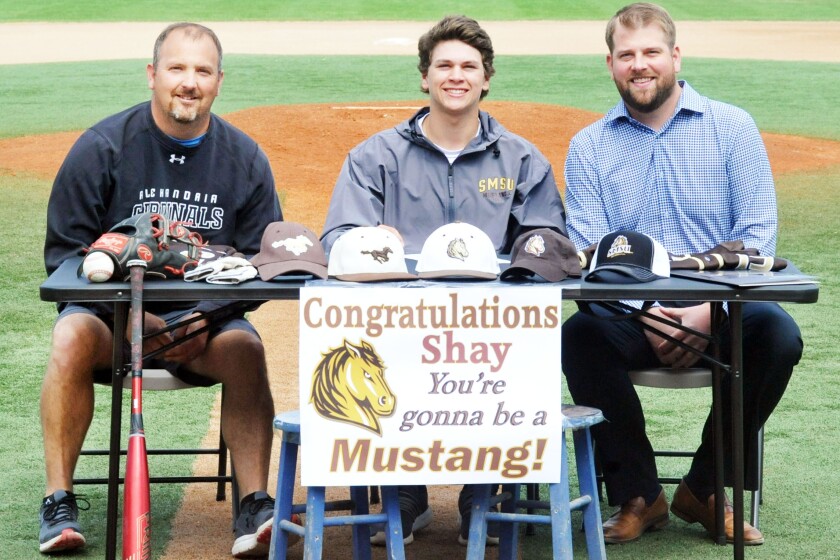 Alexandria's Shay Endres has been committed to play Division II baseball at Southwest Minnesota State University for about two months, but he was excited to publicly put pen to paper on May 21.
Just 13 hours after Alexandria beat Fergus Falls on Senior Night at Knute Nelson Memorial Park, Endres returned with his family and coaches to sign his letter of intent.
"I visited a lot of different places trying to find which one was the best for me," Endres said. "I liked the atmosphere and their coach. I got to meet with all the players and I went to a couple of practices with them. I really felt like I fit in. When I saw the campus I kind of fell in love with it."
SMSU head coach Paul Blanchard is widely known around the Division II college baseball scene. He's manned the Mustangs for 25 seasons to a 547-530-2 career record, including to a Northern Sun Intercollegiate Conference championship in 2002. During his playing days, the Minnetonka native attended Creighton University before transferring to the University of Minnesota. In 1982, he helped lead the Gophers to a Big 10 title.
"He has so much knowledge and I can't wait to learn everything I can from him," Endres said. "I want to do everything I can to become a better baseball player."
While SMSU has had success in the NSIC in Blanchard's tenure, the Mustangs are looking for their first top-10 conference finish for the first time since 2015. The NSIC is a loaded baseball conference with national championship contenders such as Augustana University, University of Minnesota-Mankato and St. Cloud State University.
"It makes me so excited to get to play those kinds of teams," Endres said. "I can't wait for it. They're great teams, and I want to play against the best competition I can."
The pitcher and middle infielder is a big contributor to Alexandria's 11-8 record this season. Endres has a .298 batting average and a .792 on-base-plus-slugging percentage. On the mound, Endres is 4-2 with a 1.105 ERA. In 31.2 innings he's allowed five earned runs and has 48 strikeouts.
"I've been truly committed to SMSU for two months, and that's exciting, but I'm focused on what I can do here to get the most out of this season," Endres said. "We have to finish this season with a bang. I think we are finding our groove at the end here. We are starting to play a lot cleaner and really sticking the ball."
After missing out on a junior season during the pandemic, Endres' college baseball hopes never wavered.
"I don't think I had much doubt about finding a place to play," Endres said. "It was tough not being able to play and showcase our skills as a team last year. The best thing I did was stay in contact with the right people and find games I could play in to get as many reps as I could."
College baseball has been part of the picture for Endres for a long time, but materializing his goal to play at the next level on Friday in front of friends, family and coaches was an unforgettable moment.
"I always wanted this," Endres said. "It wasn't until about two and a half years ago did I really start looking into this and finding what programs fit me. It's surreal to be here doing this, and I'm really thankful for everything. I want to come out of college the best person and the best baseball player I can be. I know Blanchard is such an amazing coach, but to him it's not even about baseball. It's about producing the best kinds of people. That's what I want, and I can't wait for that."