Baseball: Ruschmeier's walk-off pushes Alexandria College to Region/District Championship day
Alexandria College lost St. Cloud CTC, 2-1, to begin the day but with a Carter Ruschmeier walk-off RBI single in the bottom of the 10th inning of a playoff elimination game against Century College, Alexandria's North Plains District title hopes remain alive. Alexandria must now beat St. Cloud CTC twice on Saturday to win the district title and advance to the NJCAA DIII World Series.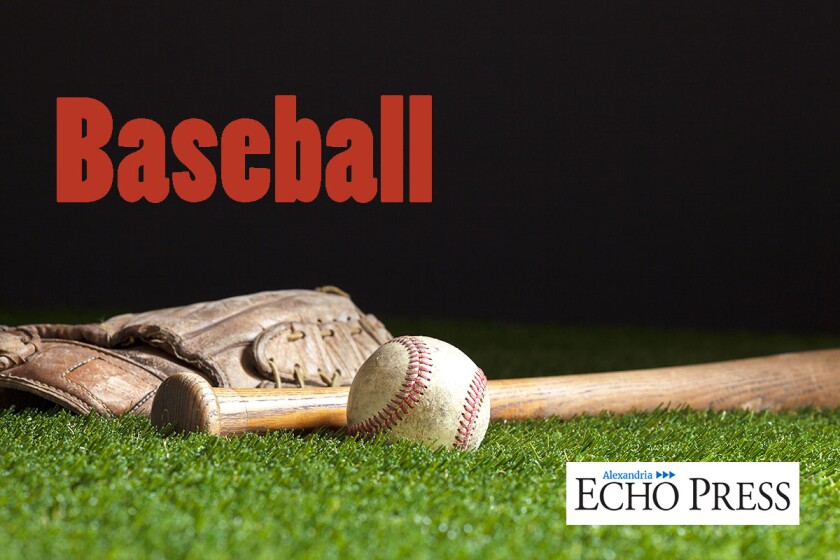 After a 2-1 loss to St. Cloud Community and Technical College to begin the day, the Alexandria College baseball team needed a win over Century College on Friday night to keep their Region 13/North Plains District Championship hopes alive.
With the game tied at four in extra innings, Carter Ruschmeier came through clutch for the Legends.
The Glencoe native hit an RBI single in the bottom of the 10th inning to give the Legends the 5-4 win in St. Cloud. Carter Lang scored the game-winning run.
Ruschmeier's clutch hit in the 10th wasn't his first of the day. He hit an RBI single in the bottom of the seventh that knocked in the first of what would be four runs that Alexandria scored in that inning to take a 4-3 lead.
Century College (34-15) hit an RBI single in the top of the eighth inning to force the games into extra innings.
Caden Sand earned the win on the mound for the Legends. He allowed no runs in two innings pitched.
This is Alexandria's second win of the tournament over Century, as Alexandria earned a 6-5 win on Thursday to open the tournament.
In Friday's game against St. Cloud, Alexandria got the bats going, finishing with 10 hits. But Alexandria couldn't string runs together until Lang's solo home run in the ninth inning. St. Cloud jumped ahead of Alexandria with a run in the third and fifth inning.
Alexandria (23-9) meets St. Cloud (23-10) at Noon on Saturday at Dick Putz Field in St. Cloud. Alexandria must beat St. Cloud twice to win the district title. The second game of the day, if necessary, will take place 30 minutes after the completion of the first game.
St. Cloud has won back-to-back North Plains District titles. The winner of the district advances to the NJCAA DIII World Series in Greenville, TN, from May 27-30/June 1, 2023.
Century - 1 0 0 0 0 0 2 1 0 0 - 4 9 0
Alexandria - 0 0 0 0 0 0 4 0 0 1 - 5 10 1
ALEXANDRIA OFFENSE - Jack Thiesen - 1-1, RBI; Maddox Mortensen - 1-1; Carter Ruschmeier - 3-5, R, 2 RBI; Mason Conrad - 1-2, R, RBI; Carter Lang - 2-5, 2 R; Brady Goebel - 1-4; Felix Porras - 1-4, R; Levi Lampert - 0-3, 2 BB
ALEXANDRIA PITCHING - Brock Depute - 6.2 IP, 6 H, 3 H, 2 ER, 3 BB, 8 SO; Parker Jendro - 1.1 IP, 1 H, 1 R, 1 ER, 1 BB; Caden Sand - W - 2 IP, 2 H, 0 R, 0 ER, 0 BB, 1 SO
St. Cloud - 0 0 1 0 1 0 0 0 0 - 2 4 0
Alexandria - 0 0 0 0 0 0 0 0 1 - 1 10 2
ALEXANDRIA OFFENSE - Levi Lampert -1-4; Carter Lang - 2-4, R, RBI; Brady Goebel - 2-5; Felix Porras - 2-4; Carter Ruschmeier - 2-4; Lucas Burgum - 1-4; Mason Conrad - 0-3, BB
ALEXANDRIA PITCHING - Jalen Vorpahl - 7 IP, 3 H, 2 R, 2 ER, 4 BB, 9 SO, 1 HR; Caden Sand - 2 IP, 1 H, 0 R, 0 ER, 0 BB, 0 SO