In the Know column: United Way's theme: What if?
What if you could create change in the world, how would you do it?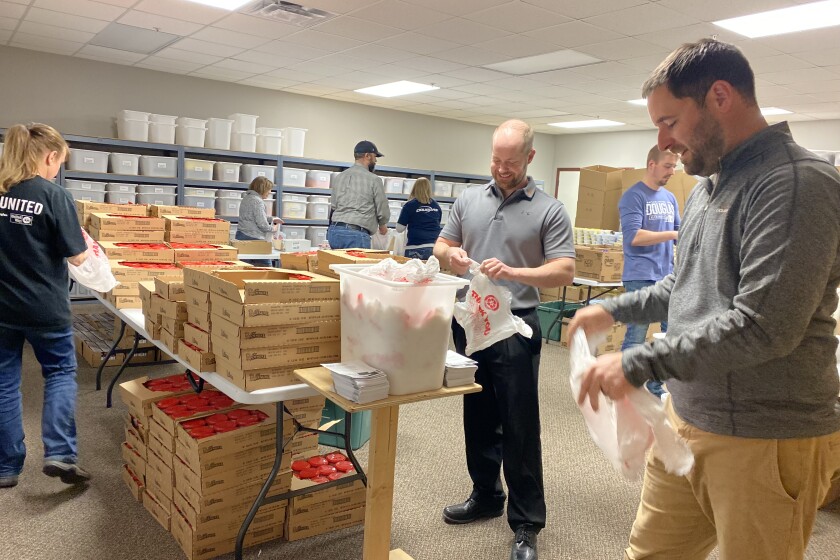 By Jen Jabas, director of the United Way of Douglas and Pope Counties
What if?
Have you ever found yourself lost in thought about hypothetical questions?
Maybe you've wondered…
What if I was a superhero, what would my super power be?
What if I could live anywhere in the world, where would I live?
What if I could only eat one food for the rest of my life, what would it be?
What if I could travel through time, where/when would I travel to and why?
Or something a little more realistic…

What if I went back to school?
What if I learned a new hobby?
What if I remodeled my house?
What if I got a membership at the gym?
Now for the next few minutes, I'd like you to think about…
What if you could create change in the world, how would you do it?
At United Way we think about this every day. The difference is that it isn't just hypothetical, it is actual. We are dedicated to developing solutions to create change in the lives of the people in our community. It only seemed fitting that this would serve as a great fit for our 2022-2023 campaign theme.
Each year we select a theme that helps us to tell our story about the work that we do to address the most pressing needs that the people in our community face. This year we will be tackling the question "What If?" We will do that by looking at each of our priorities of health, education and financial stability. I'd like to invite you to consider how we might accomplish this together.
Health – What if we provided access to mental health services for those who need it? There are many barriers to receiving mental health support. Often the identification of a need for services is what can stand in the way of receiving care. What if we as a community could not only better understand the symptoms that are often dismissed and reduce the stigma that prevents us from recognizing them? Once an individual seeks services it can be difficult get an appointment and for many a lack of financial resources can prevent them from seeking help at all. What if we could provide financial assistance and discounts on prescriptions? We can.
Education – What if we equipped children and youth to go after their biggest dreams? Children are full of life and energy and have the potential to achieve great things. We have the ability to empower and support them. What if we encourage them to recognize and use their talents, continue learning and growing, and believe in themselves? We can support them as parents, teachers, neighbors, friends and family. What if we could provide them with the tools and resources they need to enter school ready and to be successful in their career and future? We can.
Financial stability – What if we helped people to obtain jobs allowing them to meet their basic needs? There are many barriers to achieving employment. An individual lacking the proper education may not be eligible for a job that requires specific knowledge and skills. What if we could offer the teaching and training to equip them to be successful? Lack of transportation and childcare make it impossible to get to work and to provide a safe and affordable place for children to spend their day. Language barriers or disabilities make it difficult for someone to both seek and secure a job. Inadequate housing or no housing at all along with food scarcity and a concern for personal safety make it near impossible. What if we could provide food, housing and resources to meet basic needs and offer hope and opportunity? We can.
What if together we could create change in Douglas and Pope counties? Our friends, neighbors, and fellow community members could receive the support and services that they need to live their best life! This isn't just hypothetical, let's make it a reality. We can do it together when we LIVE UNITED!
There are many great non-profits and programs in our community that are making a difference every day. What if you wanted to get more involved? For more information, contact our office at 320-834-7800 or e-mail jjabas@uwdp.org .
Jen Jabas is the director of the United Way of Douglas and Pope Counties. "In the Know" is a rotating column written by community leaders from the Douglas County area.