Get in shape with the County Fair Workout
Helping a child prep for the county fair -- and then actually making it through the fair -- can help the adults in their life get in shape. But the County Fair Workout is one that only works for a limited time.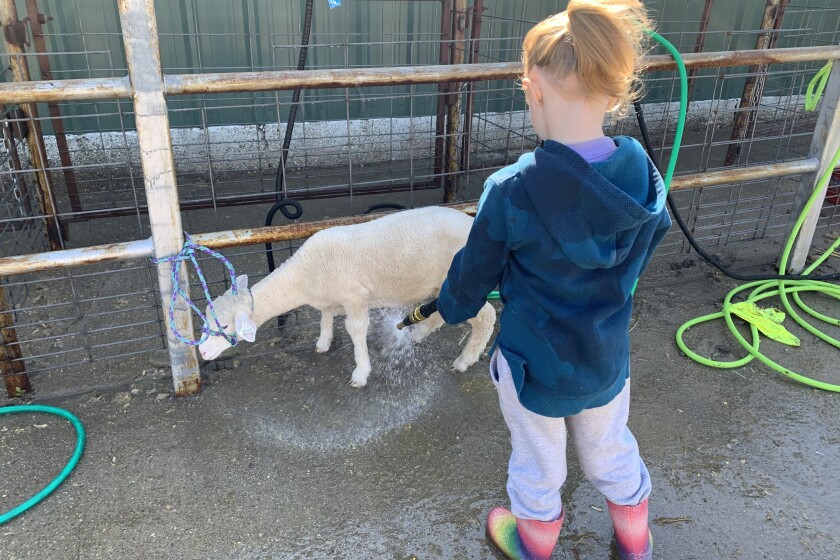 We are part of The Trust Project.
Are you looking for a new workout, something that will help you drop a few pounds, tone up and increase your endurance?
Well, have I got the workout plan for you! Simply let your small-ish child sign up for a 4-H livestock project. To intensify the workout, make sure to let the child or children raise multiple animals.
In no time, you'll be walking miles at a time, helping to teach stubborn lambs to walk on a halter and off. No need to lift weights when you could instead be using those muscles to hold onto the lead rope of a several-hundred pound calf who would rather not be halter broke.
Your kid maybe isn't strong enough to lift a bale of hay, a bag of feed, a 5-gallon bucket of water or the occasional lamb or calf. But guess who is strong enough? You guessed it — you! You'll work on your flexibility, crouching down to shear under a lamb's belly. And you'll work up a sweat as you try to scrub the backside of a calf who relishes finding the dirtiest spot in the pen to lay down.
All of this training will bring you to the marathon of the County Fair Workout: the county fair itself.
Suddenly, the miles you've put on your shoes or boots walking around and around and around in circles will pay off as you're asked to walk to the camper, to the barn, to the trailer, back to the camper, and then maybe across the Midway, for good measure. You'll test your grip strength holding onto a calf spooked by a kid running by on the way to the rides. You'll work your emotional and mental strength as you watch the highs and lows of your child in the show ring. Your feet will ache because those old, grungy shoes that seem OK for the wash bay are maybe not OK for walking 25,000 steps.
I can advocate for this workout, having noticed right before our county fair that an old pair of jeans — which I now use only for outdoor work because they'd gotten a bit snug — buttoned with ease. I realized that the full tub of milk replacer felt a lot lighter than it had earlier in the spring. The long walks with lambs or calves and all the related chores I had to help with were having a definite impact on my fitness level.
But there's a disclaimer I need to put on this workout: If you do it well, it'll get less and less intense each year.
I've told a few parents of older kids how much I admire their children's abilities to just ... do their work. Alone. Without their parents picking up the water bucket or reminding them that yes, the calves do need more water. In them, I see a light at the end of the tunnel of hay.
They reflect on what it took to get their kids to that point of competency. The years of pushing the wheelbarrow, carrying the bucket, walking back and forth after the forgotten item. Slowly, the need for help became less and less. The kids could carry the buckets, shear the hard parts of the lamb, hold onto even the orneriest of steers. The parents help with transportation and logistics still, and might help with the occasional task, but they are no longer the always-on-call grunt labor. It took lots of years and training, they say.
But there's a wistfulness often present in these conversations. Because with that maturity and dwindling need for help comes the knowledge that the years of showing also are dwindling. Soon, just as they no longer are the ones lifting the bales, they no longer will need to pull the trailer or help fill out forms. The experience will be over, just as so many other childhood experiences run their course.
My kids are young enough that I know I have quite a few years left of intense helping before they don't need me as much. And I'm sure, as much as I longed sometimes for the lawn chair on those 25,000-step days of this year's fair, I'll someday miss being the one they turn to when they need to carry the bucket across the barn.
I'll keep following this workout as long as they need me, I suppose. But can someone remind me that if I'm doing it again next year, I should really get some better shoes?
Jenny Schlecht is Agweek's editor. She lives on a farm and ranch in Medina, North Dakota, with her husband and two daughters. She can be reached at jschlecht@agweek.com or 701-595-0425.