Tornado reported in Forada area; Nelson was also hit hard; 2,000 still without power
It's the second tornado for Douglas County, Minnesota in 18 days
DOUGLAS COUNTY, Minnesota — For the second time in 18 days, a destructive storm caused extensive damage in Douglas County.
The latest storm hit at about 4:30 p.m. on Memorial Day Monday, May 30. There were preliminary reports of a tornado that tore apart homes and buildings in Forada, especially along Forada Beach Road. Law enforcement confirmed the tornado to the National Weather Service. Many trees and power poles were also toppled and blocked roads in the Forada area. Authorities also responded to several propane gas leaks.
Other hard hit areas in the county were Nelson and Osakis, according to reports that came across the police scanner.
Authorities are asking the public to stay away from those areas as they are just beginning the recovery and clean-up.
There were widespread reports of hail and damaging winds as well.
Storm damage near Nelson - photo gallery
Photos by Lowell Anderson
1
/
6:
Amber Dahlheimer along with her children, Archer and Wilder, stands in front of her home along County Road 17 southwest of Nelson Tuesday morning. The storm caused much tree and structure damage in the area.
2
/
6:
Joel Dahlheimer looked at the damage to the farm he used to own on County Road 17 southwest of Nelson. The storm took down part of two silos, damaged the barn and another silo, and destroyed many trees.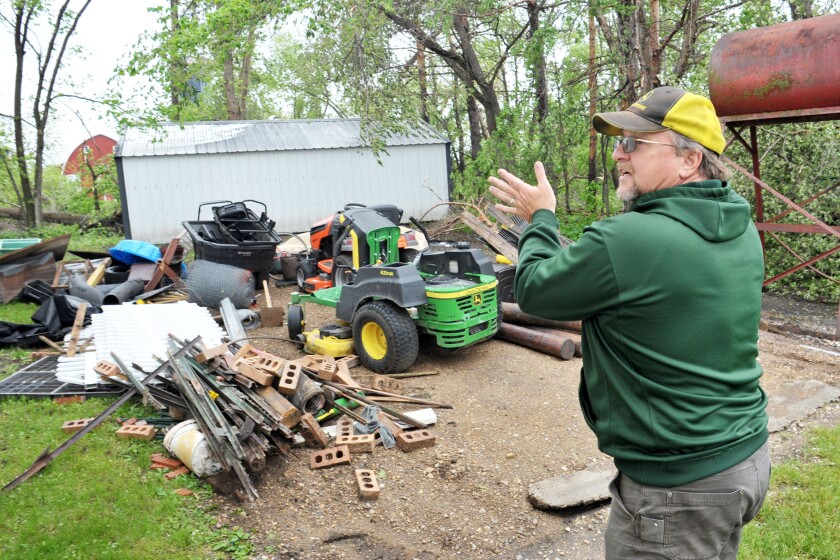 3
/
6:
Joel Dahlheimer explains how a shed was picked up by the storm and moved back into the trees on the farm he used to own on County Road 17 southwest of Nelson.
4
/
6:
Joel Dahlheimer walks past two overturned wagons on the farm he used to own on County Road 17 southwest of Nelson.
5
/
6:
Monday's storm resulted in many downed and broken trees in and around the city of Nelson.
6
/
6:
Utility lines were downed by Monday's storm along County Road 9 north of Nelson.
The Runestone Electric Association reported that more than 6,000 of its service accounts were without power Monday. Crews worked through the night and will continue working to restore outages. As of Tuesday morning, about 2,000 accounts remained without power.
Power line workers spread out across REA's service territory Wednesday to repair broken poles and remove trees that brought down powerlines. REA said that dozens of poles need to be replaced and this has slowed the restoration efforts.
REA stresses to stay away from any powerlines that may be down and never assume the lines are de-energized. Those experiencing a power outage that have not called in to report their outage should call REA at 1-800-473-1722.
This latest storm comes on the heels of a May 12 storm that produced a tornado that touched down on the south side of Lake Darling in northwest Alexandria.
Storm damage near Forada - photo gallery
Photos by Thalen Zimmerman
Aerial photos of damage near Forada and Nelson - photo gallery
Photos by Celeste Edenloff