Tornado recovery is a painfully slow process for owners of Blade's Store
The couple lived above the store and have a cabin right door. Both received extensive damage from the May 12, 2022 tornado that hit Douglas County.
HOLMES CITY — What should have been the start of the busiest three months for Blade's Store in Holmes City turned into complete chaos when a tornado struck the area on May 12, 2022.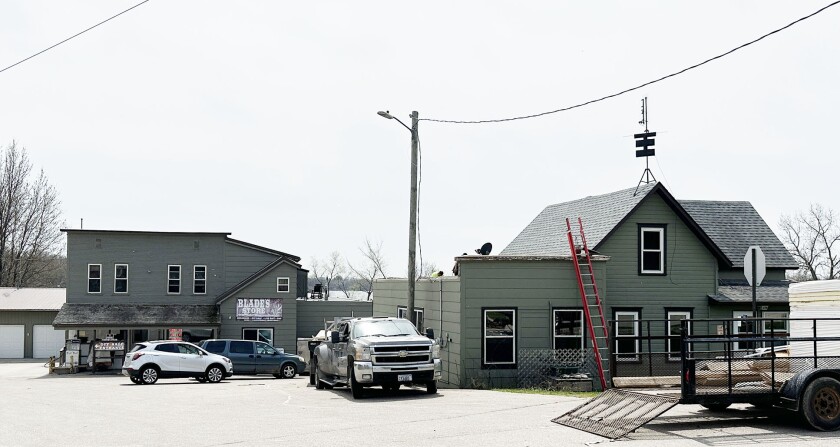 The storm and tornado that came with it not only impacted the store, but completely uprooted the owners – Julie Rice and Cal Sherrett – whose residence is above the store. A store that offers live bait, gas, groceries, off-sale liquor and more, plus houses the town's post office.
After dealing with the aftermath of the May 12 tornado, Rice said she has decided that the song, "What Doesn't Kill You Makes You Stronger," is her new theme song.
From insurance, insurance adjusters, red tape, paperwork and all the other rigamarole that goes along with losing your home and having your business damaged from a tornado, Rice said the past year and the recovery process has been "quite a struggle."
"In an instant, everything changed," she said. "This Friday, it has been one year and I can't believe that we are still trying to recover. The image of the storm coming at us is still visible in my mind."
Rice said the whole recovery process has been painfully slow and that they have been battling with their insurance company. Their property, she said, is unique in that it houses the current Blade's Store, the former store that has been turned into "the cabin" and their residence, which is above the current store. Their residence above the store was hit the hardest.
The store, she said, was not hit as hard and was able to be up and running quickly.
"We (the store) was functioning, but we were out of business for about a day and a half," she said, noting that the tornado hit right before the weekend, which was the fishing opener, a very busy time for their store.
Water came pouring through
In a story written for a storm recovery group that Rice is a part of, she described what happened the evening of the storm. Their home and business is on the north side of Grant Lake and by the time she got to their house on the second floor to close all the windows, the wind was so strong it was blowing the curtains at a 90-degree angle, she said. As she looked out the window, Rice could see a 6-foot wall of water coming across the lake.
As her family was celebrating a belated Mother's Day, her mother, along with other family members, were all at their house when the storm hit. Rice and her mom hustled down into the basement, while other family members took shelter at the cabin next door.
After the storm subsided, they surveyed the damage and saw that a very large and very old Red Elm was completely uprooted and had toppled over, crushing a vehicle and a boat and doing significant damage to both structures on the property. The uprooted tree also tore up the line for their septic system.
Rice noticed that the roof of their residence was gone with much of it laying in the neighbor's yard. When she darted up the stairs to their home, she found water pouring in through light fixtures, outlets, switch plates and ductwork soffits.
She explained that because of the age, size and condition of the property when they had purchased it in 2016, they were not able to insure it for the full value. Replacement cost coverage was not available so any reimbursement they were to receive was based on actual cash value. This means that coverage is depreciated based on age and condition.
Rice said after the storm, an adjuster finally came out and took pics and documented everything, but then she never heard back from that person. They eventually had to get some temporary work done on the roof to patch it up as best they could.
Eventually when she got in touch with her insurance, she was told that the adjuster who had documented everything was no longer working for the company and therefore, the company did not have any of the photos or documentation. A new adjuster was then assigned to help them.
"I just thought, 'Are you kidding me?'" said Rice.
June, July, August and September went by and finally in October, they heard back about what the insurance company was going to pay.
"It was far, far short of what we needed," Rice said.
The sad part, she added, is that because it took so long to hear back from their insurance company, they missed the deadline to apply for storm relief funds offered through the Small Business Administration. And because they weren't able to get those funds, they were turned down or ineligible from other assistance programs because they didn't get the SBA assistance.
"Every single roadblock we hit was all thanks to our insurance company," she said.
A year later, Rice said they are still a long way from being done. Work on the roof of the cabin was finally being completed this week. They have most of the furniture in their garage and they are still waiting to get the siding replaced. The ceiling tiles in the store that needed replacing are replaced, but it was just a patchwork job, she said.
Rice did say that she is very thankful to Julie Anderson, Douglas County Emergency Management director, as she has worked very hard to get them some help and to get the May 12 tornado included in some disaster funds.
"She really went the extra mile and had to go through some extra work and we are very appreciative," said Rice.
As for when their work will be complete, Rice said she is hopeful they will be done soon.
"Hopefully this summer, we'll even get our siding," she said.