Speed sign, Osakis Bike Days discussed at city council meeting
The regular Osakis City Council meeting took place on Monday, Aug. 8.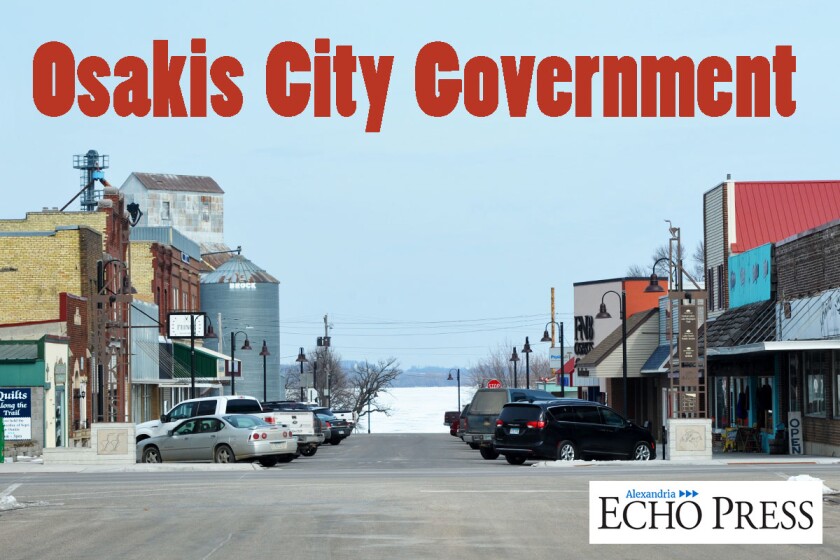 OSAKIS — A speed sign has been ordered and will be installed on First Avenue East in Osakis.
Osakis Police Chief Chad Gulbranson said the sign should help reduce speeding on the street, which was discussed in the regular Osakis City Council meeting on Monday, Aug. 8.
Osakis resident Carra Lang, who lives on the street, said there are "a lot of speeders" either coming off or going to the Interstate, and that using a speed gun, she has caught people going 50 miles an hour past her house.
"It's just kind of getting out of hand," Lang said.
Osakis Mayor Dan Wessel asked Lang to notify him if problems continue after the sign is installed.
The Osakis City Council also approved a road closure for Osakis Bike Days, which is set to take place from Aug. 18-20.
The road closure will be the evening of Friday, Aug. 19, on Central Avenue from Nokomis to Main streets.
According to information posted on the Osakis Chamber of Commerce's Facebook page, the event is presented by the Chamber and the Christian Motorcyclists Association, and is a family-friendly event which will take place in Central Park.
It will begin at 6:30 p.m. on Thursday, Aug. 18, with a motorcycle destination ride and fellowship, beginning at the Bowling Barn.
On Saturday, Aug. 19, a variety of activities will be offered, including a bike show at 6 p.m., followed by the movie, "Secondhand Lions," at 9 p.m. in Central Park.
On Sunday, Aug. 20, at 2 p.m. there will be a bike parade and a destination ride.
All motorcyclists are welcome to participate in all the events.