Teen to face trial as adult in Duluth killing
In having his case moved out of juvenile court, Patrick Battees Jr. will face the possiblity of more than 20 years in prison if convicted of fatally shooting Juamada Anderson Jr.
We are part of The Trust Project.
DULUTH — A teen who fatally shot his friend during a confrontation in Duluth last year will be tried as an adult.
Judge David Johnson last week granted a motion from the St. Louis County Attorney's Office to certify Patrick Wilson Battees Jr. for prosecution in the adult court system.
Battees was 17 when he reportedly shot Juamada Keller Anderson Jr., 22, after Battees was confronted by two other men on the porch of an apartment building at 118 E. Third St. on May 22, 2021.
"At the time of the alleged offense respondent was less than a month shy of his 18th birthday; the alleged offense is serious and would result in the presumptive commitment to a prison sentence under the applicable adult criminal statutes; and a determination of probable cause has been made by previous order of this court," Johnson wrote in his order.
"Respondent has not met his burden by proving by clear and convincing evidence that the matter remaining in juvenile court would serve public safety."
If certified as an adult, Patrick Battees Jr. could face decades in a prison for fatally shooting his friend, Juamada Anderson Jr.
It was uncontested at a certification hearing in August that Battees shot Anderson, but defense attorney J.D. Schmid argued the teen was acting in self-defense after being "surrounded by a hostile crowd."
Video clips showed Battees casually conversing with his friend before he was confronted by two men: one pushing him and the other punching him. The scuffle moved toward the sidewalk before Battees produced a handgun and fired. It was unclear who, if anyone in particular, he was shooting at, but Anderson was struck once in the head.
Schmid cited evidence of Battees' troubled upbringing, including family dysfunction, a number of head injuries and the use of controlled substances as a coping mechanism. Maintaining that Battees was not the aggressor in the homicide, he argued that the case should remain in juvenile court so his client could receive more appropriate treatment services with peers in the juvenile program at the Minnesota Correctional Facility in Red Wing.
But Assistant St. Louis County Attorney Korey Horn stressed that the juvenile court would lose jurisdiction over Battees upon his 21st birthday in June 2024. A psychologist testified that his needs "far exceed" the available time in the juvenile system, and a probation officer told the court that she believes Battees is a "very dangerous individual" who would not be amenable to juvenile supervision.
Court records indicate Battees had been released from a juvenile facility in Wisconsin just five days before the homicide, after receiving a nine-month sentence for a July 2021 high-speed chase through Superior in which he was allegedly driving a car that matched the description from a drive-by shooting in Duluth.
Battees also had pending felony-level juvenile cases in both Beltrami and Carlton counties for incidents that are alleged to have involved the carrying of firearms.
As Laurel Ladd Jr. became the second defendant to enter a plea, accused killer Patrick Battees Jr. is still awaiting placement in a mental health facility.
After his arrest for Anderson's death, the defendant underwent multiple mental health evaluations and was placed under a civil commitment after he was initially found incompetent to proceed in court. He was given several diagnoses related to controlled substance use, PTSD and neurocognitive function, but the judge noted that the conditions "are not extreme enough to be considered a mitigating factor."
"Respondent has a history of mental health issues, but there is nothing to suggest that these issues caused him to lack the capacity for judgment at the time of the alleged offense," Johnson wrote in the certification order. "
"Admittedly the court lacks the expertise to determine if respondent will receive better services to address his mental health needs in the juvenile system than in the adult system, but that is not something that the court should consider for the purposes of certification. There will be services available to respondent should he end up in an adult prison."
The judge noted that his age and severity of the offense make it "incredibly unlikely that he would have enough time to complete programming" if sent to the juvenile prison. Because Battees was at least 16 and charged with felony offenses, the burden was on the defense to prove that public safety would be better served by keeping the case in juvenile court.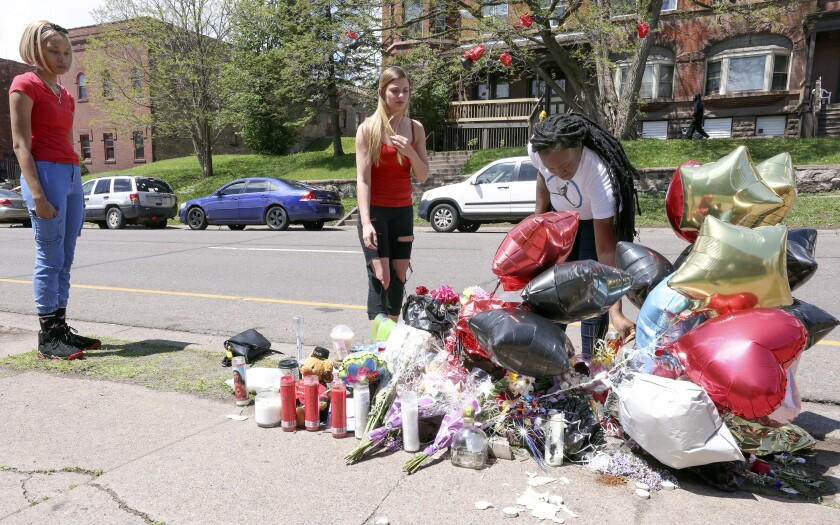 Battees made his first adult court appearance Monday on charges of intentional and unintentional second-degree murder and reckless discharge of a firearm within a municipality. He faces a presumptive sentence of 25 years if convicted of the top charge. Schmid simultaneously filed notice that he will assert self-defense.
Battees is one of five defendants to face charges related to the incident, with Schmid saying at least four people unsuccessfully fired shots at his client immediately after Anderson was struck.
Laurel Larice Ladd Jr., 27, who reportedly instigated the fight because he believed Battees to be responsible for the shooting of his brother, pleaded guilty to aiding an offender and was placed on one year of supervised probation.
Tyrone Deshun Childs Sr., 36, admitted to firing a handgun from a van parked nearby and is serving a 67-month prison sentence after pleading guilty to a drive-by shooting and possession of a firearm by a felon.
Eddie Ezra Conyers Jr., 17 at the time, waived the adult certification process and pleaded guilty to reckless discharge and unlawful possession of a firearm. Conyers, who admitted to police that he "wanted to see a fight" and fired off five shots at the scene, is still awaiting sentencing and faces a mandatory minimum of five years.
Markus Seville Morris, 32, who allegedly accompanied Ladd and fired at Battees as he fled the scene, has pleaded not guilty to two firearm charges. A trial date was set for next month but is now likely to be postponed.
Another person who fired at least 12 rounds in Battees' direction has never been identified by police, Schmid said.
The state Bureau of Criminal Apprehension on Jan. 25 requested public help after 35 overdoses in north-central Minnesota since Dec. 1, 2022.