Stubborn ice finally leaves Lake L'Homme Dieu on May 2
The date is the latest ice-out in five years and joins three other May melt downs since 2000.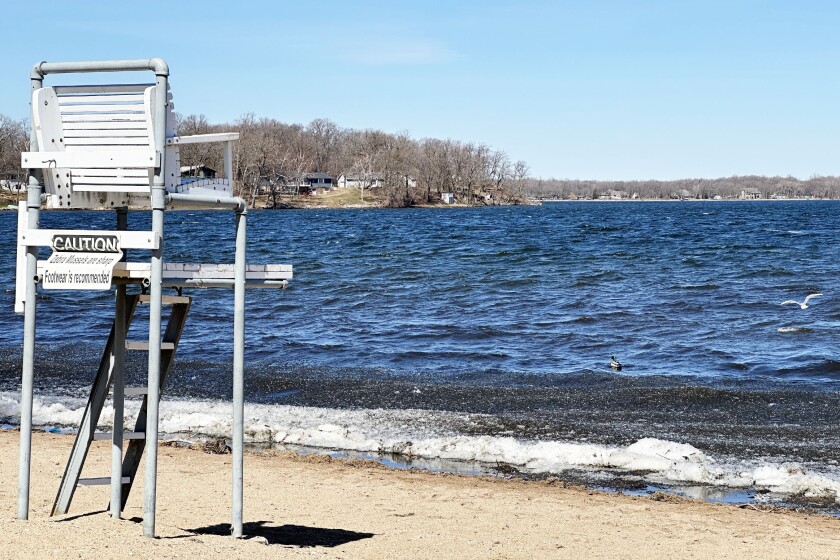 ALEXANDRIA — Free at last!
After being frozen over for many months, the ice finally left Lake L'Homme on Tuesday, May 2 – the latest ice out since 2018 when the ice retreated on May 4.
The final large patch of ice was floating on the south end of the lake near the public beach this past weekend but it was gone by May 2.
This year's ice-out is two weeks later than the median date of April 18, according to records kept by the Minnesota Department of Natural Resources.
There was some concern a couple of weeks ago whether the ice would be off the lakes in time for the Saturday, May 13 fishing opener but windy conditions and high temperatures in the 60s made quick work of the remaining ice.
The Echo Press once again held its Ice Out Contest, giving readers a shot at winning a $50 gift card from Elden's Fresh Foods if they guessed the correct date. The newspaper received 106 entries. Seven people tied with the winning guess so, according to contest rules, a random drawing was held to determine the winner — Loriann Andersen of Parkers Prairie.
Since 2000, L'Homme Dieu's ice has lingered into May just three other times — May 2, 2008; May 4, 2018; and May 13, 2013, which is the lake's latest ice-out since records were kept starting in 1965.
The Echo Press has been keeping track of the ice-out times dating back to 1867, using official "ice spotters" to determine when the ice is gone from the lake. Lake Osakis was originally the official lake but the site was changed to Lake L'Homme Dieu in 1965.
Here are the ice-out dates since 2000:
2023: May 2
2022: April 30
2021: April 4
2020: April 16
2019: April 23
2018: May 4
2017: April 1
2016: March 26
2015: April 11
2014: April 26
2013: May 13
2012: March 25
2011: April 22
2010: April 2
2009: April 21
2008: May 2
2007: April 18
2006: April 9
2005: April 11
2004: April 7
2003: April 13
2002: April 16
2001: April 26
2000: March 25