Brandon-Evansville superintendent Don Peschel is resigning; his last day is June 30
He has been hired as the new superintendent in Sauk Centre, a district he worked in for many years.
BRANDON-EVANSVILLE – Brandon-Evansville Superintendent Don Peschel has tendered his resignation.
At a special school board meeting Tuesday, March 29, Peschel read his letter of resignation to school board members, stating that his resignation is effective June 30 – four years from when he started in the Brandon-Evansville School District.
Peschel began his career in the district on July 1, 2018 after working in education for nearly 30 years. He was a third-grade teacher in Browerville, then was an elementary teacher in Sauk Centre. From 2012 until 2018, he had been the dean of students for both the elementary school and high school in Sauk Centre, as well as the school's community education director.
He is returning to the Sauk Centre School District, but as the newly hired superintendent.
At the meeting, Peschel told school board members that he has no ill feelings toward the district or the communities of Brandon and Evansville and that when he spoke to the staff about his decision to resign that he was "very emotional."
"I've built lifelong relationships here and the staff is amazing," Peschel said. "The board has supported me through some tough times. I would like to thank the board members, staff and the communities. You've treated me well."
In his letter to the school board, Peschel stated, "I want to take this opportunity to tell you how much I have enjoyed working with you as board members, teaching staff, non-certified staff, students and families of this district. Your support of me will never be forgotten. I'm proud of the many things we have accomplished here under my tenure. The district has much to look forward to as it moves into a new era with a new leader. Once again, thank you for the opportunity to serve the district of Brandon-Evansville. You all will be missed."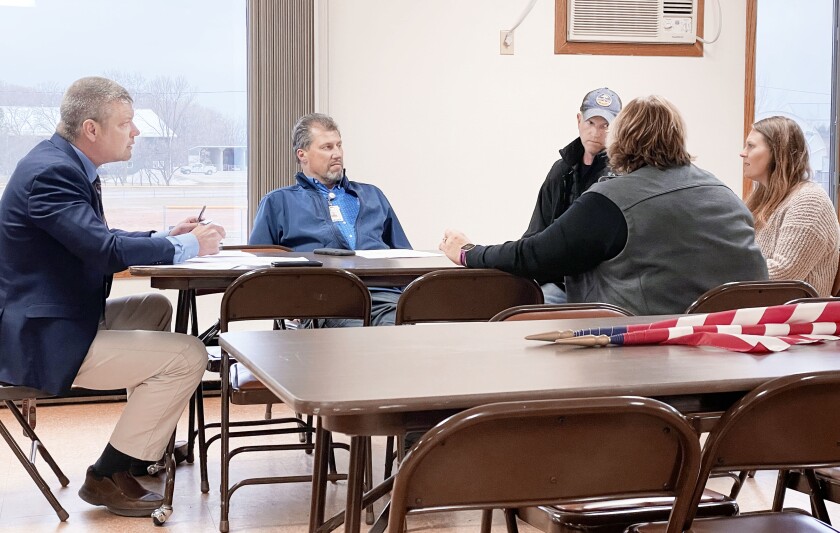 B-E School Board Chairperson, Diane Richter, who attended the meeting via speakerphone, said there wasn't anything the board could do to stop Peschel from leaving and that the board is grateful for everything he has done for the district and thanked him for the energy and time he has put into the district in the last four years.
When Richter asked for someone to make a motion to accept his resignation, there was a slight pause before Jana Anderson made the motion and Randy Bettermann seconded it.
Richter then called for a motion to adjourn the meeting and Peschel interrupted, asking her, "Did you take a vote?" to which she quipped, "Oh no," and then said, "We didn't want to let you go."
A vote was then taken and it was unanimous, 5-0.
Kent Huisman and Trent Froemming were absent from the meeting.
The board will now move forward with the process of hiring a new superintendent. Applications are now being accepted. The application process will stay open for two weeks, longer if needed. If a superintendent is not hired by the time Peschel is done, the board can appoint an interim superintendent until one is found.
During his four years, Peschel helped to get a $14.5 million bond referendum passed in the district to provide funding for a building project. The project, which is currently being worked on, includes the addition of more classrooms, a parent drop-off area and new parking lots at the Evansville Campus, and a new gym, career and technical shop and community fitness room, as well as new parking lots and a storage shed, at the Brandon Campus.