Former Douglas County resident accused of putting out a hit on wife of ex-husband
According to a report from KPRC2 in Houston, documents show that Sarah Hartsfield allegedly told one of her ex-husbands that he couldn't come home unless he killed the wife of another ex-husband.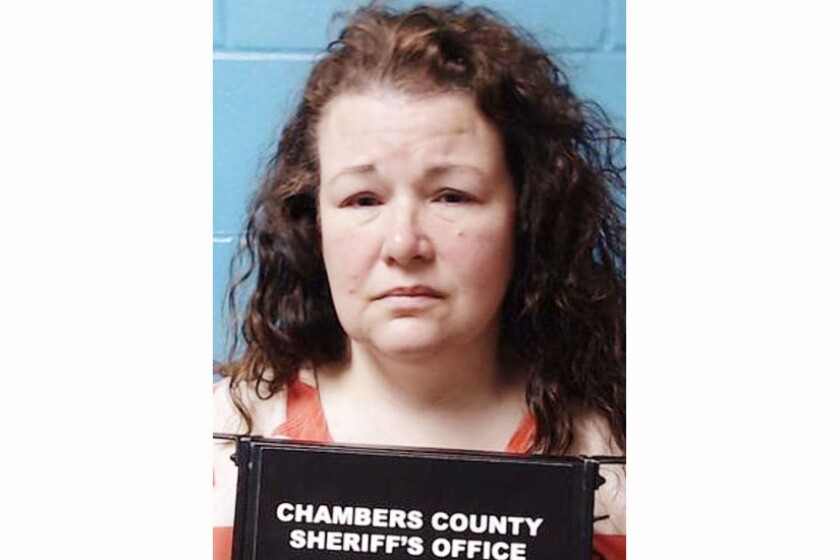 CHAMBERS COUNTY, TEXAS — The former Douglas County resident accused of killing her husband in Texas allegedly put out a hit on the wife of one of her ex-husbands in 2021.
According to a report from KPRC2 in Houston, documents show that Sarah Jean Hartsfield, 48, allegedly told one of her ex-husbands that he wasn't allowed to come home unless he killed the wife of another ex-husband.
Hartsfield, whose last name was George at the time of the alleged events, put a hit out on ex-husband Christopher Donohue's wife, the station reported.
Hartsfield's husband at the time was David George, and documents read there was concern she'd find a different hitman if George didn't do it, it was reported.
A filing for a protective order read that she wanted the woman killed "so that (Donohue) would be too busy dealing with the death to focus on fighting for (their children) anymore."
An affidavit reads that David George told Donohue that he had a gun given to him by Hartsell to commit the murder, but that he had been "trying for months to get Sarah to stop pressuring him," and that he would "lie to her about why it hadn't happened yet," it was reported.
George denied the plot in another filing, and said it was a plan to remove two of the Donohue children from their mother, it was reported.
Hartsfield filed for divorce from George a week after she spoke with investigators, it was reported.
Documents show that Hartsfield lost custody of her two younger children after the alleged hit was revealed, it was reported.
The judge in the case wrote that family violence occurred and was likely to occur again, and also ordered no contact between Hartsfield, her two younger children and Donohue's new wife, it was reported.
Hartsfield is currently being held on a $5 million bond after the death of her husband, Joseph Hartsfield. It has been reported by multiple sources that he was her fifth husband.
Officials said Joseph Hartsfield, who was 46, had diabetes, adding that his insulin levels were extremely high in the four to six hours that preceded a 911 call made by Sarah Hartsfield, according to report by ABC13 Eyewitness News in Houston.
Joseph Hartsfield was in a coma for a week before he died, the station reported.
Additionally, sources reported to KPRC2 that the death is believed to be an insulin overdose, but the medical examiner's office hasn't released an official cause.
Douglas County connection
In 2018, Sarah Hartsfield, whose last name was Donohue at the time, said she shot and killed her boyfriend David Bragg near Garfield after he discharged a handgun at her during a domestic violence incident, according to a 2019 report from Douglas County Attorney Chad Larson.
A limited trajectory analysis of a bullet hole at the scene was performed, and found to be consistent with Bragg discharging his firearm at Hartsfield as she was ascending the stairs, Larson's report read.
The report read that Hartsfield was "justified in shooting Mr. Bragg as a matter of self-defense as she was facing lethal force and had no reasonable possibility of retreating from the threat."
Hartsfield was ultimately not charged in the shooting death of Bragg.
Douglas County's investigation into the 2018 shooting is now considered active again following the receipt of some new information, an email from Larson to the Echo Press read.
"Our investigation is considered 'active' again because we are following-up on new information that our sheriff's office received on Tuesday (Feb. 7) regarding the 2018 shooting," Larson said. "For that reason, I'm unable to process data requests from the media and I am unable to comment further at this time pursuant to Minnesota law."
Chambers County sheriff: Everything started pointing to foul play
KPRC2 reported that Hartsfield has lived in "at least" 39 different places in her adult life, and that she has been married five times.
"When we started talking to other husbands and then finding out some of them maybe aren't alive anymore, and other issues, everything just started pointing to foul play," Chambers County Sheriff Brian Hawthorne was quoted as saying.
Hawthorne continued, "Every relationship that it appears that she's been in, everybody wants out of it because they fear for their life. A number of them have either made the statement, 'I needed out because I felt like my life was in danger,' and some have found where their life was clearly in danger."
A Bragg family representative shared a statement with KPRC2 that read the news of Joseph Hartsfield's death "did not come as much of a surprise to our family," it was reported.
"Almost five years ago our family lost a son, a brother, an uncle, and a father. With very little information regarding his death, we were unable to ever really move forward," the statement read. "All we knew is that the man that was described by his killer was in fact not the David we all knew and loved. His death was very random, and the circumstances that surrounded his death seemed far fetched, almost made up."
Chambers County District Attorney Cheryl Lieck Henry was quoted as saying her office is asking anyone who has known or been involved with Hartsfield in the past to come forward with any pertinent information they may have.
"We need to build some sort of timeline on her, where she's been, who she's been with, and just get a picture of what we're dealing with here," Lieck Henry was quoted as saying. "With all of her names and some of the places that she has lived, there's got to be something else out there."
Lieck Henry added, "She had a lot of people afraid for a long time is what I'm finding out."
The Chambers County district attorney's webpage can be found at www.co.chambers.tx.us/page/district.attorney .