Trott column: Tips for successful container vegetables
Container gardening can succeed in small spaces.
Don't have space for a garden? You can still grow vegetables and herbs in containers! Here are several key tips for success:
Peruse seed catalogs and garden centers to find varieties well-suited for containers. Some varieties do better in containers than others. In general, a good container variety will have a bush-like shape rather than a climbing habit and will remain fairly compact.
Choose your potting soil wisely. Healthy plants start with healthy soil. Soil straight from your yard or garden beds will not perform well in a pot. A pot is a unique environment; soil in containers needs to be able to both drain well and hold on to some moisture. Remember that your pots need to have holes in the bottom for drainage. Without holes, you risk over watering and creating an anaerobic (oxygen deprived) soil environment.
Choose a container large enough for the full-sized plants. Some vegetable plants grow to be quite large. As they grow, they need nutrients, water, and sufficient space for their roots to expand in the soil or potting media. Therefore, be sure to use pots that are big enough for the size your plants will grow to. Signs that your plant is too big for its pot include: Soil drying out frequently, stunted growth, lack of productivity and discolored leaves (lack of nutrient uptake).
Make sure that the pot has drainage holes. It is easy to make the mistake of potting up plants in a pot that lacks drainage holes in the bottom. Without drainage, the water has nowhere to go, and the soil will become saturated over time. Saturated soil can kill or drastically stress plants, because it impedes the roots from taking up the nutrients they need from the soil. Find a container with holes in the bottom or drill your own holes.
Place the containers in a spot with direct sun for most of the day. While semi-shaded areas can be suitable for herbs and ornamental plants, most vegetable plants require more sun. Find a spot that has full, direct sunlight for at least eight hours or more.
Water regularly, but not too much. Check your containers daily, and water only if needed. To determine if you need to water, stick your finger in the potting media about an inch deep. If the potting mix feels moist or wet, you do not need to water yet. If it feels dry at an inch deep, it is time to water.
I hope that you have found these tips to be helpful, and you feel prepared to go out and start a container garden this spring! For more information about container gardening, visit www.extension.umn.edu .
Until next time, happy gardening!
Robin Trott is a horticulture educator with University of Minnesota Extension. Contact her at 320-762-3890, or at trot0053@umn.edu.
1
/
2:
Potted peppers (Contributed)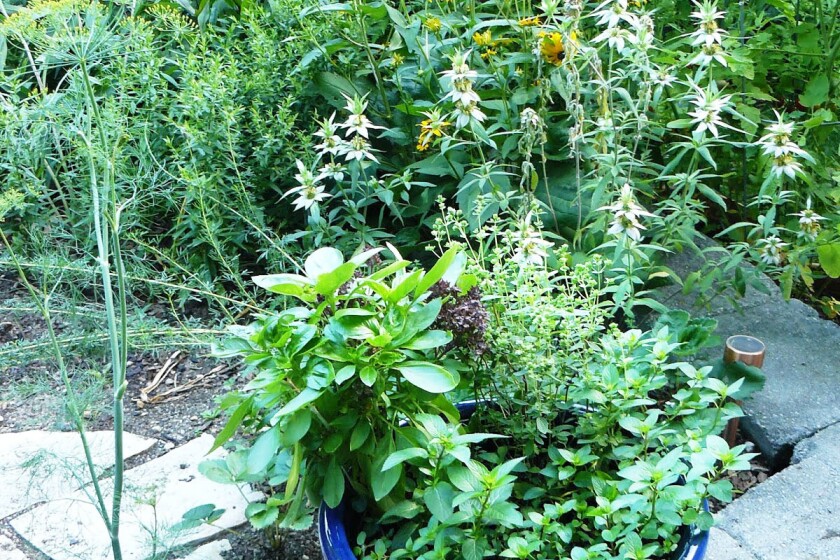 2
/
2:
Pot with mixed plants (Contributed)