Senior College lecture delivers the weird, the heartbreaking, the comical
The twice-a-week lecture series runs through April 20.
Senior College students got to hear tidbits from the weird, the familiar, the heartbreaking, and the comical during the seasonal kickoff on Tuesday, March 14.
The Senior College, designed for those age 50 and up, is comprised of a spring and fall lecture series by professors and other guests from throughout the state.
Jill and Deane Johnson of Park Rapids, authors of "Little Minnesota: 100 Towns Around 100," and its follow-up, "Little Minnesota in World War II," launched the spring lecture series with gems from their books.
The weird: A small Minnesota town lost one of its own to the area near Bermuda Triangle. In December 1945, Herman Thelander was waiting in Fort Lauderdale, Floria, to be discharged from the U.S. Navy so he could return home to Kinbrae, now population 11. On a day with clear skies, he joined a group of five torpedo bombers on a routine training exercise. They flew out over the ocean and radioed back, "We're lost, we're lost." The Navy sent another plane to look for them, and that plane too disappeared. No sign of the six planes or the 27 men on board has ever been found.
Deane Johnson pointed out that navigators in 1945 lacked the sophisticated navigation systems of later planes, and that the area was easy to get lost in.
The familiar: Many hands shot up when the Johnsons asked if anybody in the room had ever visited Vining, a town of 59 in Otter Tail County. The small city made their "100 Towns" book and is well known for sculptor Ken Nyberg's gigantic sculptures of ordinary things, including a foot with a sore toe for which the Bigfoot gas station is named. Vining also has a connection to NASA through hometown girl Karen Nyberg, Ken's daughter, an astronaut who has spent 180 days in space.
The heartbreaking: The Bettin family of Urbank, in Otter Tail County, population now 50 near the Douglas County line, moved to the area from Poland and Germany. They experienced severe hardship during the Great Depression. After his father died in 1939 after suffering a stroke in a well while looking for water, Frank Bettin left Urbank to work in North Dakota, according to Bettin's sister, Hildy Bettin Dorn, when interviewed by the Johnsons. He was drafted to serve in World War II and ended up fighting in the Battle of Attu in Alaska's Aleutian Islands, the only World War II battle fought on American soil. Bettin died on Attu.
According to Dorn: "We were told that Frank and some other soldiers were in the barracks, when a Japanese man, in an American Army uniform, came in and stabbed him with a bayonet. Many years later, when my mother was dying of cancer, I was sitting by her bedside and suddenly she opened her sparkling blue eyes, smiled, and said, 'Oh Frankie, it's so good to see you.' Her youngest son had finally come home."
The comical: Whalan, Minnesota, population 67, is home to the Stand-Still Parade, or, as Jill Johnson points out, "Where the parade stands still and the spectators do the walking." She added, "Aging members of their American Legion are so happy to sit rather than march."
They flashed pictures of dignitaries sitting in a car with no driver and the Beef Queen enjoying the day.
Jill said she queried organizers, "How on earth do you know when the parade's over? She said, 'The horses break rank, the color guard rolls up the American Legion banner, the band starts to march and we all go home.'"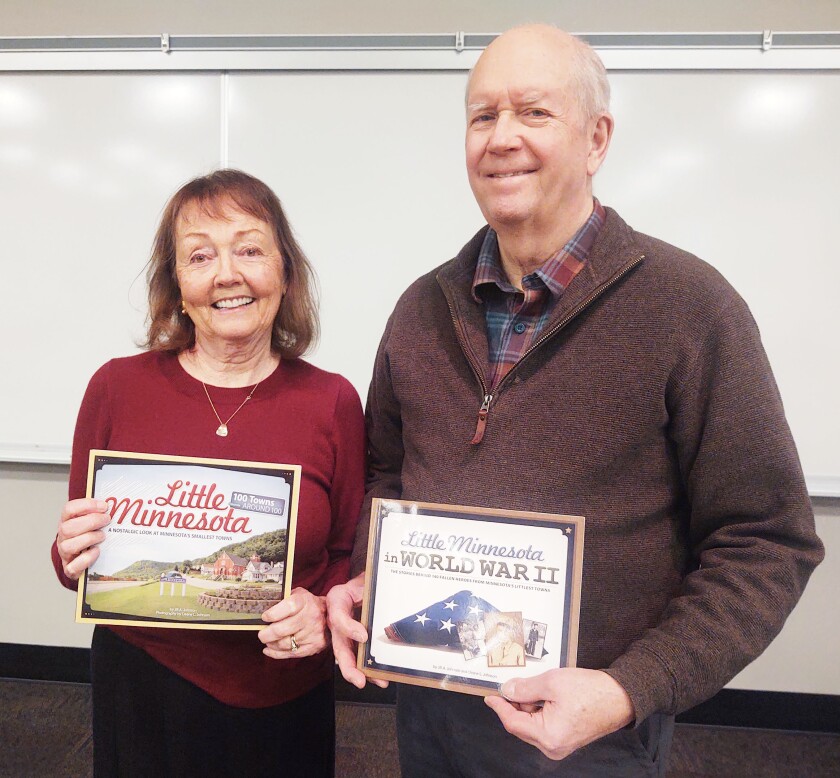 The Johnsons said they appreciate small towns, which seem to disproportionately send soldiers to war. They dug into records, including declassified military records, and were able to provide details that even families didn't know. They said they find many veteran's memorials in small towns, and also a strong desire to keep their towns alive, even though some of them have only a handful of residents.
In Funkley, a city of 8 residents in Beltrami County, "If you're breathing and standing up, you're on the council," Jill quipped. The Johnsons required any city they wrote about to have a mayor and council.
Funkley was interesting, they said, because in 1953, almost the entire village went to New York City on Northwest Airlines to accept an award from the American Cancer Society for its efforts to fight cancer. It was called "The Funkley Flight Cancer Special," and they were on TV and radio and even introduced to President Eisenhower.
The Johnsons said they wanted to capture these small towns because they feared they might disappear. However, only one of the towns they wrote about has voted to dissolve, and that was Tenney, in Wilkin County.
Senior College continues Tuesday and Thursday, 3:15-5:15 p.m. through April 20. They are held in person at Alexandria Technical and Community College.