Eli Young Band's concert during Taste of Osakis was filled with surprises
Eli Young Band performed for the Taste of Osakis festival on Saturday, Sept. 10.
We are part of The Trust Project.
OSAKIS — Eli Young Band's show during the 2022 taste of Osakis event on Saturday, Sept. 10, provided a memorable night for a few Osakis natives.
Twin sisters Kendra and Kiley Wruck's 12th birthday could not have been any sweeter.
The Eli Young Band was coming to their hometown to perform as headliners on their birthday for the Taste of Osakis festival and their mother, Jenna Schmidt, purchased enough tickets for Kendra and Kiley to bring friends.
But, Schmidt wanted to make the night even more special for her girls. Unbeknownst to them, Schmidt had emailed the band's booking agent, Brian Hill, and asked if it was possible for the band to give a birthday shout-out between songs.
Within a day, Hill replied with a counteroffer. Schmidt accepted and was soon contacted by the band's manager, Kyle Moshier, with further instructions.
On the night of the concert — before the show — Kendra, Kiley and their friends Dakotah Pastian, Giselle Rodriguez and Ava Moe along with their mom Jenna, their aunt Nicole Schmidt and longtime family friend and neighbor, Taylor Walsh, were led backstage to the band's tour bus.
"I love those girls... Jenna (Schmidt) was like, 'they'd feel so much more comfortable if you came with.' I was like, 'yeah, I'll go. Of course,'" said Walsh.
For at least half an hour, the girls talked with the band about music and softball.
Kendra and Kylie, being avid softball players, spoke in detail about the sport with the band's guitarist and lead vocalist, Mike Eli. He told the girls how his daughter recently began playing back home in Texas.
"When Mike asked about softball, Kendra and Kiley lit up and were excited to converse with them on similar interests," said Jenna.
Guitarist James Young told the story of how he and Eli first started the band back in college when they were just guitar-jamming roommates. Bass player Jon Jones mentioned that he joined the band not long after. Drummer Chris Thompson did not participate in the meet in greet due to testing positive for COVID-19 a week prior.
"It was kinda like, 'wow I can't believe I am actually meeting these people,' but then your also like nervous at the same time," said Kendra. "We've been listening to their music for a very, very long time. So it was definitely like an experience of a lifetime."
The girls also got their birthday shout-out during the show. But the night was still full of surprises for others in attendance. Kendra and Kiley are very thankful to their mom for making their birthday a night to remember and agree that they don't think anything could top it.
Although Walsh had been with the girls backstage, she attended the concert with her boyfriend, Trey Erie. And during the show, right in front of the stage, surrounded by friends and strangers, a dream came true.
"I turned around and he was down on one knee," said Walsh describing the moment Erie proposed to her.
It was an immediate 'yes' from Walsh.
The band saw what was happening and pulled the two onstage where they danced through the next song.
"It was a very special moment," Walsh said. "We were kissing and making out like teenagers behind the school again but up on stage in front of everybody."
Although they have been officially dating for just over a year, the two are no strangers to each other's love.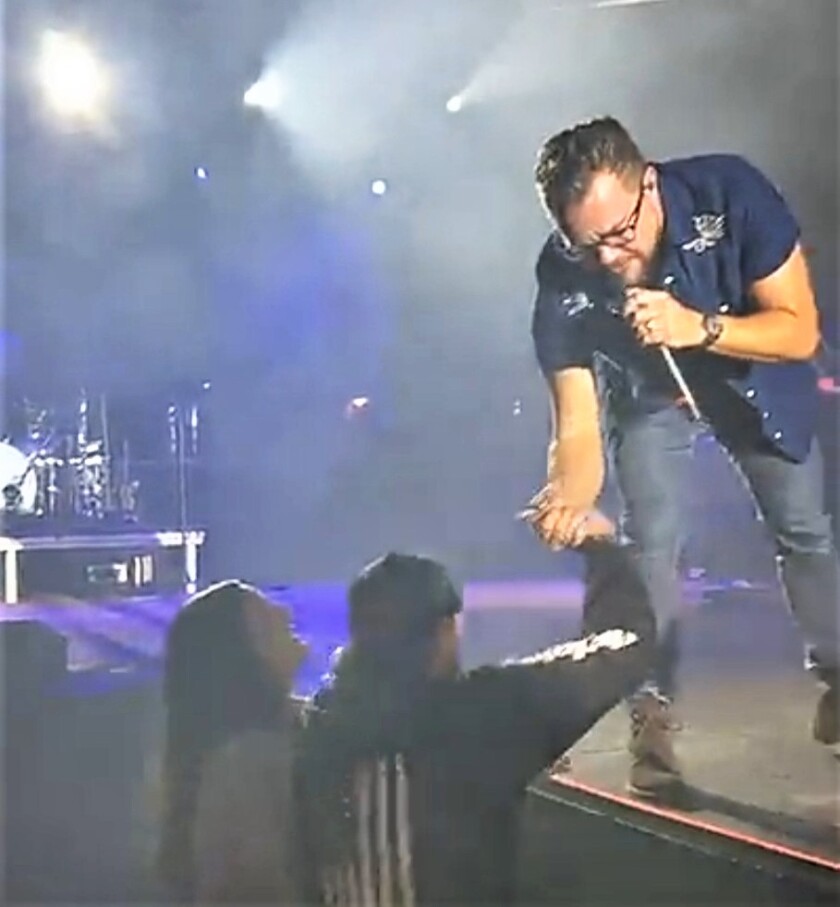 Their draw towards each other began in seventh grade when they were each other's first kiss. Eventually, the two broke up but remained best friends through high school and college.
Although their younger days of romance were fleeting, the two rekindled their love last year when Erie returned from a few years of living in Texas; working and being nearer to his mother.
A week prior to the concert, Erie was speaking with his dad about his idea of proposing. He was originally thinking about doing it on the couple's upcoming trip to Dubai, but his dad's advice of "don't be predictable" changed his course of action.
"I kind of went off feeling," said Erie. "We were around a lot of our family, a lot of our friends, in our hometown where we graduated high school and grew up. It just felt like the best place to do it."
Walsh said it wasn't predictable.
The two agree, their love for each other is easy and marriage is a no-brainer.
"We have been best friends since we were younger," said Walsh. "We know everything about each other. Each other's deepest secrets; the good, the bad and the ugly. It just makes perfect sense to me."
Erie said Walsh has always been his person to confide in, that talking with her has always been easy.
"When you know, you know," said Erie. "It was a dream come true. For sure."
"It felt like a fantasy. Like an episode of the bachelor. That's for sure," said Walsh.