'Willy Wonka Kids' opens at the Andria Theatre Sept. 23
The cast features 50 students from the Alexandria area.
ALEXANDRIA — The Andria Theatre presents Roald Dahl's "Willy Wonka Kids." The Student Theatre Project fall youth show opens on Friday, Sept. 23, and only runs for three days – Sept. 23 through Sept. 25.
"Willy Wonka Kids" follows the enigmatic candy manufacturer, Willy Wonka, as he stages a contest by hiding golden tickets in five of his scrumptious candy bars.
Whomever comes up with these tickets will win a free tour of the Wonka factory, as well as a lifetime supply of candy. Four of the five winning children are insufferable brats, but the fifth is a likable young lad named Charlie Bucket, who takes the tour in the company of his equally amiable grandfather.
The children must learn to follow Mr. Wonka's rules in the factory – or suffer the consequences.
Director Leah Drexler said this play, a Student Theatre Project, has adapted the story to be an ideal show for younger children to enjoy.
It is shorter than the movie so there is continuous action on the stage, she said. The language has also been simplified so that younger children can more easily fill the main roles. The cast of 50 students are between the ages of 8 and 11.
While this is the largest cast she has worked with in this age bracket, Drexler said casts for Student Theatre Projects with older students have been similar in size.
"We were so excited about the huge interest in this age bracket's production this year," said Drexler. "These students have been wonderful. All of them seem so genuinely interested and excited about theater that we have not had any issues with keeping rehearsals moving."
To help maintain safety, however, the cast is broken out into smaller groups for rehearsals and there are techniques that are used to help redirect everyone's attention and help everyone to become quiet when necessary.
"One of these is echo clapping," she said. "I clap a beat and see if they can clap the same beat back. Usually, though, once the music starts, everyone's attention is on the stage."
Although the entire show is fun and it was hard to choose a favorite scene, Drexler said the one that stands out is the Candy Man scene.
She said in the scene, the local children are playing and waiting for the candy cart to come by so they can buy their daily Wonka treat.
"The scene has the song, 'The Candy Man.' This is such a classic song and the energy on stage is so fun," she said. "And being someone who loves sweets, I can totally relate to the excitement the children have."
And when it comes to her favorite character, Drexler said it is Charlie Bucket. She said he has a lot in his life working against him, and yet he still makes the hard choice to be kind, positive, honest, respectful and generous.
"He is a wonderful role-model," she said. "In a story all about choosing to be a person with character, he makes us all want to root for him."
Drexler said "Willy Wonka" is the perfect show to introduce younger audiences to theater as it is a shorter production with a lot of energetic dancing and acting on stage.
"But no matter your age, everyone will love how our talented community of actors bring this story to life, " she said. "People should come and see 'Willy Wonka Kids' because it is so fun!"
He wanted to be a cartoon character
Jonah Monette, 11, of Alexandria, son of Leah Monette, is a sixth-grader at Discovery Middle School and is playing the role of Willy Wonka.
This isn't his first time on the Andria Theatre stage. In fact, Monette, who said he's been acting since he was about 7, has been in six other plays.
He shared a funny story of how he started acting.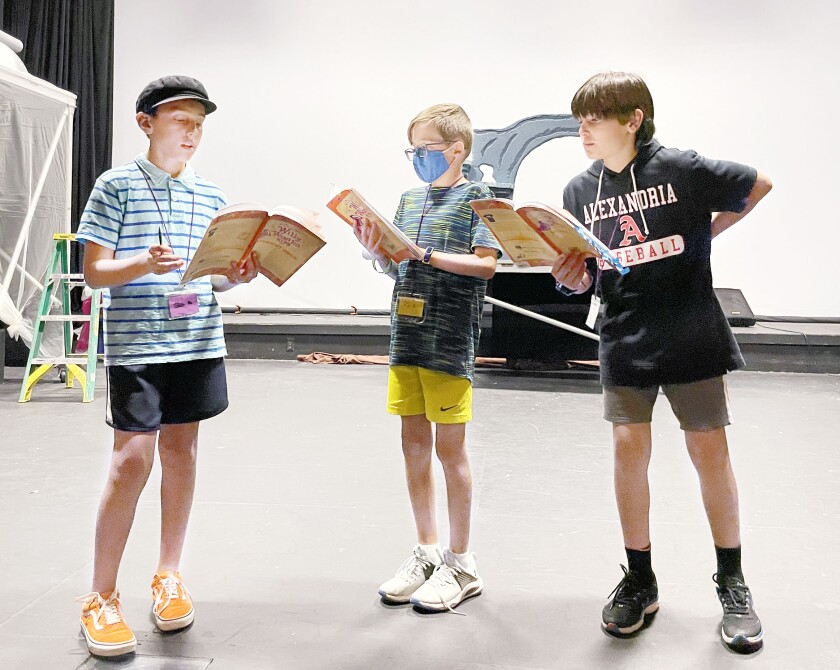 "I love watching cartoons and I decided I wanted to be a cartoon character when I grew up," he said, adding that he told his mom he wanted to be an actor.
Monette said his mom said he could try out for a play to see if he liked it and that the rest is basically history because he loved it.
When asked what his character of Willy Wonka is like, Monette said he is a funny guy who creates candy that is cool, like the Gobstobber.
"He's like a funny scientist," he said.
Monette said he really enjoys being in plays at the Andria Theatre because his whole family, including his cousins, uncle and grandparents, come to watch him on stage.
He also said he likes having roles with more lines more than he likes being a background character.
As for why people should come see the show, Monette said anyone who is thinking about becoming an actor should definitely come and see it so they can see what the Andria Theatre is all about.
He also said that everyone worked so hard and the show is entertaining, fun, sad, surprising and it has a lot of good music.
Micah Knick, 8, of Alexandria is the son of Nathan and Amber Knick and is a student at Zion Lutheran School. He will be playing the role of Mike Teavee.
This is Knick's first time on stage and he is excited about it.
"I've watched so many plays before but I am finally old enough to be in one," he said, adding that he is the first in his family to be in a play. "We bought like 20 seats!"
His favorite play he has been to, by the way, was "Little Mermaid."
Knick said his character likes watching TV and playing video games and said, "He's addicted to video stuff."
When he was auditioning, Knick said he thought he would've liked the role of the Candy Man, but decided that Mike Teavee was better.
"I like to sing and I have a higher pitched voice and I like it," he said.
When asked why people should come and see the play, Knick responded, "Because it's my first show and people really like the shows here."
Candy Man – Luke Hodges
Willy Wonka – Jonah Monette
Charlie Bucket – P.J. Vanderheiden
Grandpa Joe – Anderson Randazzo
Augustus Gloop – Brayden Zollner
Mrs. Gloop – Claire Ecken
Veruca – Salt Finley Paulson
Mr. Salt – Blake Ristvedt
Violet Beauregarde – Anna Bienias
Mrs. Beauregarde – Ronni Grey Popp
Mike Teavee – Micah Knick
Mrs. Teavee – Lucy Bertram
Phineous Trout – Joni Vanderheiden
Jane – Brooklyn Ostlund
Matilda – Addison Larson
Mrs. Bucket – Paisley Beckius
Mr. Bucket – Jaxon Heiser
Grandma Josephina – Gray Mau-McDowell
Grandpa George – Grafton Johnson
Grandma Georgina – Samara Price
Cameraman/Candy Kid – Kolton Dalluge
Oompa Loompas – June Hagstrom, Emory Auran, Ruby Eken, Erica Beebout, Elsie Einerson, Vada Burkey, C.C. Hodges, Sophie Ristvedt, Ingrid Richards, Brielle Elmer, Calla Kuhn and Addy Loosebrock
Squirrel/Oompa Loompas – Sydney Cullen, Claire Williams, Ellie Amundson, Evelyn Eigen, Olivia Garvin and Kennedi Hay
Candy Kids – Hazel Eken (solo), Emma Reishus (solo), Charlee Sinning (solo), Cambree Auran, Kamryn Kamm, Evie Paulson, Madelyn Ostlund, Sydney Haugen, Brooklyn Beebout, Brooklyn Bohl and Violet Spanswick
Leah Drexler – director
Lindsay Auran – assistant director, stage manager
Kylee Dummer – theater coach, costume design, hair, makeup, vocals
Abi Nelson – theater coach, hair, makeup, support
Brody Uhlenkamp – theater coach, stagehand
Donna Magnuson – set design, safety coordinator, tracks, projections
Greg Boles – set construction
Greg Reather – sound
Maryn Cabinaw – light design and tech
Hilary Ninman – prop master, stagehand
WHAT: Roald Dahl's "Willy Wonka Kids"
WHEN: Sept. 23 and 24 at 7 p.m. and Sept. 25 at 2 p.m.
WHERE: Andria Theatre, 618 Broadway St., Alexandria
TICKETS: Go to www.andriatheatre.org or call the box office at 320-762-8300.