Chinese stories and ancient flutes featured at Douglas County Library event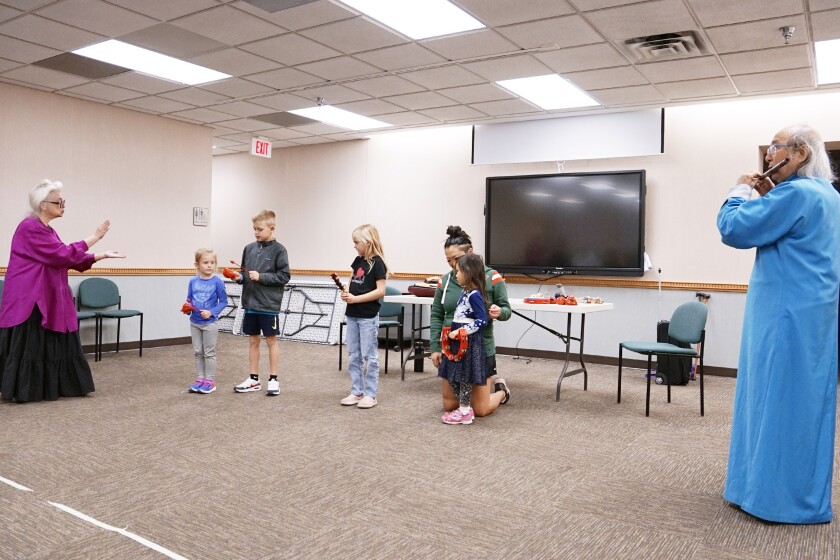 ALEXANDRIA — The Douglas County Library featured a Minneapolis storyteller and a traditional Chinese flutist during a COMPAS teaching event on Friday, Oct. 21.
Storyteller Rhonda Lund and traditional Chinese flutist Ying Zhang, both of Minneapolis, taught and entertained an intimate group of people ranging from children to Seniors at the Douglas County Library through folktales and music from China.
"We like to show diversity and different cultures and different backgrounds. We're all one," said Library Director Dawn Dailey. "Music is a language that everybody can understand...Music brings everybody together."
Lund opened the event by providing background on Zhang, originally from Beijing. She said when Zhang was 12 years old, he snuck into a concert to see an "extremely famous" musician perform. After the show, Zhang approached the man and asked to be taken on as an apprentice. Surprisingly, the musician said yes.
Fast forward to today, at 83 years old, Zhang has mastered 12 woodwind instruments and for the last 25 years has traveled with his wife, Lund, across Minnesota to tell the stories and play the music of China for those who will listen.
Lund, an actress by trade, then told a story of how Zhang made a flute out of a turkey leg he collected after a Thanksgiving meal followed by Chinese folktales. One was about a grief-stricken widow who lost her husband while he was working on the Great Wall of China, another was about how one monkey became the Monkey King by jumping through a mysterious waterfall and a third was about a poor boy who used the power of a "dragon pearl" to fend off a greedy businessman and end a devastating drought.
After each story, Zhang would play a different Chinese flute and Lund explained how each is used in different ways with different meanings.
The Gu Di was the turkey bone flute which literally means "bone flute."
The Xun, played after the grieving widow story, is a clay flute that dates back nearly 7,000 years. Lund explained that the instrument was only discovered within the last 60 years after archeologists dug up tombs of ancient Chinese emperors. She said because it is so recent, not many people know how to play it but it serves the purpose of providing a sad or scary sound when telling stories.
The next flute played is called a Hulusi. It's made from a gourd and bamboo rods with a copper reed inside that produces bagpipe sounds. Lund explained that the flute originated in the Yunnan Province used by the native Dai people for their traditional "peacock dance."
The fourth instrument featured is the Lu Sheng. A flute made up of multiple brass tubes resembling those of an organ. Zhang said that traditionally the player of the instrument walks or dances while playing. It is not meant to be played sitting down or standing stationary. Zhang played a song of his own on the Lu Sheng and, of course, he danced around.
The last instrument is a Xiao which resembles a traditional flute familiar to the western world. During the final performance, Lund and Zhang brought up some of the children present to play along with Zhang on percussion instruments.
"Anything that shows you the culture of a different people or a different country is hugely important," said Lund. "It's a real joy to hear and learn how to play the traditional instruments because all over the world traditional instruments are kind of endangered because the more modern music, the more electronic music, is kind of taking over everywhere. It's really important that this music survives."
The event was sponsored by the Viking Library System and funded by Minnesota's Arts and Cultural Heritage fund. COMPAS , a non-profit arts and education organization that teaches through art, works with Lund and Zhang and schedules their appearances throughout the state.