Alexandria's Lake Ida named by inventor, author and rambler
The journey of Myron Coloney.
ALEXANDRIA — Brick-layer, news writer, fur trader, commercial editor, book author, patented inventor, restless rambler, lake namer.
These are all roles attributed to the New York native who settled on unclaimed shores in 1858 and named her Lake Ida.
The Douglas County Historical Society helped provide research and insight on the story behind the naming of Douglas County lakes as part of an occasional series done by the Echo Press. This is the second installment.
Myron Coloney was born in St. Lawrence County, New York, on April 24, 1832, to James B. and Mellissa D. Colony. He was their second youngest of five children; he had two older sisters, one older brother and a younger sister, according to an article featured in the Douglas County Album of the ages from 1979 written by his grandaughter, Ruth Colony Sorelle. Sorelle remarks her father dropped the "ey" spelling in his last name for the original "y" as he preferred the latter.
When Coloney was eight years old, his family had moved to Akron, Ohio; his mom had died shortly after. By the time he was 10, he had ditched home because his father's new wife was the living embodiment of the "wicked step-mother," or so she was described. He urged his siblings to do the same.
In Sorrelle's article, he is quoted, "She practiced so many cruelties upon us that we could not live at home, and at the early age of 10 years, I assumed the responsibilities of running away and persuading the rest of the children to do so too," in reference to his step-mom.
The rest of his life was a ramble, never staying in one place permanently.
When he was 13, he moved to Wadsworth, Ohio, where he lived with a Mr. and Mrs. Daniel Peters. By the time he was 16, he had worked various labor jobs until moving back to Akron to be a printer apprentice for The Summit Beacon, a newspaper that began in 1839 and is still publishing. Today it is known as the Akron Beacon Journal — the paper's name after merging with the Akron Evening Journal in 1897.
Eventually, Coloney moved to New York, where he worked at a newspaper in Syracuse then attended the Collegiate Institue in Brockport. After his time in New York, he sustained his career as a writer for the Washington Star in the country's capitol, just four blocks from the White House.
Sometime later, Coloney took a hiatus from the editorial world and took a job in a brickyard until he realized he did not like that line of work, prompting him to move to Michigan to take a job with the Detroit Tribune.
In 1855, he tried his hand in yet another venture; the wool, hide, and fur trade with a Mr. Chauncey Tuttle in Chicago. Coloney married Tuttle's daughter, Josephine, on April 24, 1857.
After two years, the business failed due to the Panic of 1857 — a financial crisis caused by the declining international economy and over-expansion of the domestic economy, which led to a severe economic depression that lasted three years.
By 1858, Coloney and Josephine decided to find greener pastures in the land of 10,000 lakes, which landed them along what Coloney described as "lovely shores" in his book, "Manomin: Rhythmic Romance of Minnesota, the Great Rebellion and the Minnesota Massacres."
He and his wife settled on the south end of the body of water and dubbed it Lake Ida. How they selected the name, Ida, is uncertain. Still, Douglas County Historical Society Director, Brittany Johnson, speculates it was possibly his younger sister due to a grave of a young girl named Ida Coloney located in an area affiliated with Coloney. Or it was simply a family friend as described in Sorrelle's article.
Coloney recounts his arrival to Douglas County in his book, which reads as follows, "At the time myself and wife moved into Douglas County, there was no beaten road over the prairie further than the little paper town of Kandotta, near Fairy Lake. One log cabin, and a very indifferent one at that, had been erected upon this site, a liberty pole put up, a pole stable built and the 'town' had an existence name. We purchased ox-teams in St. Cloud, loaded our household goods and provisions into the wagons and the journey was commenced. It was May and there were no bridges across streams. The Sauk River had to be crossed four times in the journey and as it was very high, we were obliged to unload each time and after ferrying our goods over in a small skiff, take the wagon to pieces and ferry it over in the same manner."
According to an 1897 "look back" article from the Alexandria Post News, the Coloneys brought delight to the other community members of Douglas County with Josephine's piano and his extensive library collection. Both were destroyed during a home fire in 1862 while Coloney was purchasing sheep in Indiana and Joesphine was visiting family in Chicago. According to the article, the piano was the first in Douglas County.
"We don't think of them as like big things today. But imagine you literally don't have much to do for fun. You're very far off the beaten path, and you don't even have strong trade routes established. But you have this businessman who has brought a piano and lots of books to Douglas County, probably at considerable expense, considering that kind of stuff had to come by wagon," said Johnson. "When people talk about coming to Douglas County in those days, they encountered steep hills and came across piles of furniture and heavy things stacked up alongside the hills, abandoned. Because if you couldn't get it up the hill, it wasn't coming with."
In 1862, after the fire and five years of living in Minnesota, Coloney moved to a 1,500-acre farm outside of Rolla, Missouri, previously owned by confederate sympathizers. Coloney and his father-in-law, Chauncey, purchased the land and used it to supply the Union Army. Being more of the businessman type, Coloney reached out to his Douglas County pal, Andreas Darling, who gave Lake Darling its name, to tend to the farm duties and become a co-owner of the property. One night in 1864, while away on business, Coloney received a disheartening telegram from Josephine: Vengeful sons of the previous owner inflicted violence on the farm and murdered Darling.
Coloney wrote about Darling in his book and honored him with a poem titled "dedication."
After Darling's death, Coloney continued his rambling ways and moved to St. Louis and became the commercial editor for the Missouri Democrat in 1865, staying in that position for 10 years until the paper closed its doors. His only son, Roy, was born during this time on March 3, 1870. Roy would do some rambling of his own into his adulthood until settling into a position as a professor at Columbia University.
By 1876, Coloney had built a home for his family and became the commercial editor for the Republican until 1877. In 1878, his family's home was destroyed in the fire, pushing them to move again. They ended up in New Haven, Connecticut, where he manufactured guns under Dr. McLean, associated with Colt Firearms.
During this time, Coloney patented many inventions.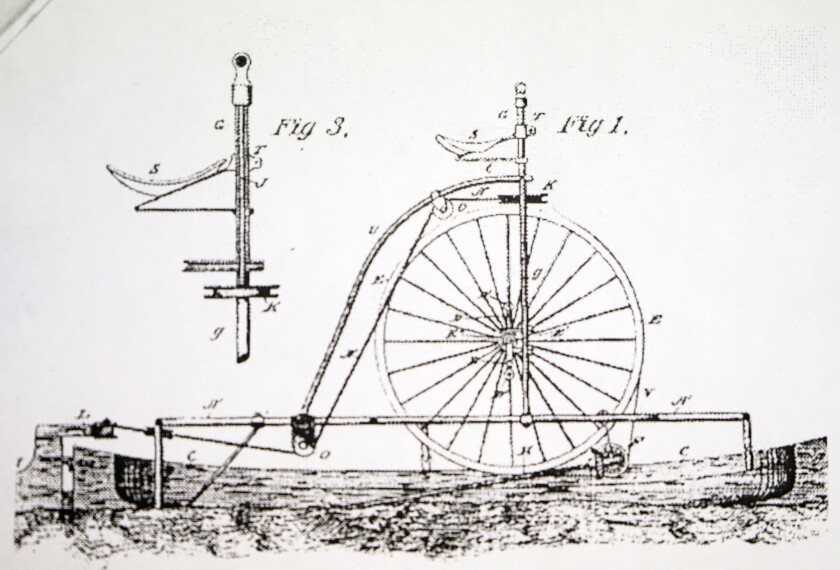 According to americanartifacts.com, Coloney's marine velocipede — a water bike — was patented in 1880 and described as "a high wheel bicycle fitted with two pontoons and a propeller-driven by the wheel." You can picture this as a bicycle with a larger front wheel and a small back wheel.
A gun nicknamed the Coloney Cannon was patented on Aug. 31, 1880, to Myron Coloney of Saint Louis entitled "Magazine Gun."
The "Armed Clad Turret" was patented on March 29, 1881, and is described by Coloney and McLean as a "floating fortress adapted to be moved from place to place by the use of tugs, or other means of propulsion."
In 1881, Coloney left the gun manufacturing trade for Jacksonville, Florida, where he opened up a real estate company. He lived there until his death on June 5, 1884. Today he is buried in New Haven.
His obituary was featured in the Morning Journal-Courier from New Haven, Connecticut, on June 7, 1884. It made no mention of Lake Ida. It reads as follows:
"Myron Coloney, a well known inventor and former resident of New Haven, died at Jacksonville, Florida, Thursday...Mr. Coloney was fifty-two years old and leaves a wife and one child. Since his removal, he has lived in Jacksonville and engaged in the real estate business... A wealthy physician, Dr. J. H. McLean, became one of his warmest friends. They conceived a theory that war implements could be devised so destructive in their capabilities that their effect on the troops against which they were directed would be nothing short of annihilation. Several of Mr. Coloney's inventions to this end were tested in this city...Mr. Coloney had many friends here who will mourn his loss."
Coloney's time in Douglas County remain immortalized as the name "Ida" has been adopted by roadways, a township and a distillery — Ida Graves .