Inspiration for an Easter brunch or special spring meal
"Home with the Lost Italian" columnist Sarah Nasello revisits three of her past recipes that add up to one delicious spread on the table, just in time for the holiday.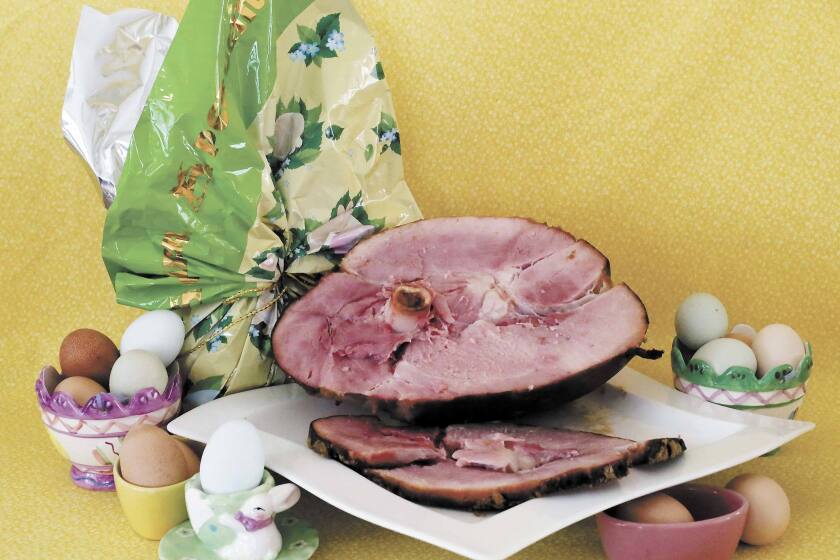 We are part of The Trust Project.
FARGO — When I think of springtime, I think of brunch. In our family, the arrival of spring is traditionally ushered in on Easter Sunday with a brunch that showcases a palette of gorgeous spring colors. This year's feast will be no exception, and will feature various shades of spring colors with my Rainbow Layer Salad with Buttermilk Herb Dressing, Great-Grandma GooGoo's Easter Ham , and Raspberry Friands .
My great-grandmother's Easter ham recipe is a tradition in our house, and I have served it every Easter for the past 15 years, complete with an amazing ham gravy.
Beyond that mainstay, the other dishes are up for grabs at Easter, and this year's menu is inspired by my son's recent visit through my recipe database, where he stumbled upon favorites from years past. The friands, in particular, caught his attention, as it has been some time since I have included these delightful Australian tea cakes on our Easter menu.
Each of these featured recipes have steps that can be done well in advance of the serving day. The Rainbow Layer Salad is best when assembled and refrigerated a day before serving, and the (amazing) Buttermilk Herb Dressing can be refrigerated for up to a week. GooGoo's Easter Ham is studded with cloves, and this step can be done up to 24 hours before baking the ham. The batter for the Raspberry Friands will keep in the fridge for three days, so all you have to do on the day of the feast is pour it into the muffin tin and bake. These are the kind of recipes that are made for entertaining.
These are three great make-ahead recipes that will help you host an easy, effortless and elegant springtime brunch. Enjoy!
1. Rainbow Layer Salad with Buttermilk Herb Dressing
This multi-layered salad features a rainbow of colorful ingredients , including lettuce, tomatoes, red cabbage, orange bell pepper, baby spinach, hard-boiled eggs, bacon, green onions, cheddar cheese and asparagus. The salad can be assembled and refrigerated up to 24 hours before serving, and the delicious buttermilk herb dressing can be made in advance and refrigerated for up to a week before adding to the salad an hour before serving.
Ingredients:
1 head iceberg lettuce, cut into 1 to 2-inch pieces (bite-size)
1 pint cherry tomatoes, halved
1 to 1 ½ cups red cabbage, shredded
Orange bell pepper, large dice (1/2-inch)
1 cup baby spinach leaves
6 hard-boiled eggs, quartered
10 strips bacon, cooked and roughly chopped
5 green onions, green and light green parts, finely chopped
Sharp cheddar cheese, thick shred
10 asparagus spears, cut into 1-inch pieces, blanched
¾ to 1 cup Buttermilk Herb Dressing
Directions:
Measurements may vary depending on the size of your bowl. A large glass bowl is ideal for this salad, especially one where the base is the same width as the top (like a trifle bowl).
To blanch the asparagus, fill a medium saucepan about 2/3 full with water and bring to a boil over medium-high heat. Meanwhile, fill a medium bowl with ice and water; set aside.
When the water begins to boil, add the chopped asparagus and blanch until bright green and just tender, about 2 to 3 minutes. Transfer asparagus to a strainer and place the strainer in the ice water for 2 minutes. Remove strainer and place asparagus on a layer of paper towels to dry.
To assemble the salad, line the bottom of the bowl with a thick layer of iceberg lettuce, about 2 inches high. Add a layer of the halved cherry tomatoes, hugging the edge closely and then more loosely spread out toward the middle.
Repeat with the cabbage, bell pepper, spinach, eggs, bacon, onion, cheese and asparagus. Cover bowl and refrigerate for at least 1 hour before serving, or even overnight, to allow the flavors to meld.
About 30 to 60 minutes before serving, pour the dressing evenly over the top of the salad and refrigerate until ready to serve. There is no need to toss or mix the salad before serving, as the dressing will seep into the layers as the salad rests. Leftovers will keep in the fridge for up to 2 days.
Sarah's Mayo-Free Buttermilk Herb Dressing
Makes: 2 cups
Ingredients:
2 whole scallions, chopped (white and green part)
½ cup fresh basil leaves, lightly packed
2 tablespoons fresh dill fronds
2 tablespoons fresh parsley leaves
¼ cup fresh chives, chopped
1 tablespoon extra-virgin olive oil
1 tablespoon Dijon mustard
1 large garlic clove, peeled
1 teaspoon kosher salt
1 teaspoon freshly ground black pepper
½ cup buttermilk
½ cup sour cream
½ cup plain Greek yogurt
Directions:
In a food processor fitted with the steel blade, add the scallions, basil, dill, parsley, chives, oil, mustard, garlic, salt and pepper and blitz until smooth, about 15 to 20 seconds.
Add the buttermilk, sour cream and yogurt and blend until smooth and creamy. Transfer to an airtight container and refrigerate for at least 1 hour to allow the flavors to meld. Dressing will keep in the refrigerator for up to 1 week.
This recipe has been an Easter tradition in my family for four generations, and it never disappoints. Old-fashioned and so delicious, this ham is studded with cloves and coated in a perfect, sweet-and-sour blend of brown sugar, cider vinegar and dry mustard.
The drippings from the baked ham can be used to make a ham gravy that goes beautifully with whipped potatoes or the Cheddar and Chive Duchess Potatoes I featured here last week .
Serves: 6 to 8
Ingredients:
1 shank half ham, bone-in (this is a choicer and more flavorful cut than the butt half)
Whole cloves, approximately 40 to 50
1 cup brown sugar
2 to 3 tablespoons cider vinegar
1 teaspoon dry mustard
Directions:
Preheat oven to 325 degrees.
Trim most of the fat off the top of the ham, leaving just a thin layer to add flavor. Lay the ham on its side so that the flat edge is facing out and stud the top with cloves space about ¾-inch apart. Continue on to the next step or refrigerate the ham for up to 24 hours to allow the cloves to infuse the ham.
In a small bowl, form a thin paste by mixing the brown sugar, cider vinegar and dry mustard until smooth and well-combined. Use a brush to liberally coat the top of the clove-studded ham with the paste, saving some to use later for basting.
Transfer the ham to a baking or roasting pan and then add a slight amount of water to the dish, about 1/8 to ¼ inch maximum. This will prevent the sugar from burning as the ham bakes, and provide the drippings needed if making gravy later. Check the ham every 20 to 30 minutes as it bakes and add more water to the dish by the tablespoon if necessary.
Bake in the oven for approximately 2 hours. After the first hour, brush the ham with another coat of the paste and repeat after another 30 minutes. Cook until the top of the ham is a rich, golden brown. Let the ham rest for 5 to 10 minutes before carving. Serve and enjoy!
Ingredients:
Drippings from the pan
½ cup flour
2 tablespoons cold water
Directions:
Combine the flour and cold water to prepare a slurry, which is used to thicken the sauce and create the gravy. Set aside.
Place the roasting dish on the stove over medium heat and whisk vigorously to release all the drippings. Add a little water if necessary.
Transfer the drippings into a small or medium sauce pan and add the slurry in small amounts, starting with 1 tablespoon. Cook over medium-low heat, whisking vigorously to incorporate all the ingredients and remove any lumps. The gravy is ready when it has achieved a smooth consistency. Transfer to a serving dish and serve over ham and potatoes.
These delightful Australian tea cakes are made with almond flour, egg whites, melted butter and powdered sugar for a terrific alternative to a basic muffin or quick bread. In Australia, they are traditionally baked in oval molds, but muffin, or mini muffin, pans are another great option.
Crispy on the outside with an almondy-soft center, these tea cakes are a cause for celebration all on their own, and a delightful addition to any brunch menu.
Makes: approximately 12 oval-shaped friands or 24 mini-muffin size
Ingredients:
1 to 2 tablespoons melted butter for greasing pan
5 egg whites
1 ¼ stick unsalted butter, melted and cooled to room temperature
¾ cup almond flour
1 ½ cups powdered sugar, sifted
¼ cup + 1 tablespoon all-purpose flour, sifted
1 teaspoon vanilla
¼ teaspoon almond extract (optional)
24 fresh raspberries
Directions:
Preheat oven to 350 degrees. Grease the inside of the friand tray or muffin pan well with melted butter and set aside.
In a large mixing bowl, sift the powdered sugar and flour together, and then add the almond flour. In a separate large mixing bowl, whisk the egg whites briefly until just combined, no longer than a count of 10.
Add the melted (and cooled) butter and vanilla to the egg whites and mix for a few more seconds. Add the flour mixture and beat until well mixed, about a minute.
Use an ice cream scoop to fill each hole until about 2/3 full. Place 2 or 3 berries on top of each friand and bake until the tops are a light, golden brown. Insert a toothpick into the center to check for doneness. This is approximately 20 to 25 minutes for oval friands and 15-17 minutes for mini-muffin size. Oven temperatures can vary, so keep an eye on them as they bake.
Cool for 5 minutes. Use an offset spatula or butter knife to loosen the cakes from the pan before gently turning them out. Dust with powdered sugar and enjoy.
Sarah's Tips:

If using a silicone baking pan, place an upside-down cooling rack under the pan before baking for easy transfer in/out of the oven.
Allow the melted butter to cool before adding to the egg whites or it could ruin their texture.
Batter can be made up to 2 days in advance and refrigerated until ready to use.
Try other ingredients to enhance friands — mixed berries, apple slices, citrus zest, chocolate chips, coconut, etc.
Store friands in the refrigerator in an airtight container for 3 to 4 days and bring to room temperature or heat before serving.
To freeze, wrap friands individually in plastic and freeze for up to 3 months.
This week in...

Recipes can be found with the article at InForum.com.
"Home with the Lost Italian" is a weekly column written by Sarah Nasello featuring recipes by her husband, Tony Nasello. The couple owned Sarello's in Moorhead and lives in Fargo with their son, Giovanni. Readers can reach them at sarahnasello@gmail.com.