Douglas County's North Memorial Ambulance receives clinical excellence award
The award goes to ambulance services that achieved a performance rate of 80% or higher in five or more individual performance measures.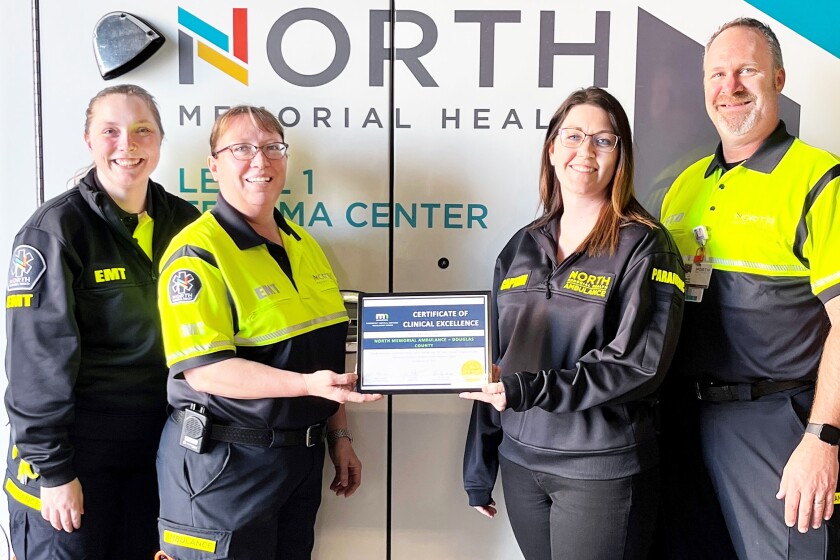 DOUGLAS COUNTY — North Memorial Ambulance of Douglas County was one of 95 Minnesota ambulance services that received the Certificate of Clinical Excellence award for providing outstanding pre-hospital clinical care in 2022.
The Emergency Medical Services Regulatory Board announced the honorees last month.
"It's just nice to be recognized for the commitment and dedication that our team has," said Scott Johnson, manager for North Memorial Ambulance in Alexandria. "They put a lot of work and effort into providing remarkable care. It's nice to be acknowledged for that."
In order to qualify for the award, North Ambulance had to achieve a performance rate of 80% or higher in five or more individual performance measures in order to qualify.
"In early 2022 — working with EMS physicians from across the state — the EMSRB established multiple clinical advisory performance measures that could be used to benchmark and highlight the wonderful pre-hospital care that Minnesotans receive every day from our dedicated EMTs and Paramedics," said the board's executive director Dylan Ferguson in a news release. "The measures evaluated looked specifically at the quality of patient care in cases of strokes, chest pain, trauma, and pediatrics."
One of the measures the medical board takes into account is the time spent on scene—under 20 minutes is the goal. Johnson said 91.48% of North Ambulance's stroke calls fell under that threshold. About 88% of the other calls were also under 20 minutes. Johnson added that his team responded to about 4,000 calls in 2022 with an average response time of "well under two minutes."
He said the call numbers are above average compared to previous years but it's not out of the norm. He said every few years or so there is about an 8% growth in calls which he attributes to the community population growing.
"We have dedicated staff that do a lot of training and education surrounding the (above) standards. Plus, our staff is very experienced here," said Johnson who added that he is very thankful that North Ambulance is well staffed unlike other services across the state who are experiencing shortages.
North Ambulance covers all of Douglas County and occasionally parts of Todd County with a team of 30 that averages at least seven years of experience. Johnson himself has worked as the manager for the last 10 years.