Cross country: Norby's record-tying run encapsulates impressive start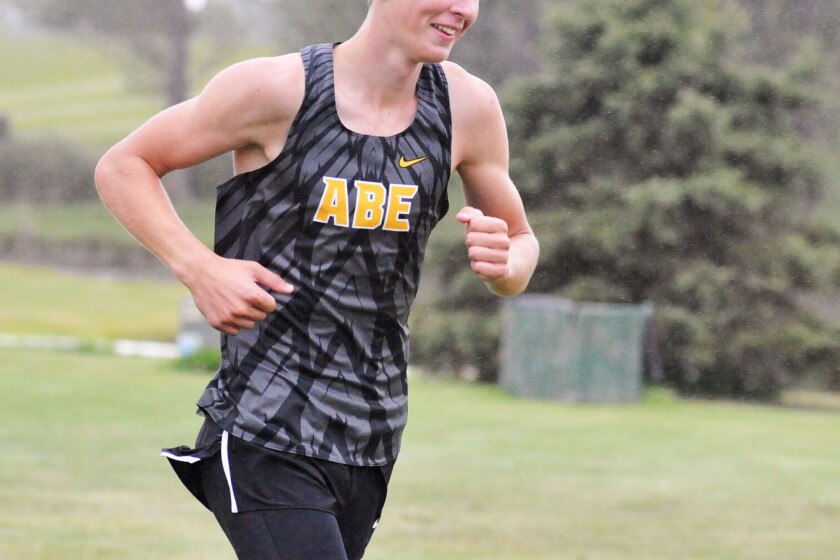 It's rare for an athlete to step into a new sport and have instant success at a varsity level.
But that's exactly what Ashby's Hunter Norby is doing week after week in his first season with the Ashby-Brandon-Evansville cross country team.
The A-B-E boys are off to an impressive start this fall. They brought home two wins and a second-place finish through the first three meets of the season.
Norby, a junior, is brand new to cross country. In a typical fall, he would be catching passes for the West Central Area-Ashby football team.
After the COVID-19 pandemic postponed football and volleyball to the spring, he chose to try a new sport. He finished in front of almost every runner he faced and tied the A-B-E program record for the fastest time through three meets.
"I didn't even think I was going to be this fast," Norby said. "I thought that there was going to be so many people that were faster than me from other schools. I didn't really know what was going to be a good time, but I guess I'm running pretty fast."
At A-B-E's home meet at Pine Ridge Golf Course in Evansville on Sept. 11, Norby finished in third place with a time of 18:27. It was 55 seconds faster from the week before, where he finished in first place at Bluestem Amphitheatre in Moorhead. Norby's time tied Wes Siira's school record, and it took only three meets to get there.
"In the first meet, he came up to me and said, 'I don't know what to do,'" head coach Robert Bosma said. "I told him to run with Wes because he's the fastest guy with experience. The second meet, I told him to catch the cart that leads all of the runners. We preach all the time about finding a rabbit to catch."
Norby has dropped over a minute from his first race, and he would've dropped more if he knew where he was going last Friday.
"Right away, there are lines in the middle, and I forgot where I was supposed to run," Norby said. "I'm looking at coach and I'm laughing because I was running, but I didn't know where I was going. I'm just having a lot of fun right now."
Even though there have only been two runners that have beat Norby through the first three meets, he still has work to do to break the school record. Luckily for him, Siira has been a mentor in his first season.
"He's been really helpful," Norby said. "He gives me tips about how to run in certain places. If I didn't have him, I probably wouldn't be where I'm at now. My goal is to beat his school record. I'm pushing myself to get there. I want to get under 18 minutes, but we'll see what happens."
After Norby took first place in the first two meets of the season, he caught his coaches' attention.
"He's already dropped around a minute of his time," Bosma said. "He's exhausted, but he runs a good race. I still think there's a couple of minutes we can work on getting rid of throughout the season."
The addition of other athletes to A-B-E's cross country teams has elevated the competitive edge within the group. There's a new level of intensity that Bosma didn't see in the first three years in the program.
"We have 11 guys right now that are competing with each other to run in the varsity race," Bosma said. "It's a constant competition between all of them. I sit down with the coaches before a meet, and we look at the roster and see all of these guys pushing themselves to be better. We didn't have this before, but it's making this year a lot of fun with all of the complications that COVID-19 causes."
Norby and his other football teammates trying cross country made it a point to bring the same intensity that they'd have on the field to each meet.
"I've learned that this sport is all mental," Norby said. "If you do not have a mental game, you're in the back. I think that's one thing that all of us Ashby football players have out here right now. We keep pushing ourselves and pushing each other. Honestly, running is terrible. It's not a good feeling, but we love competing for something."
The A-B-E runners are teammates at the end of the day. While each runner has a goal set for themselves, the ultimate goal is winning. Norby has helped give A-B-E a better chance to do that this year.
"It's different because I was told there isn't that much cheering, and there aren't many fans in cross country," Norby said. "Then I come out here, and I have the football players screaming and yelling at me when I hit a straightaway. It's fun, and we love the support we have from our new teammates and coaches. It's been a weird fall, but I'm really glad I came out for cross country."