Grocery Grab in Alexandria raises thousands of dollars worth of food
738 pounds of groceries were collected by five area businesses and donated to the Outreach Food Shelf during the fifth annual Neighborhood National Bank Grocery Grab at Elden's Fresh Foods.
ALEXANDRIA — Five area businesses raced through the aisles of Elden's Fresh Foods and collected thousands of dollars worth of groceries for the Outreach Food Shelf in Alexandria during Neighborhood National Bank's fifth annual Grocery Grab on Thursday, March 30.
"Neighborhood National bank is a community bank. We believe in investing in our community," said Vic Dale, branch manager for Neighborhood National. "We recognize that food insecurity affects all ages and we are very committed to do our part for our community."
All in all Dale said this year's event was a great year. She added that "energy was high and the teams were outstanding." The bank is already planning on how to make next year's event bigger and better.
Billmark's Lakes Area Insurance, the Alexandria Echo Press, KIKV-FM, Neighborhood National Bank and Ron's Warehouse each had two grocery grabbers to race through the store with two carts and gather as many groceries as they could within 90 seconds. A list of needed food items provided by the food shelf was given to the teams.
One team member had to always have their hands on the cart(s). Once a cart was filled, they were allowed to leave it and finish filling the second.
Two Alexandria Area High School seniors raced for Neighborhood National and were given an extra $350 after the event to shop for groceries for the school's food shelf.
The team with the highest cost total would be declared winner and would not have to pay for the food; Neighborhood National Bank covered their bill. The losing teams had to pay their own bills.
After the event, the groceries were loaded into a truck and hauled to the Outreach Food Shelf.
KIKV-FM took first with $1,740.44 worth of groceries. This is the second year the Alexandria radio station has won the event. The first was in 2021. There was no grocery grab in 2022.
"It just means so much. It is so cool to see the truck getting filled up," said KIKV-FM radio host Chelsea Lee. "All the volunteers, all the people who work so hard here at Elden's and for Neighborhood National Bank to say, 'You know what, we are going to match whatever you guys bring up in that cart to donate,' it means the world. It is so much fun. Anyone can do a fundraiser but this is great."
"It's about the community," added Kris Valentine, KIKV-FM radio host. "There is a big need for the food shelf. Being able to help them and get the word out is awesome."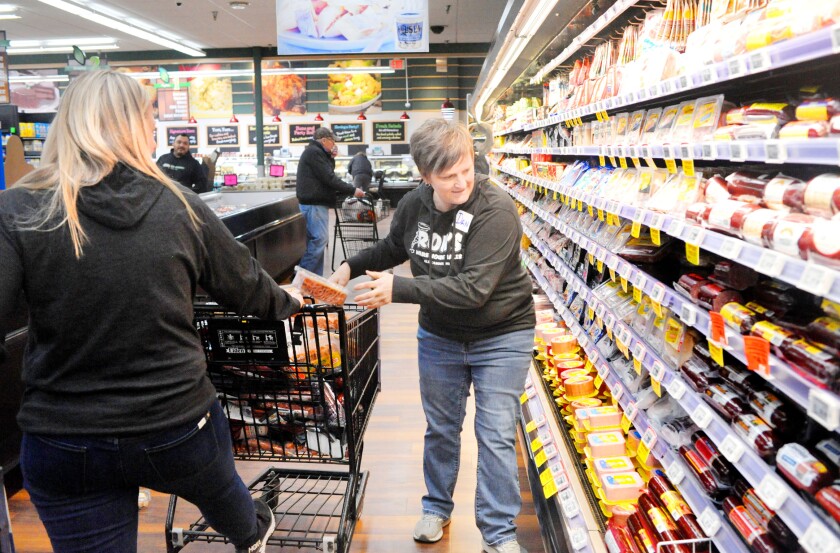 Valentine joked that he spent two weeks training at the gym in preparation for the event.
Ron's - $1,017.35
Billmark's - $758.44
Neighborhood - $630.67
Echo Press - $625.86
All in all, a total of $4,772.76 was donated to the Outreach Food Shelf, which came out to be 738 pounds. In 2021, $6,994.50 worth of groceries — adding up to 1,800 pounds — was donated.
"It means a lot as far as food for people. The biggest thing is the community connection. People seeing the need and feeling the excitement of helping to feed our hungry," said Bernice Wimmer, director of the food shelf. "It builds community spirit. It helps people put food on their table. Especially during the holidays with Easter right around the corner."
Wimmer added a special thank you to Neighborhood National Bank for sponsoring the event and spreading awareness.