Alexandria City Council member retires after 26 years
Dave Benson was honored on Thursday, Dec. 15, as he heads into retirement. For the last 26 years, he represented Ward 4 on the Alexandria City Council.
We are part of The Trust Project.
ALEXANDRIA — From a Navy man to a police officer, volunteer firefighter and Ward 4 Alexandria City Council member, Dave Benson has served not only his country but the city of Alexandria for the last 63 years.
Former Alexandria Mayor Sara Carlson called him "the best wingman" she could ask for. Current Mayor Bobbie Osterberg told him she is so honored to have been able to work with him and that his commitment to the community and his family have made the world a better place.
Police Chief Scott Kent said Benson's 63 years of service to his country and the city was "remarkable."
Benson moved from North Dakota to the Alexandria area when he was around 8 years old. His father died when he was 5 so his mother, who was blind, raised him for most of his childhood along with his six siblings southwest of Alexandria near Lake Oscar. He attributes his life of various service ventures to his mother.
"My mother taught us that it was good to help other people," he said and added that church didn't hurt either. "I've gone to church all my life. I guess that instilled some valuable lessons and values in the way I live."
Benson joined the Navy after graduating from Jefferson High School in 1959. He spent four years as an aviation structural mechanic.
While stationed on an aircraft carrier, the Cuban Missile Crisis happened from Oct. 16, 1962, to Oct. 29, 1962. He described it as a "tense" situation.
"You never knew what was going to happen," Benson explained. "You went to bed at night and didn't know if you were going to wake up in a war situation or what."
When things started to calm down, Benson, along with half of his squadron, were re-stationed on the island of Cuba. His Navy career ended in 1963.
Bringing it all back home
After the military, he went off to Mankato State University where he earned some general education credits. But he soon moved back to Alexandria and took up road construction work. After winter weather laid him off from work in 1966, he decided to pursue a new career. He applied for two jobs, one at 3M and the other for the Alexandria Police Department. Both offered him a job
"When I was at Mankato State, I wanted to be a social worker," Benson said. "I felt that being on the police department was close to social work."
Although he had no formal training in law enforcement, he took the cop job. Benson was supposed to complete six weeks of on-the-job training with a senior officer but after three days, the officer became sick and Benson was sent on patrol solo.
A year later, he entered a 16-week law enforcement training program out of Willmar.
"We drove back and forth to Willmar every day for the total time," Benson recalls.
He was officially hired in March of 1967 and stayed on with APD until he was three months shy of 30 years of service. He retired as a sergeant.
"There were good times and there were bad times.," said Benson. "I think that the good times were dealing with the public and having the support of my family."
In 1972, Benson thought he could do more to serve the community. Along with protecting the public and his other duties as a police officer, he expanded his service through the Alexandria Fire Department as a volunteer. For 14 years he maintained both emergency service positions.
He said as the community grew and more calls came in, the more difficult it became to operate out of both positions.
"I couldn't make fire calls when I was on duty with the police department," said Benson. "My bread and butter was with the police department. So I decided to resign at that time."
In 1996, Benson retired from the police department and a year later ran for city council.
"I was elected and started serving in 1997," he said. "I wanted to continue to be in contact with what was going on in the city and I felt that was a good way to continue to serve."
For the last 26 years, Benson has been involved in various projects — from the reconstruction of Broadway and major improvements along Second Avenue to moving Big Ole.
He said the hardest part of the job was making decisions on whether they would be in the best interest of the people of Alexandria. He always wanted to take into account what his constituents wanted but also had to keep the whole community in mind.
"Spending a lot of money for the Runestone Community Center and the police department and the fire hall and things like that, those are big decisions to make. You had the take into account what your constituents were telling you, whether the city should spend that kind of money on those projects. The most recent, hard decision to make was on the CBD issue," he said. "There's always those that want something and those that don't want something. So you have to kind of weigh 'what's best for the community' and hope that you make the right decisions on it."
During his time on the council as a representative of Ward 4, Benson has been on the Liquor Commission, the HRA Board, the Airport Commission and the Airport Zoning Board, to name a few.
"There was a number of committees that I've sat on over the years," Benson said.
On Thursday, Dec. 15, Benson was honored for his 26 years of service to the city during a Holiday Open House at City Hall. His last term officially ends on Jan. 1, 2023.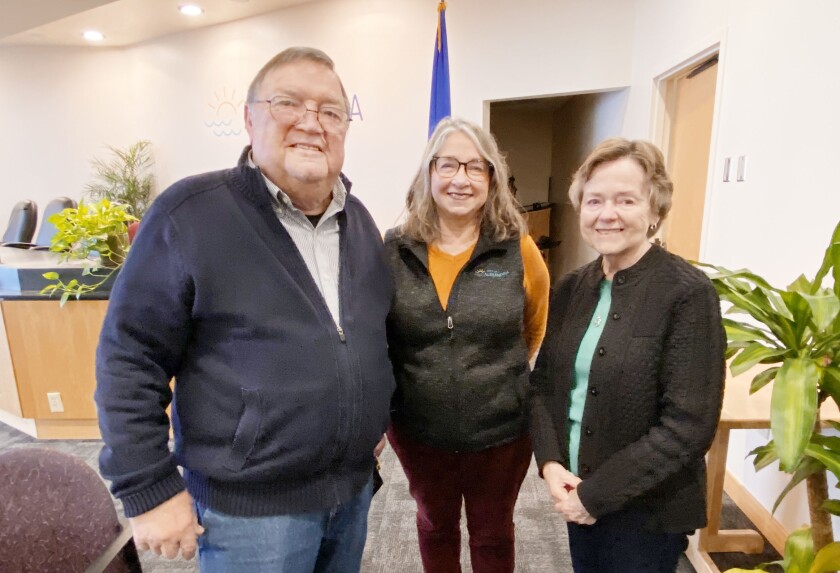 "I'll be 82 at the end of this month and it's a good time to have younger people working on the city council," Benson said who added that he has enjoyed watching the city grow over the years.
When it comes to the future of Alexandria, Benson is optimistic.
"It's a healthy and growing city. We have many city employees that are dedicated to their jobs and they're doing an excellent job," Benson said. "I feel that Alexandria is a great place to live and raise your children. We have a great education system. There are many churches in the community. It's just a great place to live."
50 years of loving support
He credits his ability to stay on the council for so long to his wife, Linda.
"My wife had to put up with a lot of Monday nights where I would be gone," Benson said. "And with the police department, of course, there were a lot of holidays when I wasn't at home. And working nights and mornings, and afternoons. So she had to take care of the kids when I was gone. She was very supportive."
The Bensons have two children together who gave them four grandchildren. They will celebrate 50 years of marriage on Feb. 10, 2023. Benson says the secret to a long marriage is "give and take, listening to one another and biting your tongue occasionally."
Out of all his ventures, Benson is the proudest of his family and his church. He is looking forward to spending more time with his family into retirement but that doesn't mean his ability to serve is over.
He was recently elected to the Alexandria Senior Center Board.
When asked if he had any advice, he said, "Keep your faith. Try to lead a good family life. It's not always an easy road but you know, you have to keep your chin up and persevere."