Alexandria alumnus produces an award-winning documentary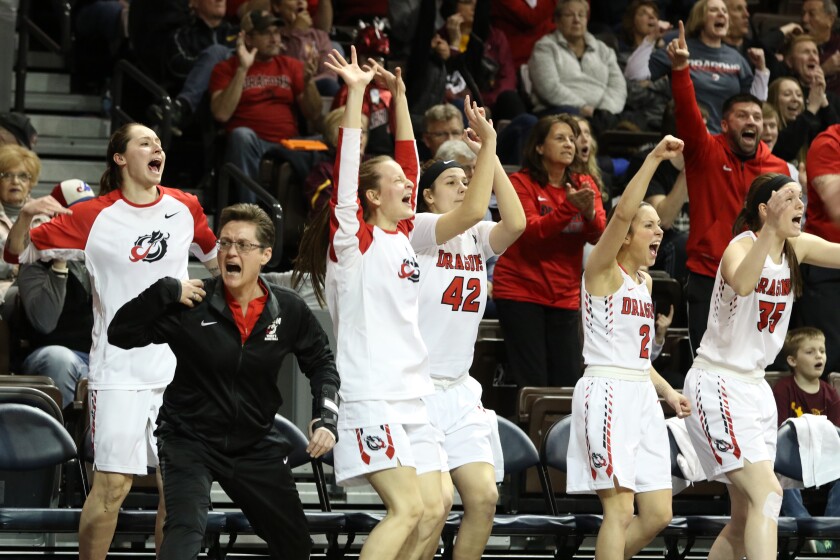 As a videographer for Minnesota State University Moorhead, there's one thing that's not included in Sean Rice's job description: Shaving his hair off when a team wins against their rival.
But that's exactly what he did.
Rice, a 2017 Alexandria Area High School graduate, created a 30-minute documentary called "Dragons: New Heights" to provide a behind-the-scenes look at the best season of women's basketball in MSUM history.
He cut his hair the night the women's basketball team won their first round game against the University of Minnesota Duluth because he made a deal with them.
"That's how invested in that story he was," said Jon Wepking, assistant athletics director for marketing and production. "It was more than just shooting and editing. He built trust with that team to the point that he was a part of it."
'Something bigger'
When the men's basketball team made it to the Elite Eight in 2015, former videographer Caleb Stumpfl spent an entire year recording footage to create the feature-length film "TOGETHER: Dragon Basketball's Historic Season."
"Once the story of the Elite Eight came into focus, we realized that we needed to make something bigger," said Wepking.
During the 2018-19 season, the women's basketball team won 27 games. Their 13-game winning streak tied the school's all-time record, and Rice's film captured the team's third straight NCAA tournament appearance.
"I wanted to give it my own spin but have it be in the same vein," Rice said. "I saw what our women had done in the past year and saw just how close they were. This was the best season they've ever had in school history, and so I thought that they were due for their own documentary."
Finding an encourager
Wepking has been Rice's boss, narrator, editor and producer during the filmmaking process.
"He saw every single edit I ever made for it," Rice said. "He's been a great boss and a great friend to me."
Rice always wanted to be behind the camera, according to Wepking. He helped Rice write voiceovers and resequence some parts of the film.
"We've gone through a lot," Wepking said. "It's weird to say that as a boss to a student, but when you shoot things and you travel and you go through hardships and a little bit of self-doubt here and there, you bond."
The biggest adjustment during the process of filmmaking was identifying the climatic, emotional moment that would draw viewers into the story, according to Wepking. He said the documentary didn't have that piece in the first draft.
"We realized that we didn't put in the post-game press conference where coach (Karla Nelson) was crying, and she's a tough woman," Wepking said. "When she cries, you notice. To not have that moment in there we realized missed the bigger meaning of this group."
Wepking said Rice's knowledge of and commitment to sports and video editing were helpful in creating meaningful content.
"He could really put those two together for a sports audience in a way that we hadn't had before," Wepking said.
Moving forward
Rice has submitted "Dragons: New Heights" to 22 festivals so far, and he's been accepted into two in Los Angeles, receiving a best new media award in the Indie Short Festival and an honorable mention in the Independent Short Awards. This month, he will hear back from two more film festivals in Duluth and Traverse City, Mich.
The documentary premiered at Fargo Theatre Oct. 9, 2019, and more than 250 people attended. Wepking said projects like this are particularly special because they show what student athletes do through the lens of a fellow student.
The full film is available on MSUM Dragons YouTube, and more information can be found at msumdragons.com/newheights.
"I'm excited to see where this goes, and I'm excited for the next year and getting to see what stories I get to tell," Rice said.