The Depot in Alexandria gets new owners
Kenny Neumann opened the restaurant with Bill Seykora in 1985. On April 1, Neumann's daughter, Sammi Lindemann, and her husband, Mike, took over as official owners.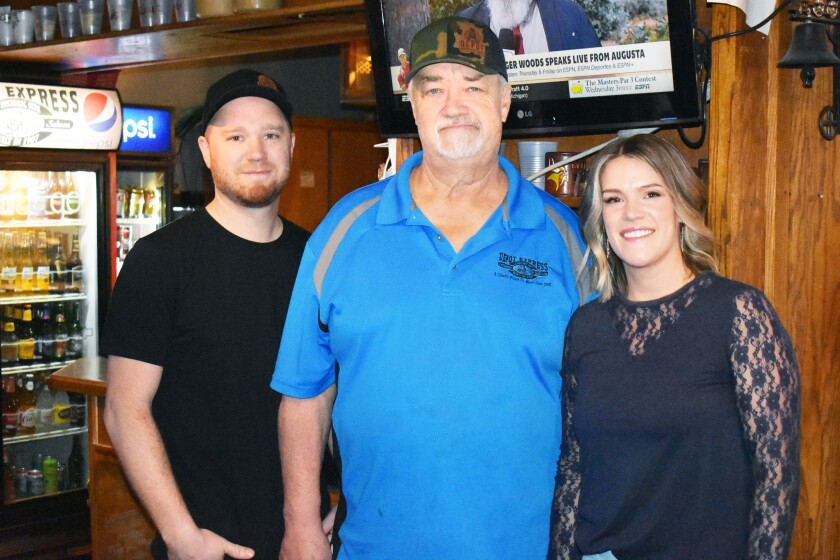 ALEXANDRIA — Mike and Sammi Lindemann officially took over as new owners of The Depot on April 1, after buying the restaurant from Sammi's father, Kenny Neumann.
"I am excited! There are so many mixed feelings," said Sammi. "I've watched my dad do it my entire life, so I definitely know there's a lot of hard work involved, but I'm very excited to do it."
Neumann and Bill Seykora opened Depot Express in 1985, converting the old train depot — initially built in 1907 — into a restaurant and bar, which became an Alexandria landmark.
Neumann said talks of Sammi and Mike purchasing the restaurant began last fall, but he wanted to hold off on selling it to them until spring, so they didn't have to go through the slow winter season in their first few months of ownership.
When asked why he decided it was time to sell the business, Neumann replied, "Thirty-seven years is enough." While he will still be around to help with adjustments and catering, he said he looks forward to fishing more in his retirement and likes the idea of keeping the restaurant in his family.
"It is a positive thing," said Neumann. "I had other people that might have been interested, but I gave these guys the first chance. They'll do fine. It's a good business."
"I think that's important to the clientele that it's staying in the family. They want to continue seeing dad," said Sammi.
While Mike is a software engineer and Sammi built her career as a real estate agent, Sammi grew up in the restaurant and has worked in nearly every position. Both plan on working their jobs while running the business.
Mike said he is learning the business and that they have good help.
"We have a general manager who's been in the business a long time, Kenny's sticking around. He's what we call semi-retired. He's going to be around helping us with a lot of our catering," said Mike.
Mike and Sammi said their son submitted an application but will go through the interview process before he's hired.
"Sammi has been around the business all her life. She knows what goes and what doesn't, and I like their changes," said Neumann.
From the name and the menu to building modifications, Mike and Sammi have already implemented changes to the restaurant.
According to Mike, they have updated the dining room to make it more family-friendly by building a wall to divide the bar from the dining room.
They added a smoker to the kitchen to expand their menu to include smoked meats like prime rib, chicken, ribs and pulled pork.
"What Alexandria doesn't have right now is a good smokehouse. We're doing more in-house cooking on our smoker," added Mike. "We're changing our menu to fit our new branding, which I think is unique to the area."
Instead of Depot Express Restaurant and Saloon, it will now be called The Depot Smokehouse and Tavern. They have also updated the logo printed on merchandise like hats and shirts for customers to purchase.
"Number one is they keep their nose in the business. Mike does an excellent job of that," said Neumann.
Mike said they are adding decor to remind patrons of the building's historic integrity, like a 15-by-eight foot mural in the bar that features U.S. Secretary of War William Howard Taft speaking in front of the original train depot during his presidential campaign, which the Douglas County Historical Society contributed. The mural is currently the cover photo on The Depot's Facebook page .
"The main message here is we want to make it a tourist and local destination. It is a landmark on the historic registry, and it's a great restaurant," said Mike. "It's come a long way, and we want to do more."
Sammi added that both she and Mike are hard workers who have always worked for other people, and she looks forward to having their own business, something they can both grow together.
To celebrate Neumann's retirement, The Depot will host a public party from 4 to 8 p.m. in his honor on Friday, May 6, which marks the restaurant's 37th anniversary.