Alexandria Lakes Area Chamber of Commerce Ambassadors spotlight 4 businesses
They include Fine Line Arts Studio, Krupkes Konsignments, The Smokestack BBQ Supply Store and Cash Wise Liquor.
ALEXANDRIA — The Alexandria Lakes Area Chamber of Commerce Ambassadors recognized four local businesses on Wednesday, March 9.
Fine Line Arts Studio is a new business located at 518 B Hawthorne St., in Alexandria. Four artists started this business to support other local artists by connecting them to collectors and providing them with a space to display and sell their art. The studio also offers fine art supplies such as paper, sketchbooks, brushes, canvases, paint, pencils, and more, and plans to add classes. Learn more at finelineartsmn.com.
Krupkes Konsignments recently moved into a new location at 615 Nokomis St. in Alexandria. It offers a variety of clothing for women, children, and men, jewelry, handbags, scarves, hats, home décor and more. It also offers consigning options for those looking to sell their items. Consigners earn 40% of the sale price and any items not sold are donated to local women's and children's shelters. Learn more at krupkeskonsignments.com.
The Smokestack BBQ Supply Store started in 2020 and recently opened its third location at 1015 Hwy. 29 N in Alexandria. The other two locations are in Brainerd and Crosslake. It offers a variety of smokers, grills, pellets, charcoal, seasonings, sauces, and more. It also offers local delivery and setup. The Alexandria location will include a classroom to hold education opportunities about preparing and smoking meat. Learn more at thesmokestackmn.com.
Cash Wise Liquor located at 801 N Nokomis St. NE in Alexandria recently went through a major expansion and remodel, adding nearly 5,000 square feet of space to the store. The newly renovated space allows for more product to be on the shelves and offers more freedom to bring in special request items. The checkout area was remodeled to add additional checkout lines and offer a better flow and quicker checkout for customers. Learn more at cashwise.com/CWstore7044.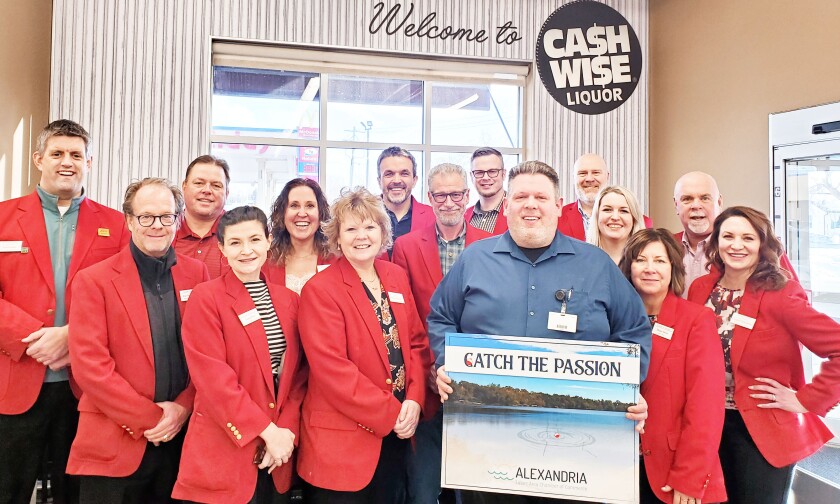 The Chamber Ambassadors serve as an active communication link to cultivate and promote positive relationships between the Chamber and the business community for members and non-members.
For more information about the Alexandria Lakes Area Chamber of Commerce, visit www.alexandriamn.org or call 320-763-3161.